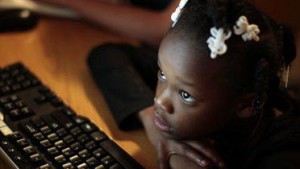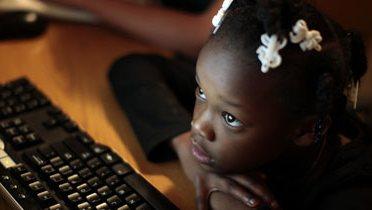 In a report on African Americans and technology, Aaron Smith of the PWEInternet.org summarized a series of demographic snapshots of technology use and adoption among different ethnic groups of adults in the United States.  Based on surveys the demographic snapshots offered a detailed look at a number of key subgroups within the African American population such as: men vs. women, old vs. young, low income vs. high income, and parents vs. non-parents.
The black/white "digital divide" continues to persist, but is not consistent across technology platforms or demographic groups.  The Digital Divide, seems to now be centered in Occupational Opportunities and not in access to technology.
It used to be that 4 to 5 times per day someone would ask you "what time is it?"  Respectfully, you would look at your watch and tell them. Once more people possessed watches the fewer requests.  Today, most people no longer wear a watch. Their Smart Cell Phones have absolutely replaced the need for a watch.
African Americans' use of technology is now reaching or surpassing the same levels of other ethnic groups.  For the purposes of this article statements will compare African American technology usages in comparison to White Americans.
Statistically current day reports may reveal that African Americans trail whites by seven percentage points when it comes to overall internet use (87% of whites and 80% of blacks are internet users).  Statistics also reveal that there is a twelve percentage point gap when it comes to home High Speed Internet adoption.  The figures point to 74% of whites and 62% of blacks who have some sort of High Speed Internet connection at home.  At the same time, blacks and whites are on more equal footing when it comes to other types of access, especially on mobile platforms.
Within the sub-groups, the gap between whites and blacks when it comes to traditional measures of internet usage and High Speed Internet access is more pronounced among certain demographic subgroups than among others. Specifically, older African Americans as well as those who have not attended college are significantly less likely to go online or to have High Speed Internet access at home compared to whites with a similar demographic profile. African Americans age 65 and older have especially low adoption rates compared with whites. Just 45% of black seniors are internet users, and 30% have High Speed Internet access at home (among white seniors, 63% go online and more than 51% are High Speed Internet adopters).
On the other hand, young college-educated and higher-income African Americans are just as likely as their white counterparts to use the internet and to have High Speed Internet service at home. Some 86% of African Americans ages 18-29 are home High Speed Internet adopters as are 88% of black college graduates and 91% of African Americans with an annual household income of $45,000 or more per year. These figures are all well above the national average for High Speed Internet adoption and are identical to whites of similar ages, incomes, and education levels.
Twitter is especially popular among younger African Americans
Overall, 73% of African American internet users—and 96% of those ages 18-29 use a social networking site of some kind. African Americans have exhibited relatively high levels of Twitter use since we began tracking the service as a stand-alone platform and this continues to be the case; 22% of online blacks are Twitter users compared with 16% of online whites.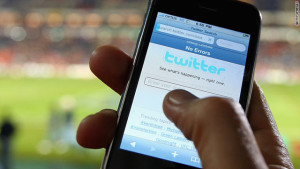 Younger African Americans in particular have especially high rates of Twitter use. Fully 40% of 18-29 year old African Americans who use the internet say that they use Twitter. That is 12 percentage points higher than the comparable figure for young whites (28% of whom are Twitter users). The mobile difference: 92% of African Americans own a cell phone, and 76% own a Smart Phone
In contrast to internet use and High Speed Internet adoption, blacks and whites are equally likely to own a cell phone of some kind. They also have identical rates of smartphone ownership. Some 92% of black adults are cell phone owners and 76% own a smartphone of some kind.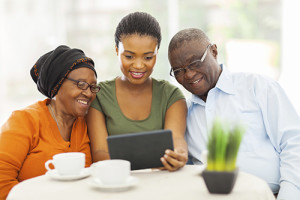 Cell phone ownership is much more common than internet use among older African Americans.  Just 45% of African Americans ages 65 and older use the internet, but 77% are cell phone owners (most of these seniors own basic cell phones, as only 28% are smartphone owners).  Overall, 72% of all African Americans and 98% of those between the ages of 18 and 29 have either a High Speed Internet connection or a smartphone.
Conclusions and not just an observation…
The statistics supporting and the social belief that African Americans are behind in technology are not exactly accurate.  Statistically, if 70% of whites do something and 65% of blacks do something the relationship of these numbers to each respective population size would put blacks well ahead in proportion to their percent of the total U.S. population. 
What is making the difference is "Time to Device".  African Americans for numerous reasons spend 25 to 35% more time on Mobile Phone Devices than any other race.  Factors such as higher unemployment, limited accesses to a computer, and digital social networking demands cause African Americans to exceed in Mobile Smart Phone usage and device knowledge.
African Americans can also be classified as the Smart Phone Savvy race of users.  While blacks only know 20% of the settings and functioning of a Desktop or Laptop Computer they typically know 80 to 90% of their Smart Phones features and settings.
Finally there is another strong benefit to African Americans and Cell Phone Use. Black Americans will teach each other.  African Americans jump at the opportunity to show their knowledge and smart phone skills.  They consider their knowledge equal or superior to others and if a Smart Phone Test were administered they would confidentially pass. 
Smart Phone Parenting:
Out of love and to teach her children a lesson a black mother banned cell phone usage in her house for 2 weeks.  To emphasize the importance of books, she gave her son a book to do a report for school.  The son came home with his first "D" ever.  When the mom asked him what happened he told her "the book you gave me only went up to 2005 and the teacher said my report was too outdated".  She returned his smart phone and learned the lesson.
The Clouds and the new "Digital Race":
As the non-tech savvy generation dies off the library becomes a place where knowledge used to be.  African Americans are becoming equally connected to others, too. However, they may never become those working and employed behind the scenes on servers, switches, routers, and hubs. Working behind the Clouds for the Black Americans is well beyond reach.  But wait there is a possible solution, Michael Jordan did it with the Tennis Shoe and Dr. Dre did it with Beats Audio.   Blacks are Branding Trend Setters and the "J Phone" (La-bron James) could be the next best thing…
Imagine your home with no Internet Connection or Land-Line-Telephone.  Image yourself being an adult without a Cell Phone. The disconnection would be extremely challenging…  Today you must be able to reach the Clouds to be a connected member of society.  In the clouds all ethnic races are connected and your ethnicity does not matter.  Via the Clouds your locality anywhere on the planet does not matter. 
Today you must be able to reach the Clouds to be included in the new "Digital Race" where the only difference between you and the next person is not skin color or ethnic group heritage, but the ability to "Digitally Connect in the Clouds".   
The Clouds is where Racially Conscious People who have never interacted with other cultures can finally do so as equal "Digital Citizens".