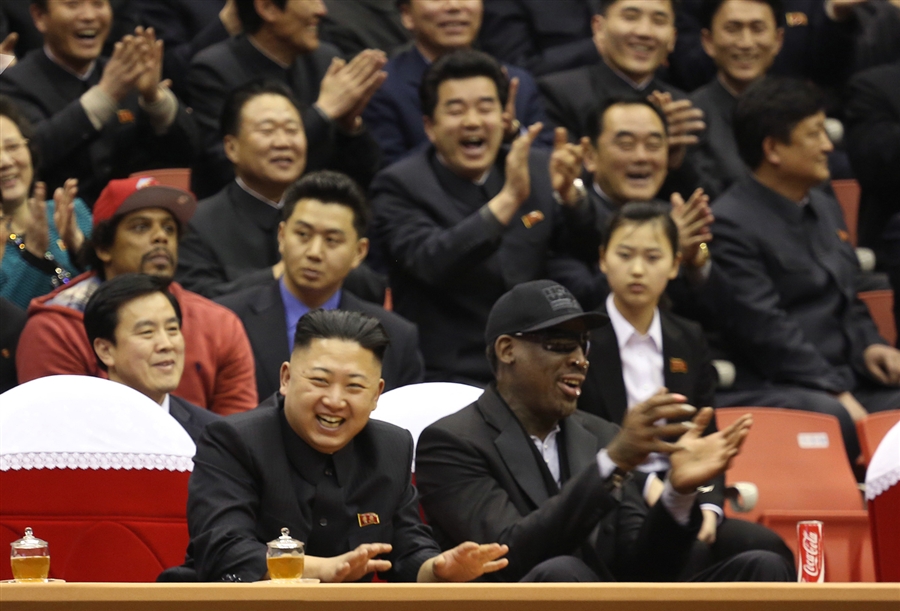 Headlines:   "Two bizarre characters: Dennis Rodman and Kim Jong-un?"
I am continually impressed by the racism and reactionary comments of those who claim to love and want to see freedom around the world, and particularly in North Korea.
Following World War II, the Japanese Empire having lost to the United States of America lost its right to rule the Korean Peninsula.  The Soviet Union backed what is now North Korea, and the United States claimed South Korea.  In 1950, the North Koreans objected to the United States, who they believed to be expansionists like the Japanese, occupying South Korea so they attempted to re-unify Korea through military action.
Following a very strange chain of events, wherein the Soviet Union boycotted the United Nations, the United States was able to obtain a vote of the United Nations Security Council to invade North Korea.  That permitted a United Nations backed contingency supported by a force of 85% troops from the United States, and 100% arms, to invade North Korea.  When the United States army nearly pushed the North Koreans to the Chinese border, the Chinese, who did not want to see another expansionist government on its border, intervened and provided arms and soldiers.  The Soviet Union, that was in a "cold war" with the United States provided weaponry.
Eventually, the North Koreans with the aid of the Soviet Union and China pushed the United States down to the "38th parallel," a circle of latitude that is 38 degrees north of the Earth's equatorial plane, and the warring countries decided to enter an armistice.
The actual fighting occurred between June 25, 1950 and July 27 1953.  However, minor incidents continue to the present day, mostly over North Korean nuclear bomb testing.
Technically, the United States is still at war with North Korea.  An armistice is not a victory or a defeat, but a cessation of fighting.  In this case, the armistice agreement restored the border between the Koreas near the 38th Parallel and created the Korean Demilitarized Zone (DMZ), a 2.5-mile (4.0 km)-wide fortified buffer zone between the two Korean nations.   The United States also complains that North Korea has thousands of prisoners and that it suppresses speech and freedom.
On February 26, 2013, Dennis Rodman was in North Korea for a basketball event.  While Dennis Rodman made history as a NBA legend, he is indeed eccentric.  His body is riddled with tattoos and body piercings.  He participated in what some call professional wrestling, which is more like a soap opera than true wrestling.  He once wore a dress in a public event.   While in North Korea, Dennis Rodman, dared meet, greet, and hug Kim Jong-un and suggest dialog between the countries might be helpful.
When Rodman returned, United States diplomats and officials were disturbed that Dennis Rodman would dare travel to North Korea and "humanize" Jung-un, by giving him a hug, and expressing respect and love for him.  He even had the audacity to pass a message from Jong-un to President Obama.
George Stephanopoulos, a "quick –witted" television host who helped catapult Bill Clinton to the Whitehouse interviewed Dennis Rodman, inquired if Rodman was aware that North Korea jailed and tortured thousands of people.  Dennis Rodman, who ironically was born the same year as Stephanopoulos, and who attended Cooke County Junior College and Southeastern Oklahoma State University, replied: "Guess what?  We do the same thing."
The exchange was pretty entertaining, as is the true purpose of television, and Rodman held his own despite the fact that George Stephanopoulos' mission was to render Rodman an idiot.
Dennis Rodman being demonized for his "strangeness" probably made him more sympathetic to Jong-un.  It probably made him better qualified to stand up for himself during that interview.
Ironically, we do demonize many countries and "dictators;" however, we do support dictators, "our S.O.B.s," and the United States possesses more nuclear bombs than any other nation, and it is the only country to have exploded an atomic bomb on another country.
It also claims a need for suppressing First and Fourth Amendment freedoms under the Providing Appropriate Tools Required (to) Intercept (and) Obstruct Terrorism Act of 2001, commonly known as the Patriot Act of 2001.  The United States also imprisons people in Guantanamo Bay, without trial, declaring them to be enemy combatants.
As bad as things may seem by individuals who do "bad things" under the guise of Constitutional rights, all Americans have is the Constitution.  The First Amendment, the Second Amendment, the Fourth Amendment, the Fifth Amendment, and the Fourteenth Amendment are important tools for combating governmental abuses, even if you never exercise them.   The fact that you have the right say and feel what you want is irreplaceable. The fact that you can own a weapon without government interference makes it hesitate just a little, even though the government has far superior weaponry. The fact that the government cannot just search and seize you or take things from you without a fair hearing irritates those might just want to harm you without consequence.  The fact that you even have rights is an irritant to many.   Once the Constitution is eroded we will have nothing else.
Although African Americans fought in every major battle in American history, it took until the 1960s to get the entire country to even admit African Americans had Constitutional rights.
The United States eroded the rights of anyone, even its own citizens that it perceived as communist sympathizers.   In the 1950s it was bad.   If you were deemed a communist sympathizer you could not strike or boycott.  You could not protest.   Many were jailed and placed under surveillance.   The communists in the 1950s were the "terrorists" of the 2000s.
If you are classified as a terrorist you may not be able to travel.  You may be jailed without trial.   Heaven forbid you are classified as an "Enemy Combatant" or a sympathizer of an Enemy Combatant.  You will have no Constitutional Rights.  Ironically, the only body that will have the evidence of those under this classification is the United States Government, and they do not have to share it.  You can just be jailed for eternity without a trial.
In the words of Dennis Rodman: "Guess what?"  Today, when cops detain African Americans one of the first questions they may ask is if you are on probation or parole.
That was the question a Dublin, California police officer purportedly asked Stanley Kirk Burrell, "MC Hammer," during their encounter on February 21, 2013, relating to Hammer operating a vehicle without current registration.  After his arrest for obstructing an officer and his release, Hammer began his tweets  with "chubby elvis looking dude was tapping on my car window, I rolled down the window and he said 'Are you on parole or probation?'"
They ask these questions because those on probation and parole have profoundly eroded Constitution rights.  They can search you and do not have to make up lies about seeing you behave in a suspicious manner.  While on probation or parole you cannot exercise your right to remain silent and you lose some of your freedom of expression.  If you are a felon you cannot possess a firearm.  Some cannot vote.
The United States Constitution does not protect your right to possess a firearm to target shoot, hunt, commit a crime, or even defend your residence or person.  It does protect your right defend yourself from a corrupt and abusive government.  In that regard, the government should not have the right to know what arms you have or where you keep them.   I agree that all dangerous weapons should be stored and locked safely away so that they cannot be stolen or misused.
Defending yourself from a "tyrannous" government is not a snap decision or an easy undertaking.  It should not be considered on a whim for just any purpose.  It might be considered in the case of being jailed or beaten for no reason, having valued property seized without due process, and / or being taxed without receiving any benefit (a.k.a taxation without representation).  I suppose then one would have to organize or become part of a militia.  As in the case of the "American Forefathers," it should be a well thought out process.  If the government can just enter your home and seize your arms, the Second Amendment is a meaningless tool.  Contrary to conventional opinion, the Second Amendment does not mention the word firearms.  It reads  "[A] well regulated Militia, being necessary to the security of a free State, the right of the people to keep and bear Arms, shall not be infringed."  Presumably, you should be able to possess whatever is necessary to protect the security of a "free State."
If you think racial profiling is bad, just think how much racial profiling would take place without the United States Constitution.
These are not just issues that should matter to African Americans.  There are groups of people, even White people, who are treated like African Americans by default.  The "Urban Dictionary" might refer to them "Honorary Niggas."  I don't make these slang phrases up, but I can appreciate the First Amendment.  Travel to a neighborhood where White people live like Black people.  Or better yet, Travel to an area where there are no Black people, or there are only poor people who are not African American and see how the system treats them.  Go to the jails and prisons.   While Blacks and Hispanics may still be disproportionately represented, you will see an overwhelming number and an abundance of poor White people.
Never concede any of your Constitutional rights.  In fact, when pressed, insist on more.   Ask under what authority you are being detained or why you are to be searched.  When questioned about a criminal offense, whether you are guilty or not, always exercise your rights under the Fifth Amendment.  That is why you have rights under the Fifth Amendment.  If asked if you will consent to a search, just say no.  Legally, it does not imply guilt.  "Doing too much" or saying too much may land you in jail or even worse…get you convicted of an offense that you did not commit.  Let your attorney speak for you if at all possible.
Should you want to discuss a  case you may contact Wayne Johnson at (510) 451-1166 or johnsonlawfirm007@sbcglobal.net.   Wayne Johnson does civil and criminal litigation.