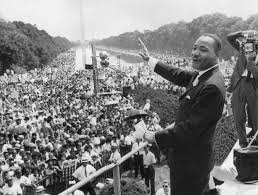 This week marks the 50th anniversary of the 1963 march on Washington.  I remember that day 50 years ago.  I was a young boy and along with my mother I watched Dr. King deliver his "I have a dream' speech on our small black and white television set.  I remember how he bowed-up at the dais on the Lincoln Memorial steps saying nonverbally that the civil war will end in justice for all.
We were poor as were most of our neighbors but we did have a sense of neighborhood and community. We had a sense of closeness.  Dr. King and others made us believe that there was hope for a better future in America.
Now, 50 years later we have an African American President of the United States, congressmen and women, thousands of college educated African Americans, athletes, entertainers, and hundreds of thousands of African Americans in the middle class.  We can shop in the malls, eat in any restaurant, and use any rest room which we want to.  All of that is very different from the apartheid society in which I grew up 50 years ago.  It is a major achievement for which much was paid by many who did not live to see the sweeping changes wrought by their personal sacrifices.
I watched some of the commemoration activities on television this week.  I think that it was good to commemorate the 1963 March on Washington.  After all, the Jews have their 'Passover, the Muslims have their 'Hajj', the Hindus have their annual trek to the 'River Ganges', Christians go to Bethlehem, so we have our March on Washington and the Prophet with a Dream for all.
The commemoration speaker's list was star studded. They were successful individuals.  I noticed that all of the speakers had nice clothing on and were well heeled.  I also noticed that there were many political figures there.  There were ex- Presidents, the current President, and the U.S. Attorney General.  I got the feeling it was 'approved'. In 1963, President Kennedy did not attend nor did anyone from his administration.  The 1963 March on Washington was not 'official'.  It was grass root.  I know, times have changed.
But I also know that all of the major socio-economic indicators which measure quality of life and life chances say that African Americans as a group are not better off today than they were in 1963.  Thus I am faced with a deep irony.  I must admit that there are great opportunities, that more doors are open, that individuals get free K-12 education and that one can aspire for and achieve higher education.
Yet, African Americans as a group are at the bottom when it comes to median income, health care access, high school graduation, and amount of wealth possessed while at the same time they are at the top of incarceration, unemployment, homicide, and  foster-child care rates.  Should I simply shrug this condition off as being the unavoidable absolute "The poor will always be with you"? Or 'The best of times…the worst of times' in perpetual relation?   Or should I think differently?
What should our moral standard of achievement be? How do we identify the moral standard of achievement for a civil rights movement which had its origin in the plight of a whole people and which was paid for in the only tender they had? That tender was the blood of slaves and their descendants. Blood bled out as a whole people on many country roads, on city streets, in ally-ways and over many decades, indeed over many centuries.
Our moral standard of achievement cannot be individualism as argued by John Dewey nor anyone else. It cannot be individualism because if we assume that line of reasoning then we would be forced to concede that since there were free and successful African Americans during slavery, some even owning slaves, the state of slavery that most Africans were subject to didn't count in the moral scheme of things.   If individual success be our standard then logically it forces us to turn our back on the majority of our people so that we can have a clear view of the well heeled individuals among us.
Individualism is more myth than real because "No man is an island"; nature has prescribed that we each begin life as a group in relation to a women in a family.  Death is the only real individual experience one will ever have.  Death is absolute individuation. Therefore, individualism cannot be our moral standard of achievement and of success for our people.
The philosopher Jeremy Bentham once said: "The greatest good for the greatest number."  If that be our moral standard of achievement then all our actions and our policies should aim to apportion the greatest number of benefits for the greatest number of African Americans.  Until then the struggle must continue to uplift all.