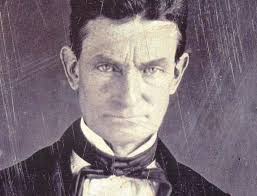 John Brown was a great man. He was an abolitionist in the pre-civil war United States.  He eventually came to understand that Christian religious/moral arguments against slavery would never be persuasive to slave owners and their states to stop the institution of slavery. Nor did he believe moral arguments could cause an anti-slavery amendment to the U.S. constitutional because Congress could never meet the required 66% ratification of both houses of Congress or 66% of the States because of greed.
He also came to understand that logical arguments based upon the Enlightenment premise that each person has inherent natural rights and that each person must be presumed reasonable would not be persuasive to the slave owners, their states, and the massive economic infrastructure which had grown dependent upon slave labor for national economic prosperity, either.  He understood that race ideology was a tool used to short circuit logical reasoning so as to create straw man arguments based upon the premise of white supremacy.
John Brown was compelled to reach one conclusion.  It would be necessary for African Slaves to fight their way out of slavery by any means necessary.  With that thought in mind, John Brown and some of his sons seized a U.S. military armory.  They then called on neighboring slaves to fight their way out of slavery side by side with them.  The slaves refused to do so.
Some of the slaves informed on him.  The others refused to stand and fight.  John Brown fought the U.S. Army. Most of his sons were killed. He was wounded and captured. He was hanged on December 2, 1859.  But he stated in his last words that only a bloody war against the slave owners and their states could free the slaves.  He was right.  The Civil War started in 1861 only two years later.  Over 600,000 people died in just four (4) years.  It was a savage blood bath.
I do not mean to belabor you with so much history; but history is so important for an understanding of present social circumstances. What people did and thought in the past should be studied. Note, the slaves wouldn't fight and note some of them informed the plantation owners of John Brown's plan.  Can we identify the same patterns today?  I answer yes. However, first we must examine some of the most influential thoughts on population of the 18th, 19th, and 20th centuries. These are thoughts which every African American should know and understand.
MASTER MORALITY

THOMAS MALTHUS
The method to reduce birth rates of poor populations was devised centuries ago. Thomas Malthus wrote a book entitled: 'Essays on the Principle of Population' in 1798. In that book he laid down a theory.  He said that population will grow indefinitely because people have an automatic sex drive which causes them to reproduce offspring and because people need to eat food. He stated that unless there are checks and balances in the environment to stop it population would grow unabated.
What should be of concern to African Americans is what Malthus identified as a method to decrease the birth rate of an unwanted population.   He termed it 'Preventative' checks on population growth.  It originates as political policy.  As such the sentiment and laws of the general public promote and execute such method as a matter in the interest of the state.
By the 'Preventative' method to decrease a population's birth rate he said that two general political policies must be executed among the lower classes.
The first, he said, must be a policy to institute 'vice'. Vice would constitute the social encouragement of uncivilized habits combined with poverty.  For example: discourage good hygiene, make them live in neighborhoods that are polluted areas of a given city with narrow streets making them more vulnerable to disease and or physical disability, provide less habitable dwellings than needed by the them so there is homelessness, make available to them low paying jobs, discourage them from marriage, make their schools dysfunctional, provide small portions or cheap low quality food, allow prostitution, make criminal acts a more likely choice for the young especially the males, and introduce communicable diseases into their population .
The second policy under the 'Preventative' method, he said, should be 'misery'. Misery would constitute psychological depression, low self-esteem, suicide, and institutionalized hopelessness.  Misery would follow as a byproduct of the first policy. If executed as a matter of public policy, each of the two types of 'Preventative' methods would decrease the birth rate of a given population over time.

 CHARLES DARWIN
Charles Darwin wrote: 'The Descent of Man'.  It was published in 1871.  As you can see it follows in time Thomas Malthus' book who in turn followed Adam Smith's cornerstone theory on capitalism: 'The Wealth of Nations' (1776).  These writers signaled the birth of a new world view.
Darwin theorized that in nature animal species compete with different species and with others in their own species for resources of every kind.  Even when there are plentiful resources greed or the fundamental insecurity of an animal will drive it to take everything for itself.  For Darwin, conflict is one of the driving forces of animal and therefore human history.  History for him is not of glory but of greed. He stated that racial extinction is the result of inter-racial or tribal competition for resources in times of plenty and scarcity.[1]
Darwin predicted in 'The Descent of Man' that 'race' war is inevitable and that in the future lower races will be exterminated by higher races. This is a population issue because for Darwin genocide is natural not criminal. The law of nature that he describes can reduce a population by increasing the death rate due to war with another group of people or animals. He also said that it is just as illogical to breed defective people as it is to breed defective animals. Please, bare with me, this is very important for you to think on.[2]

FRANCIS GALTON
Arguments for the application of Preventative population control through state power was triggered by the Eugenics movement.  Francis Galton was the cousin of Charles Darwin. Galton wrote the book: 'Hereditary Genius'. In that book he theorized that intelligence is a heritable genetic trait like hair color, skin color, and height and that it is passed down from one generation to a succeeding generation.  He argued that there should be selective breeding.  He invented a mathematical method to prove his theory of inherent intellectual differences between races.  His statistical method is called the normal distribution curve and the difference between means.[3]
With that method, he argued that races have different naturally determined levels of intelligence, physicality, and sexuality.  From that argument he founded the theory of Eugenics and the Eugenics movement.  The basic premise of the Eugenics' theory corresponds to that of both Malthus and Darwin.  He argued that there should be political policies which restrict the reproductive opportunities of lower races and genetically defective people.  In the United States for nearly 80 years many states enacted laws which vested the state with executive power to sterilize women and to castrate men who were deemed genetically unfit.[4]  Such state eugenical laws were supported by the Supreme Court ruling in Buck v. Bell, 1927.

MARGARET SANGER
Galton's theory gave rise to early 20th century birth control organizations like the 'American Birth Control League', its spin off: 'The Negro Project', and today, the 'Planned Parenthood Federation of America'.  It was founded by Margaret Sanger in 1921. Margaret Sanger believed in White Supremacy.[5]
Her husband William Sanger was Jewish by birth but was not his religious practice as an adult man. He and Margaret were both Communists.  It's important to know their political and philosophical beliefs because as Communists they believed in an inherently amoral universe. One structured by natural law as argued by both Darwin and Galton.
She targeted African women in Harlem, New York, through the 'Negro Project' clinic; she also targeted other minority ethnic women and men to reduce their number of pregnancies and thereby their birth rate.[6] She argued that 'dysgenic' groups like African Americans had two choices. They could either choose segregation or sterilization.
She organized at a time when the poor and/or immigrants were crowded into cities but in a nation where there was no scarcity of land, food, and other resources in the United States.
The basis of her argument to women was that having too many children was unhealthy and would cause a shorter life-span.  And to both men and women her argument was that they could not financially afford to care for too many children.
She did not address the extremely unequal distribution of income which existed at that time in the United States. At that time 1% of the U.S. population took home 28% of the national income.  Nor did she target the wealthy that were called the gilded class as being exploitative of the poor.
She didn't target the wealthy because the wealthy were funding her birth control clinics.  Familiar names to students of the international banking system are listed.  John D. Rockefeller who if you recall was one of the founders of the Federal Reserve Bank and Income Tax acts of 1913; Julius Rosonwald of Sears and Roebuck, Company; Clarence Gamble,  founder of Proctor and Gamble; and the Ku Klux Klan were all financial donors of her organization.
Her ideas were a direct offshoot of Malthus, Darwin, and Galton.[7] However, her interest was not in theory. She moved to institutionalize their ideas into state and federal law. She appealed to women's moral sensitivity because she argued on the premise of a moral argument, i.e., a 'women's right to choose' when in fact she did not believe in essential morality of any kind.  She argued it at a time when women were generally abused in society. She was for them what Paul was to Christianity.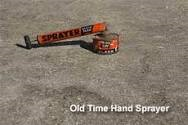 APPLICATION OF THE MASTER MORALITY
Now, let's look at some facts and ask ourselves: could the target population for preventative political policies Thomas Malthus wrote on in his book be us?
In 1954, the Supreme Court held in 'Brown v. Board of Education…' that segregation in public schools is unconstitutional. It signaled the beginning of racial integration of public facilities in the United States; it initiated the legal movement against 'Jim crow laws' premised upon 'separate but equal'.
That same year (1954 to 1960) the birth rate of African American women was 4.5 births per woman. Thereafter, their birth rate started to go down such that by 1970 it was 3.0 children per African American woman ages 15 to 45.
By 1975 it was 2.5.  Today, 2013, the number of babies per African American woman between 15 and 45 is 1.9.  That is a 50% decrease over 55 years.  That amounts to a one percentage point decline per year from 1954.  At 1.9 babies per woman, for the first time African Women are not reproducing enough babies to replace the current population of 42 million.
Why is this happening to us?  One reason is that the Federal Drug Administration approved the birth control pill in 1960.  We see a negative correlation between the increased use of and marketing of birth control pills and a drop in the African American fertility rate.  That is a fact.
Was the marketing of the birth control pill a racist reactionary response to the civil rights movement and racial desegregation? A correlation does exist but it doesn't prove causation; it could simply be a coincidence. But another Supreme Court decision might move us to a cogent inference.  It was Roe v. Wade, 1973.
Roe v. Wade was premised on the proposition that a woman has the sole individual right under the U.S. constitution to determine whether or not she should or could carry her pregnancy to term. She needs not to legally consult with anyone. She could act on her own individual needs and wants. However, the court did impose a time limit.  She must decide to abort the fetus within the first trimester (3 months) of her pregnancy.
The abortion statistics are startling.  Since 1973, African American women have constituted 32% of all abortions while constituting only 3.5 percent of the total population.  That amounts to over 22,000,000 abortions.  It equals 70 abortions per hour nationwide as of this writing. The 22,000,000 (million) abortions is three (3) times more than the number of Baby Boomer African Americans born between 1946 and 1964.  It is one-third (1/3) of the total number of people killed during World War II.  It is a slaughter.
Does what we have described conform to the Preventative Method proposed by Thomas Malthus?  Remember, he argued that there must be political policies in place to decrease the birth rate of unwanted populations of people. Infanticide or abortion was one of his proposed methods to kill those who are unwanted.
Malthus also argued that unhealthy social conditions ought to be intentionally constructed to demoralize an unwanted population of people.  He argued that unwanted people should be made miserable. Are there other socio-economic conditions which are evidence of the application of his method on African American people?  Let's list some social conditions to see.
Given that racism is a social construction it follows logically that most misery suffered by African Americans is a derivative of institutionalized racism.  So the following conditions are social constructions for the most part just as the misery of Native Americans (birth rate of 1.4) is a derivative of reservation (concentration camp) life.
African Americans are disproportionately poor at about 27% of the total U.S. population.
About 15 million African Americans live in urban ghettoes.
The national high school dropout rate for African Americans is 42%.
Between 1976 and 2010, there were 273,366 African American 'black on black' homicides; that averages to 23.9 homicides per day nationwide.
African Americans are 2.5 times more likely to murder their infants as compared to other ethnic groups and lead the nation in infanticide.
There are now over 200,000 African American children in foster care homes.
Between 1973 and 2013 there have been approximately 22,000,000 African American abortions; that number equals 1,687.5 abortions per day.
The top ten leading causes of death are: heart disease, cancer, stroke, diabetes, unintentional injuries, kidney disease, chronic lower respiratory disease, homicide, infection, and Alzheimer disease.
Nearly 1,000,000 African American men and women are incarcerated in city, county, state, and federal jails and prisons.
About 1 out of every 4 (25%) are in the criminal justice system.
The African American national unemployment rate is about 13% to 20% for the year 2013.
About 9 million African Americans receive food stamps or put another way, 1 out of 3 Americans on food stamps are African American and they are primarily women with dependent children.
Approximately 72% of all African American births are to single parent female headed households.
The highest annual death rate per 100,000 at 898.22.
85% of 'Planned Parenthood' clinics are in low income neighborhoods.
I think the evidence is compelling. The social conditions which pressure a population's birth rate to decrease are fundamental conditions to the life of the majority of African Americans.  Therefore, a cogent conclusion can be drawn.
Probably, birth control pills, abortion law, over the counter sales of Depo-Provera, Norplant, and Lunelle are primarily aimed at African American women and girls.  The purpose in this early part of the 21 century differs from that of the last part of the 20th century in four important aspects.
Automation used in factories in the United States to eliminate the need for people, the exodus of capital (factories overseas) to Asia, continuous civil rights demands on governments by some African Americans, and the aging of America resulting in a larger dependent population are collectively making African Americans more than ever before a dependent population.
These four facts make African Americans an economically unwanted population. No longer cheap labor and not withstanding their high consumption capacity of 1 trillion dollars spent per year much of which is just Federal and State money going back to Federal and State governments they are perceived as what Henry Kissinger called 'useless eaters'.[8]
The cost to maintain African Americans is high. For example a cost of 16 billion dollars per year for food stamps; another 40 billion dollars per year on incarceration costs; 154 billion dollars in welfare costs are just a few costs which the plutocrats calculate eat away at the 1 trillion dollars spent by African Americans annually. Furthermore, most of that 1 trillion dollars is spent in ghetto neighborhood stores, fast-food outlets, and quick loan and check cashing outlets.  For 60 years it has been a continuous 'quantitative easing' monetary disbursement by the U.S. Treasury Department. Add to that the fact that racially African Americans are generally unwanted in the U.S.  We are perceived as a greater cost to the plutocrats than we are a benefit to them.
John Brown discovered that slaves would not fight to save themselves. He discovered that the condition of slave misery permeated the consciousness of African people. They identified themselves as slave; theirs was a slave morality. John Brown was hanged under the rule of master morality.  You better wake up.
---