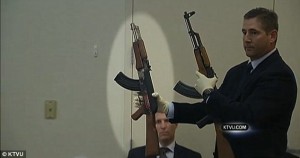 Police Public Relations Officer Justifying Shooting at Santa Rosa Press Conference
______________________________________________________________________________________
On October 25, 2013, in Santa Rosa this Deputy Sheriff shot this 13-year-old child, Andy Lopez.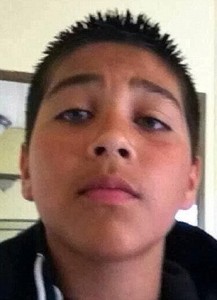 13 Year-old Andy Lopez, Deceased
This Deputy must think we are stupid.   He discharged his service weapon at this child, Andy Lopez, more than six times because he claims he felt this child, who had a pellet gun had a real AK47 and he felt his life was in danger.   
Well, let's look at the reported "official" facts and the facts as the officer allegedly reported them.   
This Sheriff's Deputy is a Veteran of one of the United States' wars in what we are told is the "Middle East"

Lopez was spotted by cops in Sonoma County carrying what they believed was a rifle

They allegedly ordered him to drop his weapon and opened fire in less than 10 seconds when he didn't comply

He was hit multiple times and died on the spot

A witness has now come forward to say that deputies continued to shoot at the boy's body even after he had fallen to the ground

The cops claim Lopez had his back to them so they didn't realize that he was just 13 years old

Federal law requires replica guns to have an orange tip, but Lopez's toy rifle allegedly didn't have one
I am told the officer says child refused to drop the weapon, but instead trained it on him. 
First, why is a veteran who is most likely suffering from Post Traumatic Stress Syndrome (PTSD) policing public streets in the United States?  Nobody reported a crime and he should not have been on high alert.  Everybody knows boys play with toy firearms.  He probably played with firearms too.  That is why he became a cop. This Deputy was probably experiencing flashbacks that are common in those returning from combat.   
Second, the body of a 13 year-old boy looks like the body of a child, even from the rear, unless we hear information to the contrary.    We have heard nothing about this child to allow us to assume he looked older.  
Third, the boy supposedly had an airsoft rifle.   They are like pellet guns; however they shoot plastic pellets, as opposed to metal pellets.  They manufacture replica pellet guns as well as replica airsoft weapons.   Anyone who knows anything about pellet guns knows that they do not have orange tips.  It is not unlawful for a child to possess an airsoft weapon or a pellet weapon.   Some manufacturers place orange tips on their replicas. 
Fourth, the deputy allegedly gave the child a warning; however, we do not know exactly what the officer allegedly said or whether the child could even hear him.
Fifth. we do not know if the alleged warning was sufficient. 
Sixth, we do know is he gave the boy less than ten (10) seconds before he began firing. That may not be enough time under all circumstances to allow the child to hear comprehend, and comply.

Seventh, to continue to shoot the boy after he had fallen to the ground was just cruel.   
I do not know if the officer was really frightened.  I do not know if he thought this 13 year was older, or how much older he thought the kid to be.   I do not know if he thought this weapon looked authentic or weather he thought the child would fire.  This officer has poor judgment, and he is a coward.  
I doubt the child would refuse to drop his weapon in the face of a real threat, unless he panicked.  I seriously doubt anyone would train his replica weapon on a police officer unless he had a death wish. 
In June of 2007, a West Memphis officer shot and killed a twelve (2) year-old boy, claiming he was armed with a toy gun that looked like a "Glock."
In August of 1998, two Brooklyn cops who fired at a teenager 17 times, critically wounding him, for supposedly waving a water pistol that allegedly looked like a machine gun.  The teenager allegedly refused to drop his toy gun.
Police officers are paid big bucks and get a lot of perks to protect and serve.  That requires taking a risk every once in awhile; however, many of them risk nothing.   They shoot first and ask questions later.  That is not being brave.  That is being a punk.
Oft-times the public relations departments of these police departments begin damage control before they interview the culprit or even have the facts. They justify the shootings before they know what even occurred.  They are too close to the shooters.  Oft-times, they too have been accused of wrongful shootings / excessive force and they show too much empathy with the shooters.
If these cops are too terrified to hesitate a little to evaluate the facts, maybe they should consider another profession. 
These officers should stop lying about the facts and own up. What is wrong with "manning up" and admitting you panicked and possibly made a mistake?  Is a job more important than your conscience?