When rap first began it was a craze that began at house parties and performed by Black Disk Jockeys who loved to talk over the party records.  With artists like Grand Master Flash And the Furious Five and Curtis Blow, some of the lyrics were catchy, and sometimes even hysterical.   Later, rap evolved into political poetry with artists like Public Enemy and Paris.  Shortly thereafter many Californians chimed in with artists like Easy E, Ice Cube, Tu-Pac, Dr. Dre, Too Short and Snoop-Dogg and it evolved from messages that prevailed in the streets, like pimping, drugs, and being tough and hard, to what we now call "gangsta-rap."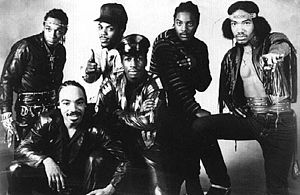 Grand Master Flash And the Furious Five
            Now it looks like rap is going the way of Jazz, Rock-N-Roll, the Blues, Soul, and Reggae, which were all considered African heathen noise until Europeans started openly buying it and trying to emulate and imitate it. 
            Jazz is a music genre that originated within the Deep South, in African-American communities.   Its African musical basis is evident in its use of blue notes, improvisation, polyrhythm, syncopation, and the swung notes.
            Louis Armstrong once purportedly said on a radio interview on the Bing Crosby Show, "Ah, swing, well, we used to call it syncopation then they called it ragtime, then blues, then jazz. Now, it's swing. White folks – yo'all sho is a mess!"
            When we first heard rap, Europeans claimed it would never last because it was tasteless.  Now thirty years later it has lasted, and yet again morphed into something that is not quite rap.   It is antithetical to rap.   Rap was once a hard, manly, rough genre, even when female artists like Salt-n-Pepa performed it. 
            Today, Ben Haggerty, known as Macklemore, and Ryan Lewis, known as Lewis form a duo called Macklemore and Lewis.  Tonight they won three of the key rap Grammys and they won four Grammys in all, including one for Song of the Year for "Same Love." The duo  performed the marriage-equality anthem during the ceremony, and during the performance, dozens of couples were wed in an on-air ceremony.
            The duo is talented and they may be poetic.  However, their music is not rap.  Rap belongs to the streets, the streets of the hood.
            Yes, just like gay people use the Black struggles to justify their own, a white group is using traditionally Black rap music as a basis for a gay national anthem. 
            Rap is about the Black struggle.  Blacks fought for equality, not because they love white people so much, but because that was the only way they could make a living and get an education.  White folks made black schools so poor by underfunding them and assassinating so-called "smart niggers" that the only way Black people could get a decent education was to integrate the schools so Blacks could have the same resources that white people had for so long. 
            White folks made the food Black people ate so unhealthy that the only way they could get a decent meal was to eat from the same trough. 
            The water fountains and the restrooms were so nasty and unhealthy that Black folks had to fight to use the same facilities or wait until they returned home to quench their thirsts or use the toilet.
            On the job, Black people had to fight to end discrimination so the Black folks would not be forced to do dangerous jobs and be underpaid.  
            Even in the military, during World War I and World War II, Blacks were forced to retrieve ammunition and supplies from mine fields and airdrops that were often in the line of enemy fire.  
            Even if Blacks built businesses that were equal to or superior to white businesses, white people in white hoods and sheets would close them down and lynch the proprietors.  
            Speaking of songs, some white people openly sang songs like "Old Black Joe" which was supposedly written about a white master who was saddened at the death of his elderly deceased Black servant, who was more like a loyal dog than a human companion. 
            No other struggle on this continent is the same as the Black struggle.  No artist should be able to compete with Black artists over music that is the very soul, and is born of the identity of Black culture. 
            No white artist should be able to call his music rap because true rap comes from the heart of the Black community.  Rap music is about Black consciousness.  No artist or producer, not even a Black one, including Kanye West or Jay-Z, should exploit or dilute Black people's music to the point where it is not even about Black people, but instead about things that have absolutely nothing to do with the Black experience.  If there were no Black people there would be no rap music and true rap music, like true soul music, does not exist outside the Black Diaspora.