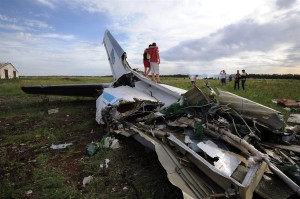 Recently, the U.S. has been stirring up the pot, finger pointing at Russia over a crashed Malaysian flight, flight MH17. The first question I asked is what idiot would fly or authorize a civilian passenger airplane to fly over a war zone?
Who are we to meddle in the affairs of the so-called Russian separatists, and who are we to encourage Israel?   What is at stake? Who are the players?
I am not at all convinced that we are concerned with peace or happiness, so it must be the money.
The likelihood that a missile downed a Malaysia Airlines Flight MH17 has raised questions over whether the plane should have been flying over war-torn eastern Ukraine.
Within hours of Thursday's disaster, those who are now supposedly in charge of the country shut down all airspace around eastern Ukraine. Experts say that Malaysian Fight MH17 was flying at 33,000 feet when disaster struck – well above the trajectory of missiles commonly used by militias in ground conflict, and high enough that its routing was approved by the airline's flight planners, air traffic controllers and ultimately the pilots.
The United States immediately began accusing Russia of instigating the hostilities that led to this tragedy. Prepackaged, stiffened, plastic surgery looking, Secretary of State John Kerry claims that he would like to see Ukraine be the bridge between Russia and the West. Russia does not want such a bridge so close to its borders. I suppose it would be like Russia claiming it wants to see east-west border at Mexico.
He is also an advocate of Israel's right to occupy, massacre, and to defend itself.   You know you are wrong when you have to continually justify killing hundreds of children. Maybe the children deserved to die. Who knows? Obviously, there is no right under those circumstances.
On the Ukrainian issue, if the militia is backed by Russia, a so-called super power, why would we assume they did not have a sophisticated aircraft defense system that could reach as high as a military bomber or military transport plane?
But some airlines had already been avoiding the area amid concerns over the deteriorating security. The United States claims that earlier the same week "pro-separatist rebels" shot down two low-flying Ukrainian aircraft, one a fighter jet and the other a military transport plane. Who knows what a pro-separatist rebel is? It sounds like a notch away from a terrorist, whatever, that is.   I suppose a pro-separatist rebel is a member of a faction that is backed by a super-power.
According to Norman Shanks, professor of aviation security at Britain's Coventry University. "They chose the most direct and economic flight route possible, which keeps their fuel costs down and is something we expect as customers. I apologize, but what customer would opt to fly over an area where he or she maybe killed to save a few bucks?
"This incident is unprecedented really," Greg Waldron, Asia managing editor Flight Global told the BBC. "A lot of the weapons used by separatists and other guerrilla groups simply don't have the range to get [to 33,000 feet], they don't have the accuracy to hit something like an airliner."
Meanwhile, back at the ranch on the Gaza strip, we are up to our old tactics of supporting Israel in massacring and annihilating Palestinians under its asserted right to defend itself. If two men with rocks approach me, upset with me because they feel I cheated at cards, and throw them at me, should I pick up an AK assault rifle, possibly an attack helicopter, and spray them, and everybody who lives in their neighborhood?
Just because we feel we can do something, whether it is using sound judgment or not, should we? Is it right to blow up a hospital and kill children because we believe some people who shot far inferior rockets at me are hiding in or near there? Where is common sense? Let's face it, when was the last time the Palestinians delivered a major blow to Israel.   Even in this last campaign, isn't it Israel 800 kills to Palestine's, 30?
More recently, Israel has bombed places designated as safe havens by the United Nations, killing more women, children, and United Nations workers.  These people are ruthless and have no regard for any lives except their own.  Why do they assume their lives are more precious than the lives of anyone else?  We are all made of the same particles, and in the end we shall all perish to ashes and dust.
Isn't it fair to assume that the more people you kill, and the more lopsided the victory, the more difficult it will be to have a meaningful cessation of hostilities?
There are some mixed blood Jews who are part Russian and part other European who run Israel; however, the ethnic Jews and the ethnic Palestinians are of the same blood lineage. Is there some way they can think of to share some of this land that does not involve haves and have-nots? Has too much blood been spilled so that it is impossible to reach a humanitarian agreement? If there is, it is time for the international community to divide the sides and place a well-armed truly international peace keeping force between them.
It would appear that after the shellacking Hitler delivered the German Jews that they would be more sympathetic to the Palestinians who are seriously out financed and out gunned. After all, didn't the German Jews hunt down as many Nazis as they could after the war was over? One day, this Israeli – Palestinian War may end, and the Jews who are advocating this massacre under the claimed right to defend itself may be on the other end of the hunt.  Maybe it will be Palestine who will assert a right to defend itself.