In 1891, the first Black Recording Artists, George W. Johnson, a slave freed by the Emancipation Proclamation, became the first Black recording Artist.   He sang such songs as the Whistling Coon, the Laughing Darkey, and Happy We Are Darkies, So Gay.
George Johnson earned his skills as a body servant to a slave master's son who studied the flute. He purportedly accompanied the flute by whistling.   Soon he could imitate all the songs played by his master's son.   When slavery ended he migrated north and put his trade to work as an artists and repertoire man in a recording studio. White folks would insert a nickel into these juke boxes and play all the happy-go-lucky slave songs.
Below are the lyrics to the "Whistling Coon."
"THE WHISTLING COON.
Copyright, 1878, by Sam Devere.
Oh! I've seen in my time some very funny folks,
But the funniest of all I know
Is a colored individual, as sure as you're alive,
As black as any black coon;
You may talk until you're tired,
but you'll never get a word
From this very funny, queer old coon;
He's a knock-kneed, double-jointed, hunky-plunky moke,
And he's happy when he whistles this tune:-(Whistles.)
Oh, lie's got a pair of lips, like a pound of liver split,
And a nose like an injun rubber shoe,
He's a limpy, happy, chuckle-headed, huckleberry nig,
And he whistles like a happy killy-loo;
He's an independent, free-and-easy, fat-and-greasy ham,
With a cranium like a big baboon;
Oh, I never heard him talk to anybody in my life,
But he's happy when he whistles this tune :-(Whistles.)
Oh, he'd whistle in the morning,
through the day and through the night,
And he'd whistle like the devil going to bed.
Oh, he'd whistle like a locomotive engine in his sleep,
And lie whistled when his wife was dead;
One day a fellow hit him with a brick upon the mouth,
And his Jaw swelled up like a balloon,
Now he goes along shaking like a monkey in a fit,
And this is how he whistles that tune :-(Whistles)"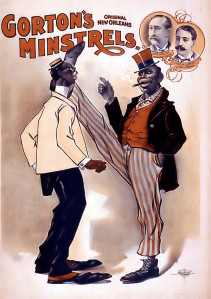 There is also a minstrel who went by the name Zip Coon.   He danced, sang, and otherwise entertained White people until they could laugh no more. He was a Black entrepreneur who became very wealthy.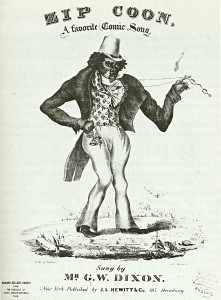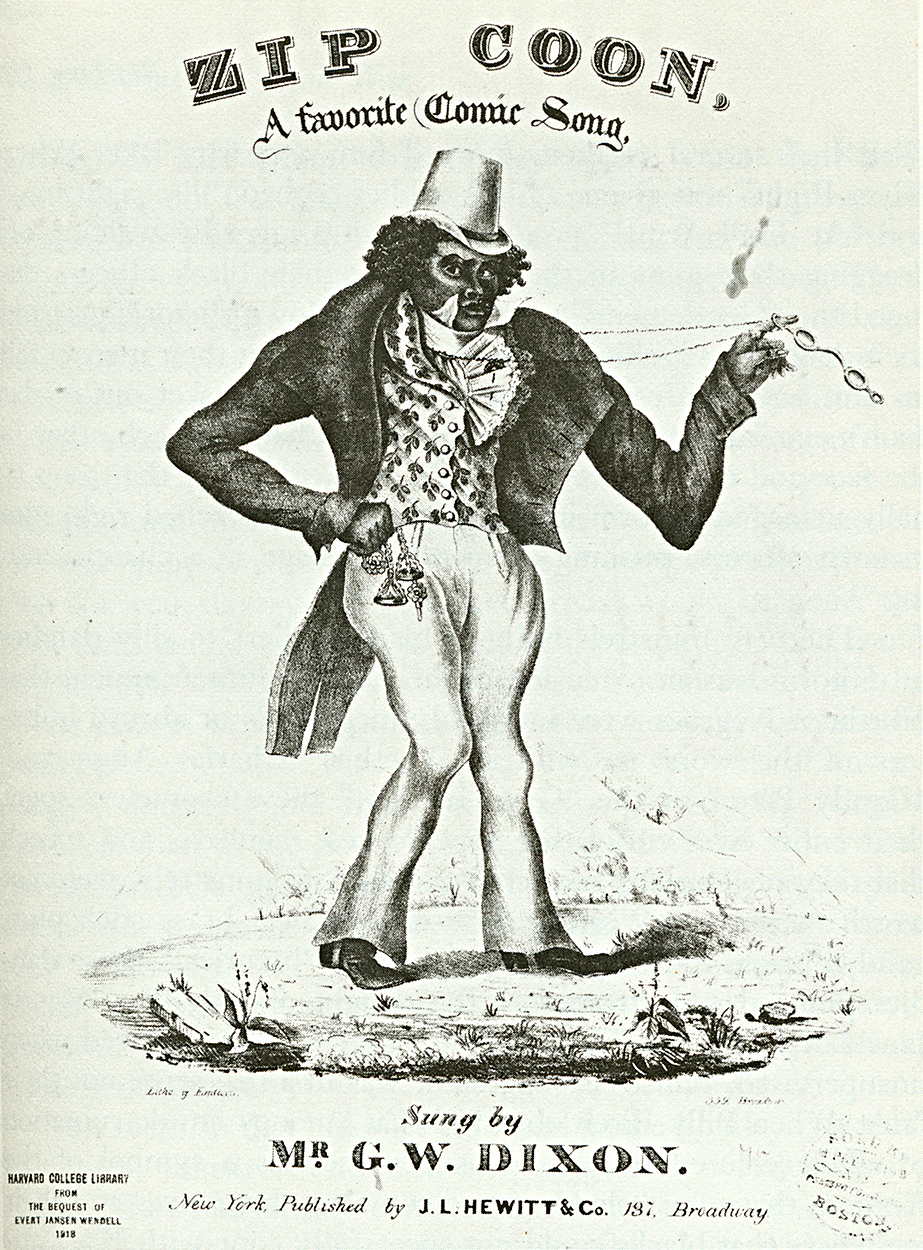 Having listened to a few of these tunes, I can see why Black people become angry at being called a huckleberry nig, or just a plain ol' nigger. It is not so much the words, but the way Black people were looked at, or down upon, that so angered them.
I suppose the words would not be harmful as James Taylor, San Francisco State University Professor, put it if you had a pocket full of riches to accompany the insults, or as actor Haddie McDaniel, Academy Awards winner, proclaimed… she'd rather be paid to act as a slave than actually be one.


Haddie McDaniel
I really believe that the words are not harmful if you do not respect, or look up to, the person calling you the names. Basically, if you do not look to the person for your self worth, it can be a laughing matter.
There are so many cruel things that Black folks had to endure in this country, that you will have to be a whistling coon, or a laughing darkie to keep from crying.   If you become angry at everything ignorant people say to you, you will be so preoccupied and consumed with anger that you probably will not have time to do anything constructive. That way you lose the battle, and you lose the war.
Until very recently, many people entertained themselves at our expense, and they were upset when we decided that we would no longer tolerate openly being teased.  Of course, there are folks who look down on us and still see us as Zip Coon, or the Whistling Coon. My advice would be to try to avoid them. Try to, on the sly, to take down their information so you can use it to your advantage one day. Hopefully, one day you will be able to "kick ass and take names" in a forum that you control.