I read an article some time ago that suggested Wall Street was named because of the walls that housed slaves for sale.
I like to cross check my references and this is what I discovered. Wall Street was indeed founded on slavery and, to this day, it remains a key pillar in upholding racial inequality and economic oppression. However, its relationship to slavery was a little more tenuous.
The Dutch West India Company utilized labor of enslaved Africans who were first brought to colony around 1627. The African slaves built the wall that gives Wall Street its name, forming the northern boundary of the colony and warded off resisting natives who were indigenous to the area. Thus, slaves built the wall and slaves, and insurance for slave owners were some of the main commodities sold therein. However, the wall itself was built to defend the fort from the indigenous people, but not to keep slaves corralled.
So when immigrants come to America and brag about how rich some of them have become, and look down upon the descendants of slaves, I like to give them this analogy…
Compare two parcels of land, one filled with gold, the other a barren wasteland. If you are permitted to work on the wealthy parcel your efforts may yield wealth. If you are relegated to the barren wasteland, your efforts will yield nothing.
Given that the slave trade made this country one of the richest in human history, if you travel here and open a store, you may become wealthy.
Even if you are here and not allowed to participate in the wealth, you will be just as poor as the person working on the barren wasteland. Although Blacks were here since this country's inception, it was not until violent protests broke out in the 1960s that opportunities presented themselves. Many are still not permitted to the opportunities offered others in business and education. Many are still discouraged by teachers, those who are paid to inspire them.
In 1664, The Dutch relinquished control of the colony to Britain and New Amsterdam was renamed New York in honor of the Duke of York.
The Royal African Company had a royal monopoly on the British slave trade and the Duke of New York was a major shareholder. With the Dutch gone, the British maintained the system of slavery in New York. They immediately created a series of laws to protect it. In 1665, a law was passed that legalized slavery. In 1682, slave masters were given the power of life-and-death over their slaves.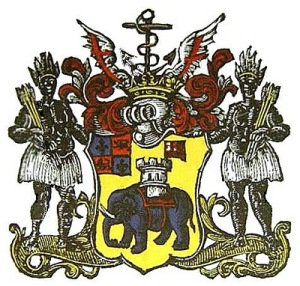 Insignia of the Royal African Company
In 1702, New York adopted its first comprehensive slave code and it equated slave status with being African. The entire system of slavery was justified by an ideology of white supremacy that considers black Africans inferior and white Europeans superior — an ideology that for most Blacks and whites exists today.
Slavery became the backbone of New York's economic prosperity in the 1700s. To normalize this massive trade in human beings, in 1711, New York officials established a slave market on Wall Street. Slave auctions were indeed held at Wall Street selling African slaves as property to traders wanting to buy them.
Between 1700 and 1722, over 5,000 African slaves entered New York, most of whom came directly from Africa, while the rest from British colonies in the Caribbean and southern colonies. Throughout the 17th and 18th centuries, as Phyllis Eckhaus points out, New York had "the largest urban slave population in mainland North America". Therefore, New York was a crucial location in the trans-Atlantic slave trade, which established it as the world's financial capital.
Many well-known companies and financial institutions benefitted from the trans-Atlantic slave trade.  They include Lehman Brothers (which went bankrupt in 2008), J.P. Morgan Chase, Wachovia Bank of North Carolina, Aetna Insurance, Bank of America, and the Royal Bank of Scotland.  Banks, such as Wachovia's predecessors Bank of Charleston, South Carolina, and the Bank of North America, and J.P. Morgan Chase's predecessor banks, made loans to slave owners and accepted slaves as "collateral".
When the slave owners defaulted on their loans, the banks became the new owners. The Lehman family members who established Lehman Brothers started their company to trade and invest in cotton, a cash crop produced by African slaves. Aetna sold insurance to slave owners who wanted to protect their investments in slaves aboard slave ships in case one of them died (this was a very common occurrence as millions of African slaves died on ships carrying them from Africa to the Americas).
The insurance company's policies compensated slave owners for the loss of people who were considered "property". To this day,there are lawsuits against these corporations to seek reparations for their participation in the trans-Atlantic slave trade.
When I see people, including Black people, protesting the killing of Michael Brown, and others, I am surprised to hear them quote the founding fathers that they insist established this country to pursue freedom and democracy for all.
That was never the intent of the founding fathers. The founding fathers, most of which were entrepreneurs and aristocrats had no such plans for the common man, or women, Native Americans, or Africans, who were regarded as stocks, bonds, and other forms of property.   The United States was founded to make money and the pursuit of happiness was synonymous with the pursuit of wealth.   In fact, nearly all of the original rights in the Constitution were included to protect the right to make money, and to get the King off their backs so they did not have to pay Royal taxes and tariffs.
Even when the founding fathers protested, their protests were designed to attack the wealth of the King. For example look at the Boston Tea Party when tea, alcohol, and other products from the crown and his cohorts were tossed into the Boston Harbor. So when people protest, the peaceful protest is not an end, but a means.
If peaceful protest gets results it is a preferred manner of voicing dissatisfaction.   However, if you are seeking to overturn the system, you must confront the system on all fronts and levels, and not just relegate your efforts to a single strategy, particularly one that is comforting to the group you hope to frustrate and you hope one day will honor your demands.   In other words, one should not play solely by the rules of the people to which you are at odds.   That is a losing strategy, and is not designed to force your oppressor to capitulate or concede to your demands.
What many do not recognize is an intelligent oppressor has already decided what he or she is willing to surrender before the conflict begins, and he or she begins to negotiate from a lower place before the reactionaries take to the streets.   They view the burning and looting of their giant corporate stores as a cost of doing business. However, burning and looting small mom and pop operations is usually not a good strategy because it isolates those who are most willing to sympathize with you.