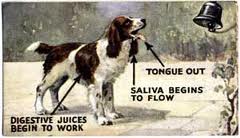 Pavlov had a dog. One day as he looked at his dog a question came to his mind: What is it that causes my dog to behave toward me the way that it does? After thinking on it for a while he decided to conduct an experiment to find out.
He took his dog into his laboratory. He waited until the dog became extremely hungry. He then showed the dog a large steak. Afterward, he rang a bell. Right after he rang the bell he fed the dog the large steak.
He did that time after time. First he would ring the bell then he would feed his dog a large steak.
Finally, after he had fed countless steaks to his dog he decided that it was time to implement phase two of his experiment.
He took the dog and attached sensors to the inside of its mouth. Then he waited until his dog was very hungry. When that time arrived he rang the bell. But this time there was no steak. He wanted to see what would happen to the dog.
He looked at his measuring devise and discovered that his dog had salivated at the sound of the bell even though he had not seen the steak before the ring of the bell. He called the dog's reaction: conditioned reflex. 
He had gotten the ringing bell sound into the subconscious mind of the dog in association with the pleasurable taste of a steak.
What that means is that the dog's central nervous system had been trained to salivate in expectation of the pleasurable taste of a steak at the sound of a bell.
What he also understood was that the brain is the center of the nervous center. He understood that he had gotten into the dog's subconscious mind and manipulated anxiety attraction for the pleasurable taste of a steak.
He understood after repeated trials of his experiment that the human subconscious mind was much like the dog's subconscious mind. The human subconscious, too, could be accessed and controlled by triggers in the environment like the ringing bell in his experiment. He knew that much of human social behavior could be directed by powerful people in government and media who had the technology to access the subconscious minds of masses of people by the ringing of a bell.
Words, pictures, sounds like music, odors, and even textures could be used to excite expectations of pleasure or pain in order to guide human feelings and behavior onto a desired path.  But that kind of control would not be limited to just one individual at a time.
Millions, even billions of people can be trained to march in step in response to mechanisms put in place around them. Those mechanisms are put in place to trigger certain mental and biological responses from individuals in their expectation of pleasure or pain.
Today, there is virtually no African American media. Ninety percent of all media is now owned by six corporations. The media's whole agenda is to persuade us to believe that they are credible and to buy goods and ideas in mass. The media manipulates us just as Pavlov manipulated his dog by the ringing of a bell.
What the scientists who work for media know is that by appealing to the unconscious fears and sexual anxieties of people scientists can arouse in people expectations of pleasure or pain. Scientists also know that if those triggers are repeated enough times over days and months they can get the association with pleasure or pain to stick in peoples subconscious minds.
For example, for five decades after World War 2, every December 7 the media reminded Americans of the Japanese bombing of Pearl Harbor. But now there is hardly a mention of it on December 7. The result is that people now have a more favorable stereotype of the nation of Japan. No longer do Americans associate December 7, 1941 with anxiety fear of pain from Japan. This is especially true for those in the age range 30 and younger.
When expectations of pleasure or pain stick in the subconscious mind each person will more or less behave automatically.  Just as your heart beats without your conscious effort, people will respond to their unconscious anxieties of fear and sexuality associated with words, sounds, odors, textures, and taste implanted in their subconscious minds by the mass media. 
For example, whenever you turn on the television or play video games on your Xbox the image and sound content is the ringing of the bell at the time that you are experiencing high levels of anxiety. That is exactly what reduces you to the level of a salivating dog.  
Don't you know… success of that kind of conditioning is one of the reasons for the kinds of hip hop music videos being played in media? Have you ever noticed how when you hear it your body begins to move; you begin to sing along with it; you memorize the lyrics. It makes you anxious either in fear or sexuality. All of that is evidence that it has been implanted into your subconscious mind. Most of the time you see and feel in your subconscious mind instead of making logical decisions based upon facts in the world around you. You, in your subconscious mind, have been reduced to the level of a dog. You can call it dehumanization if you want to but you are more like Pavlov's dog.
Politicians ring the bell, too. Their speeches ring bells to excite in you fear anxieties for the expectation of pain or attraction anxieties for the expectation of pleasure. So, they promise and promise what they will give you if you vote for them. By making promises to you they make you feel pleasurable or good but as soon as they get into office they do what they want to do for their Wall Street or corporate donors. And now, race and gender are the new ringing bells.
President Obama rang the race bell and incited pleasurable feelings in millions of African Americans. It worked because African Americans saw him in their subconscious minds as a 'black man' when in fact he is not a 'black man' in reality. African Americans voted for what they saw in their subconscious minds and of course President Obama would just ring the bell to give them the expectation of pleasure. But in the end African Americans have nothing but disappointment.
Hillary Clinton is the gender bell. She will play the same tactic on women that Obama played on African Americans. Women will see her through their subconscious mind in association with all the anger and resentment they have toward men. She will present herself as their savior pagan goddess. She will pleasure them with promises and stoke anxieties of fear about what will happen politically and economically if she does not win the presidency.
Never mind the facts that the same Wall Street and Corporate interests will fund her as did Obama and the Republicans. Women in general will be dehumanized by her campaign because she will not tell them the truth about herself and her real loyalties. Hillary Clinton's loyalty is to the global plutocracy. It is now and it always has been just like her husband Bill Clinton.
But how will she get into the subconscious fears and hopes of African Americans? There is a simple answer to that. She will ring her bell and the Al Sharpton national action network, Jessie Jackson, Eric Dyson, Black Churches, the Urban League, the NAACP, and the Black Caucus, along with a host of other black influence peddlers will begin to salivate like the dog in Pavlov's experiment. They will make their rounds mainly on the network news and talk shows to advance her promises to you in hopes that you confuse the color of their skin with the reality of their true motives. Their motives are economic self-interest and anxiety attraction for the love of their masters who ring the bell.
This kind of manipulation has gone on for centuries. But today it is much more sophisticated because of modern technology.
Most African Americans get caught up in the whirl of propaganda. Like Pavlov's dog they are conditioned to respond to the bell even when there is no benefit for them. The proof of that premise is evidenced by the spending pattern of African Americans. Most of what they buy in stores has no utilitarian value at all. For example, in 2009 African Americans spent 3 billion dollars on alcohol and 3.30 billion dollars on tobacco products.
Remember the subconscious mind does not view reality as it is; the subconscious mind views what has been artificially implanted in it. Amoral scientists and politicians will always dominate people who cannot understand that premise.  They will always abuse people who cannot defend themselves.
So, even though legal remedies to our problems are important. Just look were that has gotten us since Brown v. Board of Education, 1954 or the 1965 Civil Rights Act; collectively we are worse off.
What is even more important than legislation is that we first stop responding to the ringing of the bell. We must keep our enemies' artificial montage of destructive stereotypes out of our subconscious minds. We must not allow ourselves to be trained like dogs to respond to the ringing of a bell.
 http://www.spreaker.com/user/themalcolmxsociety/at-the-sound-of-the-bell