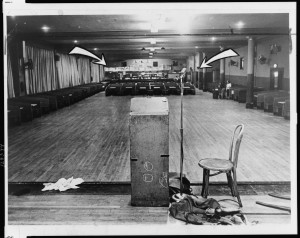 We all have dreams and aspirations to reach up for the stars. But under the stars and your dreams there are gun towers. Those gun towers cast long dark shadows on the yard to block the light of the stars from your view. They are instruments of repression which imprison you. They always have you in the cross hairs of their scope.
The towers rise high above the yard and from every corner of them extend  dark rifle muzzles  from shaded rooms behind which are nameless faceless shooters ready to take aim at any one who would have the courage to ascend the wall to take their freedom.  So we see the Michael Browns, the Eric Garners, and thousands of others like them taken down.
Sporadically, we all walk our yard and when we do we step into and out of lines of fire as do miniature figurines in a shooting gallery. 
It is a mind boggling experience to watch the endless procession of hapless men and women. We are that procession of people who continue generation after generation spewing forth from all the four horizons of the world to converge on a yard wherein we like peas in a pod live out our lives indistinguishable one from the other.
But there are deeper connections between us. We see and feel those connections every day. We are on some kind of conveyor belt a kind of assembly line.
It rolls us along a feedback loop between the prisons and our neighborhoods. It sweeps whole families away.  We are related to each other by blood and even if we are not then we are interconnected by a common subconscious mind which binds us to a network of fractured images. Such are the kinds of images which continually distort our perception of reality as would happen to one in a carnival's house of mirrors. We see our reflections.
Faces are young and old. They play the same old roles consigned to them over and over again generation after generation. Typecast our energy is not our own it is continually sapped from us as oil is pumped from deep beneath the earth.
We are the lumpenproliteriate. The prison yard is our estate. But the illusion is such that we are not aware that the estate which we have inherited is bankrupt. We like Malcolm X have come to know that our estate is one wherein we should expect poverty. And what of the experience of our dear brother Malcolm X?
Did Malcolm X know that he was a figurine? A whatnot, a caricature of a man?  Was he such a thing having no power of self-animation? Was he a thing to be forever moved by inimical forces? The forces which giveth and taketh away?
The young Malcolm lost his civil rights and even more importantly he lost the power of his soul. Those two are the elements which great philosophers celebrate as the context of all relations between government and its citizens.
It as a way of life based upon a simple proposition. Government cannot be the context of human relations between it and the citizens who created it. Citizens don't live in government because government is an idea in the mind of its citizens. Government, therefore, is a momentary choice citizens make about what government should be as citizens live their lives free, outside of government.
How does it happen that Malcolm X walked the yard in the line of fire? By what rule of logic does such an inversion from citizen over government to government over citizen take place? And can it be reversed?
Malcolm X must have pondered that his situation was a contradiction of all that we say is a man and woman's inherent right. That incarcerated he could not by his free will even expand his lungs to take in fresh air.
How repressed he must have felt in that  situation.  His dawning dreams forced down to the ground and mixed with his base impulses must have caused extreme confusion in his mind.
That kind of confusion can only occur in one's mind when the concept of freedom is turned inside out by the voice and actions of one's fears. Such is a life lived out of misdirected attachments to what one falsely concludes are worthy objects of attraction. But if one wants to change, then a decision to change one's life is a crisis. For an effort by anyone to replace unworthy objects of attraction is full of danger.
To self-motivate is to rise above the gun towers by spiritual force alone. It means not to fear ideas. It means not to fear the capacity to dream. It means to risk death by his choice to be free. 
It is a risk that all courageous men and women have taken throughout history and it is the greatest risk that courageous men and women take to be free today. 
Malcolm X knew that to become free he must fight. He learned that the fight would be spiritual in nature. He knew he had to fight so that he could claim and exercise his inherent natural rights against all oppressive forces.  He knew that it would take not one, two, or even 10 rounds to fight, but that it would take a life time of struggle day in and day out.
 His decision must have made him intuit that any stall or step backward in his struggle would have put him in the line of fire and trigger a shot from the gun tower. But more importantly, his fight could not be a response to fear nor could it be a fight solely in response to the power of the shooter.
Rather, Malcolm X understood his fight had to emanate from a completely transformed subconscious mind in conjunction with a clear consciousness of freedom and the price which he had chosen to pay so that he could have it. 
You are on the yard, too and you are in for the fight of your life, too.  So, prisoner, have courage and fight.