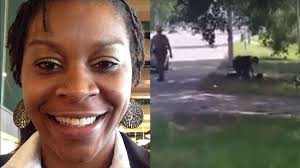 If you have a living mother or grandmother, a daughter, a wife, a niece, and aunts, then your stomach must have been turning over into knots these two weeks.
On Saturday July 25, Sandra Bland was buried. She died in Waller County jail in Prairie View, Texas. On July 13, she was found hanged by a plastic bag which had been placed by jail officials into a small garbage pail in her cell.
I have seen the extended video of the incident which occurred on July 10. I have also seen a copy of her felony arrest warrant for allegedly assaulting a public official and a copy of her jail booking form.
The extended video shows Police Officer Brian Encinio approach her car. He obtained from Ms. Bland her driver's license and registration then goes back to his patrol car.
Later, he returned to Ms. Bland's car. He asked her: "Are you irritated?" She answered him in the affirmative and told him why. She then asked him to write the ticket.
He then asked her to put out her cigarette which Ms. Bland was lawfully smoking in her car. She asked him: why? He then asked her to get out of her car. She asked him why she had to get out of her car.
She asked was she under arrest and if so for what. She refused to get out of her car. She asked him why he wanted her to get out of her car for a traffic citation. He grabbed at her to pull her out of the car. The police officer never stated to her that she was under arrest before grabbing her.
The fact is that Officer Brian Encinio did not have 'probable cause' to arrest Ms. Bland because he pulled her over for a traffic infraction not the belief that she was in the commission of or had taken a substantial step toward the commission of a felony.
In fact, he made a threat to do bodily injury to her when he said to her: "I will light you up"; he then pulled his Taser gun out and pointed it at her. She was later thrown head first onto the ground by Encinio.
Only afterward did he state to her that she was under arrest for assaulting a public servant. However, other than a claim that Ms. Bland kicked him in the shin there is no evidence on the video recording that she in fact threatened the officer Encinio while in her car.
A second black female police officer arrived on the scene. But even though she was driving in the opposite flow of traffic to officer Encinio the black female officer affirmed to him that she had seen Ms. Bland kick him in the shin after Encinio had asked her a leading question: "did you see her kick me?"
The black female officer can be seen later with her knee on Ms. Bland's back as she lay face down on the ground.
The booking form filled out by Ms. Bland is ambiguous about Ms. Bland having ever attempted suicide. It asked twice whether or not she had ever committed suicide.
There was allegedly a written statement on the form that she had attempted suicide in the past but there was also on that same booking form an X marked  no to a question asking had she ever attempted to commit suicide.
No jail official claims to know specifically at what time on the night of July 13 she was hanged. No one knows whether or not she alone hanged herself. The official autopsy report done by the county coroner concluded that because there were no signs of trauma or struggle she must have hanged herself. They claim that Sandra Blank committed suicide.
But no one addressed the possibility that she could have been held down by two or more sheriff's and smothered with a pillow over her face. I spoke with a physician and was told that it is highly likely that there would be not visible trauma or sign of struggle if she had been held down and smothered with a pillow.
Some people want to turn Sandra Bland who was the victim into the villain and the cause for her arrest and death. 
I have been reading arguments that she should have been compliant…that is she should have put out her cigarette when she was told to do so.
She had an absolute right to not put out her cigarette which she was lawfully smoking in her car.
But Ms. Bland had an absolute constitutional right under the fourth amendment to ask officer Encinio whether or not she was under arrest.  
He ignored her questions as though she was not a citizen with legal rights. In fact, many police officers perceive black, Latino, and Native Americans as foreigners and treat them as such.
Given all the facts surrounding Ms. Bland's death we can conclude the following:
Officer Brian Encinio committed criminal and civil battery against Ms. Bland.
In both criminal and the common law of tort, battery on another person occurs when a person intentionally touches or even acts as though they are going to touch the person of another without that person's consent or without justification.
When Officer Encinio threatened Ms. Bland by saying: "I will light you up', it was an expression of his intent to electrically shock Ms. Bland with his Taser Gun.
It can clearly be seen on the video that Ms. Bland was extremely apprehensive of Officer Encinio shooting her with his Taser weapon; she reacted out of fear of pain by resisting Officer Encinio when he reached into her car and man handled her without her consent or justification under the law.
We also know that Officer Brian Encinio was taken off his patrol duty and put on desk duty because he violated arrest procedure as defined by his department.
Waller County Jail is guilty of gross negligence against Sandra Bland.
The Waller County Jail had a duty of due care not to harm nor allow harm to Ms. Bland while she was in custody and under the jail's supervision. It is a standard duty of due care which all jails and prisons in the same or similar circumstances as the Waller County Jail have for inmates' safety.
The Waller County jail recklessly breached its duty of due care for Sandra Bland when it failed to supervise the safety of Ms. Bland.
     3. The Waller County Jail is the actual cause of Sandra Bland's death because Sandra Bland was found hanged by a plastic bag which the sheriffs had placed in her cell.
     4.The Waller County Jail is the proximate cause of Sandra Bland's death.
In the law of torts, proximate cause means failing to foresee what one should have foreseen. That one knew or should have known the long term consequences of one's act or omission to act which caused harm to another person. 
In Ms. Bland's case, the Waller County Jail officials where indifferent to Ms. Bland's condition in jail. They should have foreseen that any object like the plastic garbage bag in her cell could be used by her to commit suicide.
The jail officials should also have foreseen that she needed to be watched because it was reported by another inmate that she was crying throughout her days in jail.
That kind of anticipatory reasoning would have been based upon Ms. Bland's ambiguous answers on the intake booking form whereon she answered yes to one question that she had attempted suicide in the past.  
The Prairieville Police Department and Officer Brian Encinio should be charged by the District Attorney for criminal assault and battery against Ms. Sandra Bland.
The Waller County Jail should be sued in civil court for negligence in the death of Sandra Bland.
Now you know the answer to the question: Why is Sandra Bland dead? Sandra Bland is dead because she was a black woman.