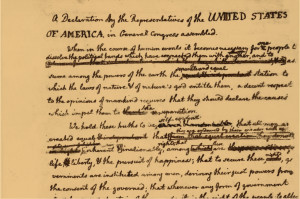 Thomas Jefferson wrote the Declaration of Independence. Its publish date is July 4, 1776. Therein it states four simple propositions: 1. "We hold these truths to be self-evident, 2. that all men are created equal, 3. that they are endowed by their Creator with certain un-alienable Rights, 4. that among these are life, liberty, and the pursuit of happiness." These four propositions evidence an extra potential in all human beings.
There are moments however few they may be when some men and some women have extra dimensional inspired moments which unfetter their minds; moments when they are raised above their egos, their selfish concerns, their worldly ambitions, and their desire for worldly immortality. They rise above desires for what is impossible to what is possible…and what is inevitable.
They briefly peep Transcendent Magnificence; they peep 'What it is'; 'What is above all', yet 'What is inclusive of all'.  It takes them awhile to understand the significance of what they have seen. But eventually they do come to understand what it is.
Yet, sometimes those same men and women who are enraptured in deep inspired thoughts and who do express transcendent propositions do not themselves fully comprehend their own thoughts in their own times and circumstances.
Their own comprehension is cancelled out by hundreds of moral contradictions inherent in their lives, by the thought constraints imposed upon them by their cultures, and by natural resistance itself. We know for instance that many of Thomas Jefferson's moral contradictions are manifest in his book: 'Notes on the State of Virginia' and in his relation with his slave Sally Hemings and the five children they sired.
But even simple biological acts such as eating and sleeping cut their inspired moments short and in so doing makes them limp along, …just another wretched of the earth… here for a while to live and then to die.
For all those reasons they are preoccupied; therefore, it should be of no surprise to anyone that they miss the fine profundity of their own inspired thoughts and expressed propositions. When that happens the train of history jumps a track.
The United States has jumped its tracks many times since the implementation of the 13th, 14th, 15th, 18th, and 19th amendments to the U.S constitution. It is jumping it's tracks today.
Driven by primitive sentiments of misguided white people and fanned by white supremacists' propaganda media like the Fox Television Network, every non-white ethnic population in the United States has been a target of or is targeted now by their social and economic frustrations. For example, Asian Americans, Native Americans, African Americans, Mexican Americans, Buddhists, Muslims, and Catholics have all been at one time or even now the target of some white people's anger and violence.
National derailment occurs when some white people fail to understand simple cause and effect relations or deny the facts in front of them that state unequivocally that other white people are stealing from them, too.
They conclude wrongly that Mexicans or African Americans or Muslims are the causes of the collapse of their middle class status and their debt enslavement, but they are wrong. For example, African and Latino Americans own approximately a combined 4% of the total national wealth compared to white Americas' ownership of 85% of all national wealth. Thus, they are not an immediate threat to the white upper and lower middle classes.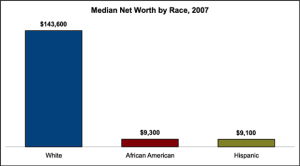 The truth is that middle and lower class whites have always been tricked and exploited by people of their own ethnicity, i.e. other white people, and the evidence supports that premise. For instance, in a recent article entitled: 'The Forbes 400 and the Rest of Us', it states that there are 20 United States citizens whose combined wealth is greater than the bottom half of the American population or 152 million American citizens. Those 20 people are white people not African, Asian, and Latino Americans.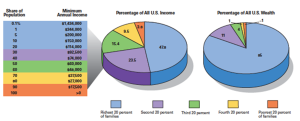 Failing to logically comprehend what those facts suggest some white people become frustrated and then angry. Angry because they are not getting a share of the loot promised to them by rich white people when the United States was founded under the canopy of white supremacy and articulated in Article 1, section 2, clause 3 of the United States Constitution.
They were promised that their 'whiteness' is all that matters. Now they know that they exchanged their allegiance to the myth of white supremacy for a false premise because 'black lives matter', too. But they don't want to accept that truth. They are resisting that truth. They think as though they live in the year 1915 instead of 2015.
Tragically, that 'stinking thinking' must lay around until future generations of young and passionate souls are awakened by their own inspired thoughts.
Such young people, though always a minority in the masses, are eager to learn and to make the world a better world than what they inherited; to discover, unravel, and intellectually explore those words anew for themselves. For each generation is a fresh psychic force pushing against the pendulum of human affairs farther away from tyranny and ever closer to justice for all.
Justice is in their sight.  Justice is standing with a collection of all inspired truths in one hand but with a sword in its other hand. That is to remind us that in order to insure the continuity of inspiration through us there will be times when we must fight and sacrifice against all opposition to our persons and to our storehouse of inspired literature whether it be the Psalms of David, the Gospel of Thomas, or the Holy Quran. That must be done in order to preserve them as treasures for all humanity. But there is more.
We should not only fix our gaze upon supernatural hope; we must also resolve ourselves to make a living here in the world. Thus there are political, social, and economic ideological treasures which must also be preserved. Democracy is not oligarchy; society is not exclusive; and economy is not predisposed to concentrations of wealth in the hands of a few hundred or thousand out of hundreds of millions of We, the people. We will not allow those treasures to be buried.
Jefferson went on to write two other propositions: "… 1. whenever any government becomes destructive of these ends, it is the Right of the people to alter it, 2. and to institute new Government…". So, now, what are you waiting for? "The point is to change it."