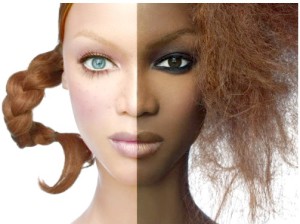 Cosmetic allegiance is an issue of sovereign rights. The way a people decide to adorn themselves constitute a territory where foreign office holds no legitimacy.
However, when the application of cosmetics involves the elimination of an individual's phenotypical characteristics like that of his color, then it ceases to be an aesthetic practice.  Instead, it becomes racial denial and a hysterical allegiance to mythical archetypes.
This is precisely what the practice of skin bleaching is. Common sense demands serous scrutiny of this problem which has become global. Why don't modifications of one's hair, height, or weight and even cosmetic surgery align with this same practice?
Skin bleaching – elicits three facts. First, the negation of self that is, secondly, coupled with the veneration of the imitated other. And thirdly, the 'imitated other' which is posed as most exquisite.  Even more, the cosmeticized person becomes a canvas on which is constructed the image of the subjugator who invalidates the basic premise of human equality. The latter – cosmetic surgery – is rooted in a desire to uplift corporal features in order to meet certain standards without necessarily subjugating those who may be lacking in them.
In The Clash of civilizations and the Remaking of World Order, Samuel Huntington's analysis is keen except for a solid thesis which nails down how race and color have played an important role in shaping, most of the time, these clashes of civilizations. W.E.B. Dubois corroborates this point when he stated in The soul of black folks, p.9.: "The problem of the twentieth century is the problem of the color-line, – the relation of the darker to the light races of men in Asia and Africa, in America and the islands of the sea."
Although skin bleaching is self-denial do to its negation of essential body features, these practices beg the question whether or not the practice has existential value for the one cosmeticized. While existence is primarily a matter of the mind according to modern thinkers: "I think, therefore I am", contemporary philosophical thought holds that understanding how perception works is the key to understanding just how one assigns value to existence.
What is meant here is that the inter-subjective reality or dialectical nature of man is what constitute his primary mode of existence. Merleu-Ponty calls it the primacy of perception.  In his Phenomenology of Perception, p.169., he writes: "The body is our general medium for having a world." This claim pregnant with questions both philosophical and practical especially in a world where how you look determines who you are. It is therefore not an exaggeration to say that the clash of civilizations (cultures, religions, etc) is more so a clash of perceptions which embody not only the antagonism between different spheres of existence called cultures but also peoples and their colors. By perceiving the world, we get an image of ourselves by which we define and value [our] existence.
Having established the conceptual basis which defines existence – at least phenomenologically under the banner of perception (for in all interactions, interpretation, and quest for meaning or sense of self, it is always indispensable) I will outline how one of these aspects of perception has been instrumental in the practice of skin bleaching. Skin bleaching by black people is a practice designed primarily to modify their own perception and 'imitate other's' perception since it determines the valuation of their existence.
The Social distance scale of Emory Bogardus – 1930, brings to light the idea of the agreeableness of being white and the liability of being its opposite or black. For black on the scale is non-desirable. It is a phenomenon rooted in diverse myriad conceptions that have lasted over centuries and survives to the present day.
On the line between white and black which incarnates in the world a divide between rich and poor, good and bad, intelligent and dull, opportunity and despair, happiness and sadness, light and darkness or again norm and abnormal, skin bleaching appears as a palliative option and recourse that would admittedly bridge the gap at best or at least reduce it. In any case, for the practitioner something should be done to their black skin since the divide which caused them grueling anxiety is based on it.
Whether the bleaching is done or not, the perception of a black person's skin color shapes his or her identity. It shapes his or her existence which in most cases is in suspended animation due to its devaluation.
The argument for skin bleaching follows seven main lines of thought which do not pretend to be exhaustive but is meant to showcase the general character of the practice and how it affects a whole organ. As such, these shall be articulated around the following: mythos, thymos, ploutos, ethos, eros, pathos and logos. Can we proceed?
Mythos: Veneration of Illusion and the Creation of Rites for Dead Gods
A myth is simply a lie; it is told skillfully over and over to make people believe and behave in a given way. Plato had such an idea when he said in The Republic: "How then do we devise one of those needful falsehoods, if that be possible, and at any rate the rest of the City." And among the lies he told, was his conception on intelligence which emanated from the divine and associated with self-discipline the color white while the opposite of these are associated with black. Once the lie is believed, lives would be changed.
"Emeka is a very beautiful girl like no other from the Eastern part of Nigeria. Dark in complexion and sober in composure. After secondary school at the age of 18, she went to the State University of Anambra. Everyone knows her for her outstanding beauty, soothed dark skin and corpulence of proportion. She was not of the richest families but had never been lacking in complements or suitors from the most modest handyman to the haughty politicians and tycoon business owners of the City.
While waiting to make a decision on marriage, she had decided to first focus on her education in accordance with the exigency of modern times and the wish of her parents. After a few years in the University, one could notice that she is becoming lighter and lighter while her soothing darkness is steadily disappearing. At 25, after her Master's degree in Mass Communication, she had become a light girl, and had a position in a local broadcasting company reporting on issues related to sports and women's affairs. For onlookers who never knew her, she looks like a natural light skin girl. Light in complexion she is now engaged to a medical doctor and hoping to get married soon. She is happy, her family too, and the millions of girls in Nigeria dream to be like her. They envy not only her academic accomplishments and devotedness but also her love life, family life as well as her beauty, more precisely her color. Case closed, it's time to settle and take care of children.
This is a typical pattern for most young girls in Nigeria. A country wherein about 77% of skin bleaching products are used by Nigerians according to the World Health Organization. The remaining 23% are those who cannot use the skin bleaching products because they live in remote areas where cosmetic products are not easily accessible.
In fact, there is a myth now becoming a religion which holds that being whitish is better and has been absorbed in the minds of young Africans who dream of nothing else but being like white ladies. For, how could a young lady Emeka, who has never questioned her beauty still believe that she needed to tone out her blackness to look better? This illustrates not only the power of media, especially Nollywood which usually gives star roles to beautiful light skin girls while reserving the 'mean' or abrasive roles for girls and women of dark features, but it is also the influence of myths which have played an important role of propagandizing a false conception of beauty and aesthetics.
Thymos: The Foundation of Aesthetical Quest
Skin bleaching is a symptom which reveals a psychological problem of low self-esteem, low self-importance, and low self-worth or desire for recognition. The combination of all these concepts fit into a more general term anti–thymos meaning 'low spiritedness'. The definition characterizes all of these and is more explicit in setting out that inner desire of humans to be seen as good, important and of value. Francis Fukuyama in his book: The End of History, p. xix., acknowledges that the desire for recognition is the motor of history. The word self-esteem does no justice to this deep sentiment in humans to be recognized by their peers and the broader population. For women, and now in the post-modern West what is viewed as the feminization of man, it is manifested by exhibiting corporal features in the most striking and 'acceptable' way that would attract the most attention.
Skin bleaching is an apology though expressed in a naïve way. It is generally admitted that beauty brings self-confidence and greater self-esteem. What happens when beauty is associated with whiteness? Those who are white, or have a light complexion turn out to have a light self-esteem compared to their black counterparts. Researchers Verna Keith and Maxine Thompson through their article The Blacker the Berry: Gender, Skin Tone, Self-Esteem, and Self-Efficacy in Gender and Society, pointed out clearly that among African American descendants of slaves there is a strong correlation between self-esteem and skin-tone which indicates an internalization of colorism. This correlation, they admitted, is even more exhibited among low income women. In Africa, skin-tone boost the self-esteem of women who believe they are more beautiful being light skinned.  But such practice is more common among those with affordable incomes than those in the villages and outskirts. So, in the future there may be class overtones in Nigeria which are skin color based as well.
These researchers went as far as demonstrating that it has an impact on educational achievement, prison sentencing, and even the likelihood of being elected into congress.
But self-esteem and self-confidence are not the embodiment of what defines thymos, i.e., the desire for recognition. Perhaps, it should be said that that is the fast-track towards 'ideals' of recognition. And like other fast-track options, their sustainability is easily put to trial and easily challenged.
It may be a no-brainer to remind anyone that skin bleaching is not appropriate but perpetrators will willingly admit that it helps them to achieve what they want. Skin bleaching therefore becomes a mode of survival in a complex world of limited opportunities and possibilities.       
Ploutos: "Just Being White You'll Win"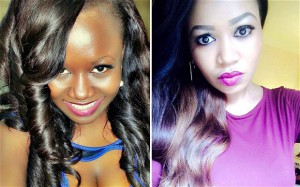 Recently, an ad in Thailand dated January 08, 2016 claimed that "Just being white you'll win." Although the outcry of viewers obliged the barons to make a weak apology by stating that they never intended to hurt anyone, the message was already passed and the marketing scheme was achieved: put brazen attention on the subject while selling its products. In fact, it is a general protocol of those with biased views to say the most outrageous things, then apologize a few days later, then continue to say the same thing, then apologize again. Before they get tired, another person takes up the same vicious circle with similar outrageous comments, then apologizes and so on. The pattern, which is clear enough, leaves no room to doubt that there is no willingness to apologize as a way of changing an act or as a sign of contrition. In modern times, making an apology, especially in racial colloquial mischief, is a matter of social and marketing etiquette than it is a heartfelt willingness to change.
Few people are skilled enough to read the unconscious mind of others, but when skin bleaching becomes so pervasive in Africa one can only guess that it is related to the survival of some of those who practice it. Users might not necessarily know – explicitly, when they become addicted to it. If you ask them if they want to be white, a timid shrug follows because they know they are rooted to diverse practices from food to language very different from the person s/he wants to imitate. But don't make the assumption that looking black[ish] is good. So, if the unconscious mind can't be seen, its symptoms can. These symptoms appear in words and actions which manifest the nausea that being white[ish] increases your chances of succeeding in society.
Despite the outrage from the commercial which said "just being white you'll win," it appears that it extracts its axioms from the general hysteria of the public whose amnesia on the nature of man becomes more vivid than ever. But how do you win being white?
Ploutos is the Greek word for wealth which has been used here in opposition to money which is chrimata. Ploutos refers to the various vertical acquisitions which distinguishes a person from being poor irrespective of monetary equivalence: education, business, appointment, jobs, social capital etc. The skin lightening/bleaching industry is expected to reach about 10 billion by 2015, according to Skin Inc. June 23, 2009. While it is a source of wealth for the industries and their retailers, it is equally a means by which users believe they may increase their chances of vertical mobility in society: landing a good job, sports, or associating with those of the higher orbit.
By using various schools of thought, myths and laws (Plato's Metaphor of two lovers, the myths of the metals, a sliding scale of justice by Aristotle, and even the USA Constitution) which classified humans from their whitest to their darkest using various approaches, Dr. Steven Nur Ahmed proves in A Particular Line of reasoning, 2015, that economic consequences follow such a thought pattern.
But there is more into skin bleaching than simply the desire to improve one's wealth and feel better. There is also the question of love, sex, and marriage. 
Eros: Sex, Love, Marriage and Color
Eros, the embodiment of emotional energy, sometimes related to sex, is a force that controls humans lives in ways unimaginable from the minute aspects of clothing to the greatest like the wish to be a billionaire or a CEO of a fortune 500 hundred company.
As mentioned earlier, most African women with lighter skin have a higher self-esteem than women with darker skin. But it must be said that such self-esteem comes not necessarily from the conviction of self-proclaimed beauty but from the belief that she would possibly get a better lover or spouse along the way. Being light-skinned becomes a strategic front design to attract a spouse of one's choice – usually the one with a higher purchasing power. It is no surprise that in Nigeria, some Igbo charge higher bride price for light women and lesser for the darker ones. This instrumentalization of beauty to the detriment of common sense only increases the problem.
Perhaps the problem lies with black men for their preference for light-skinned women as Ntambwe (2002) writes: "The majority of black men prefer light-skinned women as partners, girlfriends or wives. Several authors have stated that these light-skinned women are perceived as attractive, intelligent, moral, sexually more desirable, even chaste; whereas dark-skinned are regarded as mean, evil, stupid, even not as trust-worthy." But whether men should be held responsible for this misplaced perception is a matter ethical/moral writ which shall be considered in the next section on ethos.
 From women's perspective, issues of love and marriage are comparably of value only to that of life and death. Because they're of utmost importance to them they'll do all it takes to reach their state of self-accomplishment – fulfill existence. Since they stand on the passive side waiting for their desired spouse to make a move it follows that their best recourse for attracting attention and be competitive depends on possessing those striking features which would prompt men to action.
All means are good so long as they reach their goal and skin bleaching is one of them. In this light, it is no doubt that lecturing African women on how to maintain natural beauty is usually a vain exercise for the most part. Their whole existence is tuned primarily to being beautiful, to be seen as such, always complimented as such, and when she notices that such compliments or suitors are reducing or remain constant she will then increase the dose of her concoctions. Facebook, Instagram, Nollywood, Hollywood and the entire media all participate in this social drama. The advent of social media has given the opportunity for African women to display the triumph of their cosmetic metamorphosis by successes easily measured by the amount of likes she receives as well as comments. Is this appropriate? This appears to be the right question here because "if it works, don't fix it" as the popular saying goes. 
Ethos: Ethical Concerns
 Besides feeling the need to feel important, recognized or to be beautiful – as it is claimed, is it of ethical stance to erode the melanin of one's skin using corrosive substances for the end of looking light? While beauty is believed to be in the eyes of the beholder, ethics on the contrary lies in the minds of the one who withstands the test of rationality and reasonability.
The ethical consideration shall be comprised of four arguments: who is responsible for the acts, is it admissible morally to tone one's skin, should it be regulated socially/institutionally, and should we question if we have failed/betrayed dark-skinned women by choosing light ones or by deciding to bleach and be apart from them? On the last note, the ethical question enlarges more to a legal and community problem which enters into the heart of social justice and the defense of common welfare in an era of individualism and capitalism whose remnants, as can be seen, appear visibly in skin bleaching.
Milly Mira is a Cameroonian US based blogger who believes that African men created skin bleaching. Here is her argument on 1st of December 2015: "Many African men are hypocrites because they are the first to mock girls and women with lighten skins but are the first to pick a fair skinned girl as their idea skin tone." She continued her argument: "I have had discussions with many single male friends who are purportedly 'ready to settle' and need a hook up. When I ask what attributes they find attractive or are looking for in a girl the first thing 'one that looks like you.' What percentage of Africans (Cameroonians) are naturally light-skinned? … if there is demand we will supply okay." This is not just an economic anecdote but also an attempt to remain credible.
Since morality is based on responsibility, on personal acts, how an individual reacts to personal, social, and structural pressures impounding on his conscience and freewill, then it will be admitted that those imputed are primarily the users.
Furthermore, is it moral to bleach one's skin? Skin bleaching comes with peculiar traits. In principle, morality takes root in the conscience [nature], grows through the mind [nurture] develops through society [law] and ends in the will [love], (K. Emilton, p.122.). This synopsis on morality puts us in a fragmented diagnosis where blame becomes difficult to establish. While the conscience may timidly admit that it is wrong to willingly change one's skin color, the mind – which is built through society – has developed arguments to accept and accommodate it as normal in a society which has not yet define it as a punishable act. But does this end in love? Considering the fact that the basis of bleaching was hate (in a soft sense), it would only be a surprise to imagine that it leads to love – characterized by respect of self and others. In fact, denying one's own blackness makes us guilty of disrespect in the face of blackness in the other.
Concerning its regulation, in May 2015, the Ivory Coast is known to have imposed a ban on skin-bleaching products which have caused great damage to the minds of its young people. Most African countries remain indifferent and the individual is left to his fate. But the banning of these corrosive products doesn't stop the Ivorian media from choosing light-skinned women as program hostess or giving them lead roles in movies, or choosing them as wives/girlfriends thereby perpetuating the same malaise that the legislation intended to curb. Gambia and South Africa have equally issued bans but there is no evidence that the public has stopped using them.
Finally, the role of the law comes in as a recognition that there is a communal responsibility of helping each member of a community to live to their fullest potentials, to be themselves and above all to be respected for who they are – humans. But this communal responsibility, a type of social ethos, falls only on a few who believe that they must protect each other. In fact, in modern society, it is difficult to be indifferent. One can't have an uncontrollable desire for light-skinned women while being fair to dark-skin women in the same way. And if and only if society assumes the stance that skin bleaching goes beyond an individual's decision then change would be far from possible. "if the arm is sick, the whole body gets affected."
Pathos: Pathology of Skin Bleaching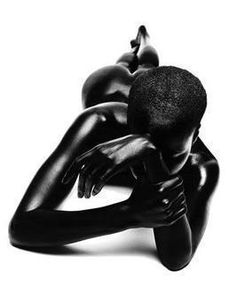 To understand the pathological state in which most blacks live there is no better description than the lucid work of psychiatrist Franz Fanon's book: Black Skin White Mask: The experiences of a black man in a white world. He admits in his premise that the juxtaposition of the white and black races has created a massive psycho-existential complex. Using various examples from real life experiences including his own, he affirms that only a psychoanalytical interpretation of the black problem can lay bare the anomalies of affect that are responsible for the structure of the complex.
Two pathological patterns shall be examined from his analysis. The first narrates the way the woman of color behaves with the white man which he finds incomprehensible. Referring particularly to the Antilles woman of color, he explains that her main dream is to meet a white man with whom she'll get married. Despite having suitors who are educated, responsible and ready to love them wholeheartedly, she still despises them just because they are black, low class while waiting for the day the white man will knock on her door.
Chris Rock, the American comedian and actor made reference to this when he joked about black women saying: there's never a perfect match; you're a black woman, he's a black man. Contrary to common sense which holds that man is a motion towards the world and towards his like (Franz Fanon), with the black woman, being with his like sounds like a taboo. The opposite of this holds true. The black man dreams of being with a white woman who most of the time repudiates him. Drawing from his personal experience, he concludes that the black person's mind has been completely destroyed and needs liberation through psychoanalysis.
While psychoanalysis intends to explore the unconscious to uncover unrecognized symptoms which produce unhappiness in most people, its application to color hysteria is not only legitimate and audacious but also daring.
However, this analytical undertaking enlightens more in its theoretical coherence than in its practical realization. In fact, it is a question of operation a social-therapy, or applying psychoanalysis to a group of people in a way that challenges even history and the processes that align with it. Like events in spatiotemporal dynamics, it must be believed that with the strength of the mind or reason (logos) change can be initiated and balance restored.    
Logos: The Redefining of Self or Saving Man from Self through Reason
Back to the basis and basics of existence, the recourse to the resource of the mind remains indispensable in understanding how man should proceed in his complex life. Phenomenology provides an admirable point of view according to Merleau-Ponty: "Our view of man will remain superficial so long as we fail to go back to that origin [of silence], so long as we fail to find, beneath the chatter of words, the primordial silence, and as long as we do not describe the action which breaks this silence. The spoken gesture, and its meaning, a world."
Rightfully, phenomenology triumphs because it is the only exercise that restores originality and authenticity. All other sciences, hard to soft, have been excellent in one way or another to open the sore in the stigmata of color, leaving man open to himself. Even if a socio-therapy should succeed, a phenomenological approach to this discipline shall be indispensable in making sense. This is the indisputable base from which to start after which other arguments may be built unto this foundation.
 Skin bleaching, though it refers to a single act of modifying one's color, reveals a cry for a whole existence; one that has lost its center of gravity, and until this center is reached the periphery continues to revolve endlessly is wandering confusion.
The fall of communist socialism had made most people to undermine the ideas of Karl Marx while academic institutions are known to perpetuate to young learners, mainly the poor, ideas that never got accomplished. In fact, one of the key principles of Marx is his recognition of the fact the material processes – through the labor of man, contribute considerably in defining the mental structure of his existence. Man, estranged through capital becomes alienated from himself and from his own humanity. Without reigniting a fight against capital[ism], the black man, after all his discourse and awareness, shall be obliged to answer the ultimate question of his existence and means of survival through his work, creativity and the development of those instruments that have participated in his non-existence.
The 'narrative has changed' but only when that narrative takes charge of a social structural 'narration' whose final end is productive infrastructures that define and guide ongoing social narration will reason overcome the pathos of skin bleaching.