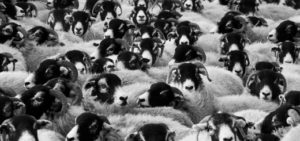 There is a population flush cycle. It churns the population of the United States as if in a blender at the whim of the power elite. At the turn of the 20th century, 88% of all immigrants to the United States were white Europeans. They were allowed to immigrate into America because its 19th century population size was too sparse to fuel its industrial revolution and its consequent consumption boom. In order for the power elite of the gilded age to prosper financially and to maintain 'white supremacy', all three conditions had to occur simultaneously.
Sparsely populated territory in the United States was a major problem for the power elite of that time. Land defined national identity. Without manpower, such land could not be held nor developed. Without the manpower to neither hold the land by military force nor develop it by slave or cheap indentured servant labor Britain could not justify it as part of their colonial empire nor could the newly formed United States justify itself as a new nation.[1]
To solve both the problems of 1. removal of unwanted populations and 2. under-population, they employed 'population flush'.  Population flush involved forcefully pushing indigenous people off their land while simultaneously attracting Europeans to the land and forcefully importing Africans onto the land so that both those populations could hold and develop the land in the name of the newly founded United States.[2]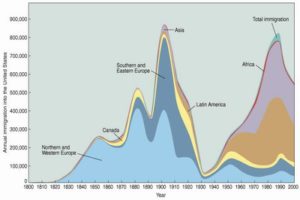 Periodically and depending on social, economic, and military needs and circumstances, the power elite will turn the immigration 'on' switch to full throttle because they need human bodies for material exploitation just like any other natural resource. It is the vast force of immigrant instinctual energy that the power elite wish to harness to build and drive their empire to total world domination.
More and more Europeans were allowed to immigrate into the United States because it was important for the power elite to maintain institutional white supremacy. The U.S. Congress defined the constitutional phrase 'free persons' as 'free white persons'. Thus, white supremacy was the law of the land. Secondly, because African American slave women had a much higher fertility rate than any other ethnic group in the United States.
African American females had 8 babies per female between the ages of 15 and 45 in 1800 compared to Caucasian females' fertility rate of 7 babies per female for the same age range. Had it not been that millions of white people were imported into the United States, America would have become naturally racially integrated much earlier in the 20th century than it did. What initially drove down fertility rates was urbanization and industrialization. But that necessitated an ever increasing influx of 'white persons' from Europe in order to maintain white supremacy in numbers and in political and police power. 
Furthermore, booming service sectors, as well as coal, iron, and oil industries necessitated bodies to work in them, but not black bodies. Military involvement in World War I necessitated millions of soldiers. So white males immigrated to the United States and assumed employment in the growing manufacturing and military industries. They were limited only by their own natural limitations. Black people were segregated by law at the turn of the 20th century.[3]
The European immigrant tsunami continued to reverberate throughout the early and middle 20th century. Through a major depression white men and women got relief through the Social Security Act of 1935, the Minimum Wage Act of 1938, The Welfare Act of 1935, and 'the Works Progress Administration program' or WPA under the Roosevelt 'New Deal'.
After World War II, white men and women benefited from the: Servicemen's Readjustment Act of 1944 or the G.I. Bill.[4] They bought homes and they and their children attended colleges and Universities for free. America was at its peak. It afforded to the White Supremacists' baby boom generations a historically unparalleled experience of affluence in the United States.  They have come to be called 'Greatest Generation' but in truth they were the 'greatest racially privileged generation of all time'. But what goes up must come down so says the law of gravity.
During this same several decades a shift slowly occurred.  Both black and white women started to have fewer babies. By 1970, the fertility rate for black women had fallen to 3 per female between 15 and 45 and for white women it had fallen even more to 2 babies per female for the same age group.  And now in 2016, for black women a fertility rate of 1.8 and for white women a fertility rate of 1.9, both beneath replacement level.[5]
What happened? What stopped the baby boom in its tracks? Why is America now compelled to import spermatozoa and ova?
The answer is simple. First in 1959-60 the birth control pill was approved by the FDA and introduced into the market place via hospitals and family physicians. Secondly, in 1972-73 the United States Supreme Court decision, Roe v. Wade, made abortion legal. Since that year there have been over 56,000,000 abortions had by U.S. women. That number nearly offsets the approximately 66,000,000 baby boomer babies born between 1946 and 1964. Thirdly, manufacturing jobs have been steadily exported overseas to exploit cheap labor. That has made the cost of living rise far too high for many Americans to have large families or even to get married early in their 20s. It has been recently reported by the Pew Research Center that 36% of all men 18 to 31 live at home with their parents.[6]  Three reasons were given:
"Declining employment. In 2012, 63% of 18- to 31-year-olds had jobs, down from the 70% of their same-aged counterparts who had jobs in 2007. In 2012, unemployed Millennials were much more likely than employed Millennials to be living with their parents (45% versus 29%).
Rising college enrollment. In March 2012, 39% of 18- to 24-year-olds were enrolled in college, up from 35% in March 2007. Among 18 to 24 year olds, those enrolled in college were much more likely than those not in college to be living at home – 66% versus 50%.
Declining marriage. In 2012 just 25% of Millennials were married, down from the 30% of 18- to 31-year-olds who were married in 2007. Today's unmarried Millennials are much more likely than married Millennials to be living with their parents (47% versus 3%)."
In 1960, the median age at first marriage in the United States was 22.8 years for males and 20.3 for females compared to 28.2 years for males and 26.1 for females in 2010.
Those statistical figures signal to the power elite that African Americans who are descendants of slaves will soon be finished as a viable population in the United States. Descendants of slaves will generally be unable to compete in the economy except in the entertainment markets including sports. 
The power elite are those owners and CEOs of the most powerful and wealthiest corporations and financial institutions in the United States.They are not necessarily those individuals listed in Forbes Fortune 500. The 100 wealthiest Americans are not necessarily of the power elite because power and wealth do not always go together. One may be rich and not powerful. But power always goes with wealth, military and police force.
If we assume all present social and economic trends remain steady in slave quarters within inner city communities, what can we predict? We can predict that descendants of slaves will for all intents and purposes disappear as a politically and economically relevant ethnic group by the end of the 21st century. As the sociologist Sidney M. Wilhelm asked back in 1970: "Who Needs the Negro?"
The same holds true for lower and middle class white men and women. They now are coming to realize that being 'white' is not enough to get economic privilege in the new world order.
Already, the white middle class which for the last 70 years has brought home the bread and butter for Uncle Sam is now held up solely by credit debt. It is becoming more and more difficult to keep up the façade of middle class status and conspicuous consumption.
Most middle and lower class families have an income to debt ratio which is heavily tilted on the side of debt. That is also reflected in the national 'debt to GDP' ratio. Both they and the Federal government are for all practical purposes bankrupt.
The demise of white people in the United States is also evidenced by the life-span for white males. It is falling lower and lower every year. And this is just the beginning. It was reported in the April 20, 2016 edition of the Wall Street Journal that: "The number of years a white American born in 2014 could be expected to live fell to 78.8 years from 78.9 years the year before, according to the CDC. The change was driven largely by women."
However, elite white males with higher incomes which allow them to afford new stem cell treatment health care can expect to become the new 'Alpha' males in the 'Brave New World' they are now engineering with biotechnology and robotics. They will live long, healthy, wealthy lives.
Those are just simply the facts. Those facts are not presented by me to be a moral argument. Though I do have a moral position. Rather, those facts beg a question: why did the United States Supreme Court sanction the abortion of millions of babies? Could they not foresee that the nation would become dependent on importing millions upon millions of immigrants to fill the population vacuum? Immigrants who are not acculturated to the American way of life. There is an answer.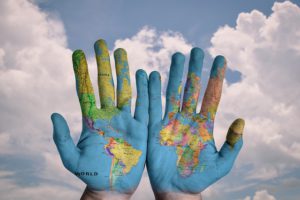 The power elite do not want a settled population with family roots dating back 400 years to colonial times. They do not want a historically knowledgeable population, a population of critical thinkers, a population of people who now know for instance that both the Republican and Democratic political parties are corrupt and corrosive to the very fabric of our democratic process. The power elite prefer a climate of social and political confusion and lower class cultural and economic instability.
The power elite want public confusion because they thrive in environments rich with political and economic confusion. For them, confusion is a resource. With it, they are better able to manipulate a docile population from their Tower of Babel.
The power elite want a population already conditioned to live under dictatorships and authoritarian governments of every kind. They want a population with a high tolerance for both political corruption and death squad law enforcement. They want a population willing to pay 50% of their wages in Taxation. They want a population which having not known the tradition of freedom will be willing to sign freedom away for a bag of Cheetos. That is the answer. That is why we are now in the height of a population flush cycle.
Today, the population of the United States is simply a human resource. Like a fossil fuel, Americans are burnt up, their energy exploited at the whim and pleasure of the power elite, and then when they have become old they are discarded as waste one generation after another onto a pile of human refuse. For it is the power elite who control the levers of an ever oscillating population flush cycle to serve their purposes.
[1] The Nomos of the Earth, by Carl Schmitt, Telos Press Publishing, 2006
[2] Johnson v. M'Intosh, 21 U.S. (8 Wheat.) 543 (1823)
[3] Plessy v. Ferguson, 163 U.S. 537 (1896)
[4] P.L. 78-346, 58 Stat. 284m
[5] United States Census, National Vital Statistics Report, 2010
[6] A Rising Share of Young Adults Live in Their Parents' Home
      A Record 21.6 Million In 2012 BY RICHARD FRY