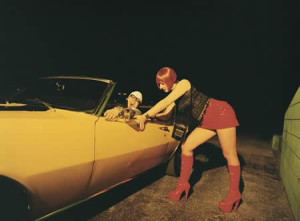 White supremacists are getting a face lift; they are having cosmetic surgery. They want to appear young, clean, and fertile. Like a whore, they want to turn tricks with unsuspecting and ignorant men, women, and children. For it is such as they who are the kinds of people they have preyed upon for centuries. They yell out from street curbs everywhere: "10 and 2, ten dollars for the womb and two dollars for the room."  They give birth to trick baby psychopaths like Joseph Paul Frank.  He drove around murdering people because they did not fit the white supremacist model.
Joseph Paul Franklin
Their home grown instinctual insecurities can no longer be adequately rationalized by the centuries old forms of racism and race religion which they institutionalized and practice. This is so because they are now being challenged by the beatific vision; it is the truth. The truth now has them in panic mode; it is driving them into a mad frenzy. They know that their power over and control of the collective conscious is at stake.
Their new myth is slowly displacing their old creation myths which were and are based upon the assumption of the polygenetic origin of the different human phenotypes. But don't be fooled, they are using the same old tricknology.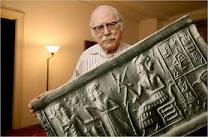 Zachariah Sitchin
The new myth has its new priestly ideologues.  They have asserted their apostle's creed that Nordic aliens made the so-called white race. They are many. Zachariah Sitchin[1] (dead), Marshell Klarfeld[2], and Gerald Clark[3] are but a few who are panicking in the dark to find a way to propagandize their new lie.  No doubt some are financed by psychological operations (psyche-opts) connected to government. But they all have a common goal; it is to maintain a psychological advantage over non-European people. 
For racism and its priestly ideologues to survive as an institution and to stay in power they must morph their myth. They know that its outward appearance must change. That is so because the basic premises of their old mythological propositions such as that 'there are races' and that 'they each developed independently of each other' and that 'some are superior and others inferior based upon skin color and intelligence' has been disproven by modern genetic science. Their old icons of racial types[4] now lay scattered about on the highway of history like discarded refuse.[5]  
Their new story turns on the existence of extra-terrestrial UFO observations made by people all over the world.  Though such observations are a fact and are circumstantial evidence of the existence of UFOs, the ultimate fact is that no other material evidence exists anywhere which can prove any of their theses regarding who or what is riding in or controlling UFOs.   
So, they cleverly use what they know are un-definable and vague subjects to support their hypotheses. They use dead languages. They use ancient cave drawings. They use Jewish biblical creation myths. They use Greek polytheistic mythology.  And now they have added to their creed references to 'Nordic tall blond' aliens from space.  Now they say it is the Nordic aliens who are the 'Let Us…' in the Genesis creation myth.[6] They do that to make a persuasive argument in support of their theses to attract attention in popular race culture.[7]  They preach their sermons from the pulpit of radio shows such as 'Coast to Coast AM'. 
However, therein lay the fallacy. Their various arguments are fallacious at their core. For it is a fundamental law of logic that an argument with a true premise combined with a false premise can only produce a false conclusion even if the form of the argument is valid and even if the premises stack up a mile high.  So, because their premises reek with falsity what they seek are true believers whose irrational insecurities can be manipulated. They want the reigns of irrational power under their control. The history of Europe and the United States has proven that race ideology is irrational and thus it is destructive power.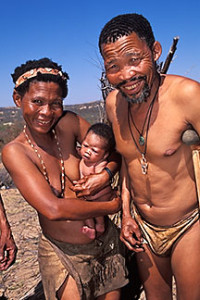 THE SAN BUSHMAN
Modern genetic scientists have irrefutably proven that all human beings stem from an 80,000 year old ethnic group called the San Bushman. The San Bushman still lives in South Africa. They are the oldest living human survivors of a planetary super volcanic catastrophe which occurred about 80,000 years ago in Sumatra, Indonesia on what is now called Lake Toba. That catastrophe caused mass extinction of life on our planet.  A few thousand humans survived. 
All human ethnic groups carry the 'Y' chromosome marker of the San Bushman.[8]  It is passed down unchanged from father to son. Genetic analysis of people all over the world has conclusively proven that all human beings are descendants of Africans out of Western Southern Africa.[9]  It is the 'San Bushman' DNA which carry all of the genetic variety we see extent in all human phenotypes in the world.  That includes both dominant and recessive genetic traits.
Later, some 2% to 3% of Neanderthal and Denisovan hominid DNA entered the human population DNA.  That genetic inclusion occurred when some Africans migrated over from North Africa into Southern Europe from the Sahara when the Sahara was wet and green. It occurred some 100,000 years ago.[10] Evidence now substantiates that they naturally interbred with Neanderthal Hominids in Europe as well as with Denisovan Hominids in Siberia, Asia, and Pacific Islands.[11] 
Don't be a 'trick baby'. We should celebrate our common ancestry and work hard to eliminate racism in our society and in the world.
---
&copy Copyright 2013
Dr. Steven Nur Ahmed
, All rights Reserved. Written For:
Earth Colony