According to the latest news, FBI agents began arresting Los Angeles County sheriff's officials December 9, 2013 as part of a wide-ranging investigation into allegations of abuse and misconduct inside the county's jails.  The FBI claims they expect to arrest at least a dozen more.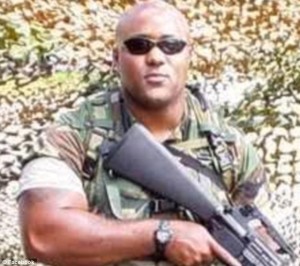 When I read this, I thought of Christopher Dorner, the renegade Los Angeles Police Officer, who earlier this year went on the shooting spree.  According to him, law enforcement officers in Los Angeles are corrupt and they engage in systematic cover-up.
The FBI arrested A lieutenant, a sergeant and a deputy as part of a federal obstruction of justice probe into how sheriff's officials handled an FBI informant at the center of the jail investigation.
Federal officials say 18 current and former Los Angeles County sheriff's deputies saw themselves as being "above the law," engaging in corruption and civil rights abuses that included beating inmates and visitors, falsifying reports, and trying to block an FBI probe of the nation's largest jail system.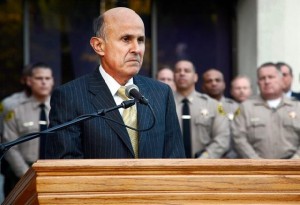 Los Angeles County Sheriff Baca said that he was troubled by the charges and called it a sad day for his department.  He also promised reforms.

The arrests followed grand jury hearings into whether sheriff's officials hid an inmate, Anthony Brown, from his FBI handlers. Sources say, at least one witness testified that sheriff's officials moved the inmate and changed his name in an attempt to hide him from federal agents, and that top officials in the department played a role in the plan.
Conveniently, some Sheriff's officials insist they were not hiding Brown from the FBI but protecting him from other deputies who might harm him.
If you have to hide an inmate from "those who may harm him," that says loads about the institution. 
It is unclear whether Monday's arrests included deputies accused of using excessive force against inmates.
Sheriff's spokesman Steve Whitmore did not have an immediate response to the probe.
Sheriff's officials discovered the informant's identity after jail deputies found his phone during a cell search in August 2011. The phone included calls to the FBI. In an interview with The Times last year, the informant said he had been using his phone to take photos and document excessive force inside Men's Central Jail. Brown said FBI agents regularly visited him in court and at the jail, where he supplied them with the names of corrupt and abusive deputies.
Brown said FBI agents rushed into the jail to visit him soon after they learned his cover had been blown. But as the meeting began, Brown said, a sheriff's investigator came in and ended it. "This … visit is over," the official said, according to Brown.
Brown said sheriff's officials moved him, changed his name several times and grilled him about what he knew and whether he would testify in the federal investigation.
"I didn't know it then, but they were hiding me from the feds," said Brown, who is serving 423 years to life in prison for armed robbery.
Sheriff's officials have publicly denied Brown's account of the FBI visit, saying it never happened. Federal agents, a Sheriff's department spokesman previously said, never asked to visit Brown and would have been given access to the inmate had they requested it.
Well, that may have been the case, but maybe the agents did not identify themselves as agents.
These sort of officials are just gangsters.  If law enforcement officials who house prisoners behave in this manner, there is no wonder inmates do not learn anything while incarcerated.
There should be a real push for reform.  If we are going to release and reintroduce prisoners from jail into society, there should be an avenue for those, at least those who really want to try, to acquire skills other than the use of corruption, brute force and intimidation.   
There should also be a place for those to go beforehand, so that they are never introduced into such an abusive system.
Anyone who is sent to jail should not learn to be a gangster or earn a Doctorate in criminal behavior, particularly from those housing them.  One should not have to worry about corruption, or physical harm by inmates or jailors.  The worse thing on your mind should be your actual sentence, which for most is, the length of time you are to be incarcerated.
&copy Copyright 2013 admin, All rights Reserved. Written For:
Earth Colony