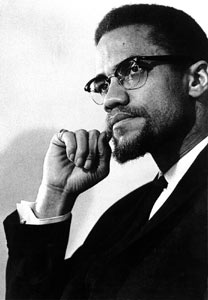 Visions in the Darkness of the Hole
At Concord State Prison, Malcolm had what is called an epiphany. An epiphany is a moment of deep insight.  While at Concord State Prison he suddenly realized that he lacked basic academic skills in arts, letters, and science.  While looking at a letter he had written to one of his brothers he decided to compare it to an earlier one he had written and concluded that the latest letter was even more poorly written than the first letter. Malcolm had a sudden realization of truth; he needed to start the learning process. He had accepted the advice from 'Bimbi' (Friend), but only Malcolm could go within himself and begin the hard work of self discovery.
The kind of self-criticism which Malcolm experienced is an indicator of personal growth.  He wasn't fearful of accepting his defects whatever they were and they were many.  It was as though Malcolm stood outside himself and looked at what he saw objectively.  With no denial response, he recognized where he needed to begin work on himself to improve himself.  That is where real lasting change begins. It begins within yourself.
Maybe for a moment Malcolm felt sad. Maybe he even felt depressed because of what he saw. What he saw in himself was a socially disabled person who was unable to live a meaningful life.  What he saw was Malcolm Little, a convict, a loser; dependent upon the state as a criminal for his food, clothing, and shelter. If you're in prison, then right now you are a loser, too, and if you don't change you'll remain a loser; you'll be dependent for the rest of your life. But despite your present conditions you can become a winner. You can become socially able to be a meaningful contributor to your family and your neighborhood.
If you've ever lost any contest be it a track race; a competition for a job; a competition for another person's love; a contest with yourself to learn a skill; then you know what losing feels like. Nobody feels good after having lost a contest. Loosing is painful; in the extreme it could even result in death. But at the moment you're feeling the pain of loss you've got to also feel something else; you've got to feel the urge to live. That urge must be greater than the impulsive fear to quit. Either you'll never try again by wandering into a crowd never to be heard from again or you'll find the start line and get on the mark so that you can contest again.
What is it that makes some people seemingly oblivious to the pain of loss and who despite their losses and the pains associated with loss they try and try and try again and again?  Whereas others peel over due to the pain of loss then wander into a crowd and disappear?  The answer is that the one who gets back to the start line has both love and mental calm. That one perceives correctly that one loss does not equal a lost life. Conversely, the quitter is overwhelmed by the anxieties caused by past pains he or she has experienced and looses the enthusiasm and motivation to try and try again.  They perceive their loss as total and conclusive; they run away from the field of contest in fear.
Enthusiasm, motivation, and fearlessness are the forces which drive one's sentiment for self dignity and the will to succeed. That self dignity makes him or her act in ways which serve their best interests. One who fears will never dare to fight and one who lacks enthusiasm and motivation will lack passion for the fight.  Malcolm had enthusiasm, motivation, and fearlessness but they had been misdirected through his role as 'Detroit Red'.  As though in a stage play, he was neither the writer of his script nor the director of his actions, but he thought he was. He thought wrong. He was making decisions but he wasn't making good decisions.  As a consequence of thinking poorly and making poor decisions, Malcolm deteriorated both psychologically and physically. He put himself in the gutters of inner city drama and quagmires. Once there, he could not get himself out.  Malcolm was human waste.  Eventually, he was flushed out of the gutter and into the prison system.
Now, in prison, the moniker of 'Detroit Red' was snatched from him. With no direction, the bare naked truth stared back at him off of his cell wall. What he saw was 'nothing' reflected back.  He was now to play the role of convict. Instead of being known by a street moniker he would be just another number.  But his inherent fearlessness and passion spewed upward to reinvigorate his sentiment for self dignity. This time, however, he would write his own script and he would direct his actions in ways to serve his best interests. That new role for Malcolm was the role of student and his script would now be written by his own hand.
ARE YOU IN THE HOLE?
Your lives are analogous to the life of Malcolm.  Many of you reading this book have a street moniker or a nick name. It is supposed to characterize your strengths and that your game in 'the life' is tight. It is supposed to get respect for you.  But in reality the moniker you have is an oxymoron.  An oxymoron is a self contradictory word. Think about it.  Your moniker doesn't characterize your true self because you don't know your true self.  You haven't begun to develop that which is your true self.  How can a 'street' name characterize your strengths as a man or woman? How can it typify your potentials as a human being?  The fact is that it can't.
You have been acting on a very narrow stage designed by powerful institutions and people who have corralled you into limited psychological, social, and economic spaces.  All that has been made available to you are contrary and contradictory roles which 'misfit' you into those limited social and economic spaces.  Those conditions are meant to stunt your inner and outer growth and cause you to feel pain and maybe escape that pain through the use of narcotics, cocaine, or alcohol.
On the famous temple of Luxor in Ipet Resyt, in the country of Kemet, on the continent of Africa (Thebes, presently called Egypt) 1400 years before the birth of Jesus and a thousand years before the rise of Greek philosophy there is written in hieroglyphics: 'Man Know thyself.' In order for you to know yourself you must have a master teacher who turns you within and then triggers the process of learning.  True knowledge begins with an inner vision of one's self. No human being can trigger the inner awakening to such kind of Supernatural knowledge.  Only the master teacher who is a Supernatural being can do it. That entity does it by syncing the student's mind with the Supernatural Mind.  Was Malcolm's mind put in synchronicity with the Supernatural Mind?
Malcolm states that he had a vision in prison. He states that when he was in 'the hole'( solitary confinement) he would picture himself talking to large crowds. He called them pre-visions.  The Master Teacher begins the learning process of the student with inner visions.   It was a vision of the mind's eye which Malcolm had.  Malcolm's mind's eye was opened by the master teacher to his true supernatural nature and thus to the truth. Malcolm thus began his long life process of unfolding his predetermined destiny into space and time by hard intellectual and physical work.  From that point onward, every word he spoke and his every act in relation to others would be a pouring forth of what was designed in the Supernatural to be acted out in a natural context.
THE MASTER TEACHER
Different cultures have had different names for the master teacher.  In Kemet, the master teacher was called Ptah. It was Ptah who opened the mind's eye of Im-ho-Tep (2650-2600 B.C.) to mathematics, engineering and medicine. In ancient Greece, the same master teacher was called Daemon; that one was the informer of the philosopher, Socrates.  Also, the Greek noun 'Paraclete' is the Informing Mind, the 'mind' that was in the mind of Jesus of Nazareth as it was said: "Let this mind be in you that was also in Christ, Jesus." For the Prophet Muhammad Ibn Abdullah that one is called Jabril who ordered him to 'Read'.
But the name of the Master Teacher in whatever language spoken is not important beyond what is needed to communicate the ideas to others.  Rather what is important is that the very same Informing Mind is active today in the unified human mindscape to inform you, too. For, as the natural worlds of space and time in uncountable dimensions are held in sync by the laws of physics and chemistry, so it is that The One Mindscape is held in sync with all minds by the Laws of Thought.  This is reducible to two simple premises: 1) That Mind is Truth and 2) Participation in Truth is Mindfulness.
The process of learning the truth is both exciting and frustrating. Learning the truth is frustrating because one must work against the gravity of one's own ignorance multiplied by the ignorance of all those around you who reject the truth. That is like a heavy weight pressing against one's body, mind, and soul. It was frustrating for Malcolm.  He says that he could not express himself clearly even though on the 'streets' he was articulate in slang.  But now, in prison, he realized he was inarticulate and dysfunctional when it came to communicating his ideas in a formal manner.  He was surrounded by those who spoke illogically and in slang.
But learning is also exciting. Despite all the many adversities he faced, Malcolm began to structure his thinking, writing, and speaking skills. He began with the letter 'A' and by the time he had finished his study of the dictionary at the last word 'zygote' of the letter 'Z' he had achieved a milestone in his quest to learn the skills necessary to become a social contributor and icon for his community.  You can do it, too. Wherever you are get a dictionary. Start copying it by hand on tablet paper.  You've got to start now!  Open your mind to the Master Teacher.
&copy Copyright 2013
Dr. Steven Nur Ahmed
, All rights Reserved. Written For:
Earth Colony