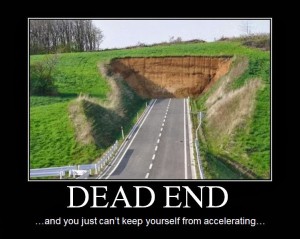 A dead end lies before us. It is being shown to us by the light of our history. When we study not only the structural characteristics of the institution of slavery but also the intestinal fortitude of millions of individual Africans, that history highlights for us what was for them the reason for their survival.  It also implies what will cause us to fail.
It is common knowledge that millions of slaves endured pain of every conceivable kind. They endured the pains of hunger, thirst, beatings, whippings, rape, the murder of kinfolk and neighbors, extreme cold, extreme heat, disease, humiliation, intellectual deprivation, high infant and maternal mortality rates, physical mutilation, forced incest, child sexual abuse, and lives lived under constant authoritarian repression.  They did so for hundreds of years.
But they endured. They endured because individually and collectively their will to live was greater than the sum of all resistance to them. For every act to suffocate their humanity their will to take in yet another breath of life prevailed.  In that breath which filled their lungs they exhaled into the world a universal movement that turned history in a new direction.
If there is an argument for a morality not born of the flesh but of the spirit, one which springs forth from what in a human being is soul alone, then it must be expressed as the greater ' will to live' against the lesser 'sum of all resistance' to it. That being true then it must also be true that African people in America under a system of total repression were not only a moral people but they were also the major moral force shaping United States history for the 100 years following the civil war.   
Their 'will to live' has left a wide trail in its wake. That trail was paved by the descendants of slaves. They were those generations of people constituting millions upon millions of souls who in word and in deed shouted out to the world that 'We Shall Over Come!' And in their train along the span of that trail followed Asians, Latinos, Women, and all others who were raised from the dead by the cry of African people 'Rise Lazarus!' live and walk to freedom with us here in these United States.   
No rational person would argue that today we are on a moral and social upswing. Rather now, and in the light of our past, our future prospects as a people and as individual citizens are uncertain.  Serious questions should now be asked by each and every one of us. We should ask ourselves whether or not the scale of our moral measure has tipped against us? Is it now the case that our 'will to live is outweighed by the sum of all resistance to it? 
The social facts in support of that proposition are frightening and are rubbed in our faces daily. Our collective moral sentiments have slid down a steep slope. And if those facts are true then what will become of us? What will become of us if we do not reinvigorate the intestinal fortitude our ancestors had?  If we agree that they are our moral frame of reference, it begs the question: are we now an immoral people?
Our behavior and words are moral forces. They are no different than fire for both our behaviors and words are energies, too.  They can cause combustion.  They are forces that move about and impact things and people around them. They have weight and can cause explosions. They can shatter things and people. They can cause implosions by destroying people psychologically. These forces move at a rate of speed like all things. They gather momentum and they can also accelerate when combined with other behaviors. For those reasons we are now headed to a point in our history when the light of our past shall be overcome by the darkness of an undetermined and uncertain future.
We are approaching a dead end and we are accelerating and gathering momentum along the way.  It is the kind of challenge like no other we have ever faced. For, it has been constructed by our own hands not by the hands of others and it stands before us within us.  Now, we are the sum of all resistance to ourselves. Now we behave as though we do not want to live. We do not comprehend that what we face cannot be overcome by colliding with it. We must stop before we collide with it.
That wide trail which was blazed by so many of our ancestors has now become a narrow beaten path along which we walk.  And if we look back over our shoulders we will see that no longer do others follow us. For we are no longer moral leaders; we no longer possess the high ground.  
Asians, Latinos, women, and others have parted ways and gone on to enjoy the fruits of their labor. We are now alone; we no longer cry out 'Rise Lazarus!" rather we whine aloud with arms outstretched and with open palms.  What we are on my dear people is a death march. It may be that our time in the United States is coming to its end. For it is a social fact that we have hit rock bottom.  Denial of that fact will avail us nothing for 'pride goeth before a fall'.
If there is hope then it must be hope in God and a visceral 'will to live'. It must be the 'will to live' which our forebears had in such abundance that they could share it with the entire world. It must be that same intestinal fortitude which drove our people to do all that they could do to make a place for themselves and us in these United States against the sum of all resistance.