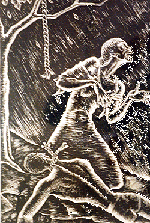 Why did a female African American police sergeant at the scene of Eric Garner's murder not intervene to stop police officer Pantaleo from choking Mr. Eric Garner to death? 
If you look at the two video shoots which captured the killing of Eric Garner you will see a female African American police officer with the rank of sergeant.  She stood by and watched the killing of Eric Garner and did not intervene to stop Pantaleo from choking Eric Garner despite the fact that she, too, could hear Eric Garner crying out: 'I can't breathe" eleven times.
I don't know her name; no one has researched her report, if she had to submit a report. But millions of African Americans want to know why she acted as an accomplice during and after the fact of the commission of a felony by allowing the killing of Eric Garner to take place.
In civil law, under the common law of tort no one is compelled by law to assist a stranger in danger even if it is the danger of loss of life. But her involvement in the incident of Eric Garner's murder cannot be brushed aside as just a simple case of her being a bystander.
Her presence at the scene of the crime cannot be lawfully brushed aside from scrutiny by the criminal justice system. It cannot be brushed aside from a magnified public scrutiny either, because she was then and is now an officer of the law; and as a police officer she is entrusted by citizens to serve and to protect them from harm.  She had a duty to rescue Eric Garner from danger.
Yet, she committed an intentional act of omission under the color of her authority by choosing not to do her duty by protecting Eric Garner from the choke hold put on him by Pantaleo and all others who with their total body weight held Eric Garner's body on the ground thereby assisting in his execution by "…compression to body and prone positioning." Mr. Garner's experience of the choke hold was that he was suffocating.
We know that a homicide occurred. But was there malice aforethought? We do know that Pantaleo put a choke hold on Eric Garner. We know that the choke hold is banned from use in New York. We know that Pantaleo was reacting to his subconscious mind and all the negative stereotypes associated with black men.  For those reasons, no reasonable person would deny the evidence that Pantaleo acted in a frenzy of depravity and with callous disregard for Eric Garner's life.
We also know that Pantaleo's subconscious mind at the time outweighed his consciousness of police training and procedures he had learned which specify the proper circumstances under which the use of deadly force on non-felonious and unarmed citizens may lawfully be used.  But why did the black female police sergeant act as an accomplice to the murder of Eric Garner?
One of the great paradoxes of being African American is that you are more or less a source of great anxiety physically felt in most Caucasians; the paradox arises because generally African Americans suffer the same anxiety about themselves. Ironically, they suffer that anxiety because most Caucasians feel threatened by African Americans.  Let me use an example to explain my point.
Do you remember the movie: Precious? There was a scene in that movie which stood out to me as an exploration into to very psyche of the main character Precious.  Precious was in her bathroom looking at her image reflected in the mirror. But as she looked she saw the image of a white girl instead of her own image. That scene brought out what dominates the subconscious of far too many African people and which dominated the subconscious of the African American police officer at the scene of Eric Garner's death.
You see, the reason is because that black female police sergeant sees herself through her subconscious mind which is made up of the same negative stereotypes associated with black people as are in the white police officer's subconscious mind.  She was and is connected to him through an unseen collective subconscious mind which she shares with her police colleagues.
In order for her to see herself as a white woman through her subconscious mind she must continually deny what is consciously evident to her. She must deny that she is black.  
In her subconscious mind she is a white woman and thus her reactions in real time and space to black people in general and black men in particular are the same irrational reactions which white police officers have to black people in general as they  see them in their collective subconscious mind.  Such a mental condition is the cause of significant psychopathology.[1]
For example, in the famous 1940s Baby Doll Experiment done by Kenneth and Mamie Clark,    black children in that experiment were given a choice to play with either a black or a white doll. Consistently, the black children chose the white doll to play with.  When the children were asked why they chose the white doll the children responded that the white dolls were good, clean, pretty, and that the black dolls were ugly, dirty, and bad. In more resent replications of the Clark experiment the black girls chose white girl and boy dolls. What does that mean and what is its relevance to the black female sergeant present at the Eric Garner murder?
It means that the black female police sergeant will consistently choose white men as opposed to black men. The baby doll experiment generally means that negative images associated with African Americans are injected into the subconscious minds of little black children and then fortified and reinforced over the course of their life time. 
No amount of education or rational development can overcome the weight of their negative subconscious identity. Subconsciously, they see themselves as white and thus live lives with an unbridgeable split between their subconscious mind and their conscious mind. They are damaged for life.
The Kenneth and Mamie Clark experiment is also a material fact and so it is relevant to my question: why did the female police sergeant act as an accomplice to murder? The study is relevant because it explains her act of omission and role as accomplice at the scene of the murder.  
You see, the female police officer is similar to the character in the movie 'Precious'.  She like Precious was looking into the mirror of her subconscious mind at the scene of the crime where she could find unity with her racist police colleagues. But of course for her there was and remains a problem. The problem for her was and is reality.
She sees herself as a white women wearing black face and she wants to do everything she can do to wipe the blackness off of her face. Even if it means imagining herself at being on the white team to murder a black man who in her subconscious mind makes her just as spiteful, cruel, and hateful toward him as whites can be.
For example, in Jamaica, in South Africa, in Nigeria, and here in the United States Black people are unhappy with 'being who they are'. They are acting out their unhappiness in a very, very, creepy way. Skin bleaching is becoming a pandemic among black people.  Their skin bleaching is occurring because they want to rid themselves of their myelin.  Look at how Sammy Sosa has disfigured his body!
Their actions are manifestations of their subconscious mind as it leaks out into the very pores of their outer skin.  It is the subconscious anxiety which they too feel about themselves being black just as white people feel about them being black; it is the subconscious denial of what is consciously obvious to all rational persons…that they are of African descent.
Malcolm X once said that the house Negro would come to identify so much with the master that when the master would cough the house Negro would say: 'We got a cold master'. What that means is that people like the black female police officer have had her own subconscious mind merged with the collective subconscious mind of racist white police officers.  
The day Eric Garner was murdered she could no more follow her police training when in relation to a black person than white officers could. Her training had no effect because she was and is dominated by her police colleagues' collective subconscious mind. Her subconscious mind unleashed an irrational force of cruelty as she listened to Eric Garner cry out for mercy: 'I cannot breathe' eleven times.  
She was not hired to have empathy for her fellow citizens. No, she was profiled and hired for the element of cruelty measured in her personality.
The minimal empathy she can muster up is reserved for her masters; she has no empathy for good citizens who take to the streets in their search for justice.
My dear brothers and sisters, ground zero of the war to destroy you is being waged in the unseen dimension of your subconscious minds; your own natural forces are being manipulated to destroy you.
You will never understand what is being done to your subconscious mind and you will never be able to win the subconscious war that wages within you unless you first understand the power that white oligarchs weld in your subconscious mind.  Secondly, you must understand that the conversion of your subconscious mind to freedom cannot be done successfully by substituting one set of false stereotypes with another set of false stereotypes because only the truth can set you free.
If no amount of police training can fix this problem, then what if anything can we do to remedy these deadly police forces?
There is one force that the new totalitarian police state cannot withstand even with all of its cruelty; with all of its technology including body-metric chips which they now have ready for deployment into you and your babies' bodies. The negative complex of images and stereotypes which they have put into your subconscious minds cannot withstand the supernatural power of Divine Light.  
That power will cost you nothing but the courage to 'stand where he stood and to stand for what he stood for' then and only then will you become free men and women.
[1] Franz Fanon, Black Skin, White Mask