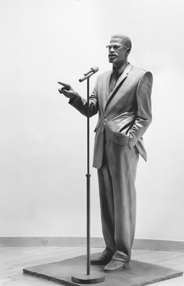 It is Black History month and last night I attended a speech given by Julian Bond at a local community college. Julian Bond was a student of Dr. Martin Luther King, Jr. in 1960. The event was held in a large auditorium. As I scanned the crowd which nearly filled the facility I observed that 75% or more of the people present were white.
The presence of white people is not bad in and of itself. But the master of ceremony was a white judge; the technicians were white men; the highest honor of the night was awarded to a white woman and presented by another white woman; the vice president of the college who was a black woman was merely introduced and then quickly ushered off stage; the questions from the audience were literally censored by a white man.
And to make matters worse the roles assigned to black people were stereotypical. The ushers were black; the dancer was black; and the singers were black. There was one young African American male who did a recitation of Dr. Martin Luther King's 'Letter from a Birmingham Jail'.  So after all was said and done it was the same old message, white people are in control of black people's identity. One of the important goals of white supremacy is to control their victim's identity.
White people were in total control of that black history event. Despite the fact the Julian Bond's speech was sugar coated, from the top to the bottom one thing was clear. White people were in control.
White people are in total control of Black History Month throughout the United States. Insofar as they are successful at controlling such events white people are controlling and limiting the opportunity for black people to exercise their right to free speech in public forums.
My observation compelled me to ask myself some important questions. So as I sat there and listened to Julian Bond speak I did a reality check on our people, African Americans.
What is 'Black History?' Is it the recorded experiences of black people in the Americas by black people? Or is 'Black History' just another chapter among hundreds of chapters recorded by White people about all Black people worldwide?
If we peel back the layers of black experience in the United States dating from 2015 back to 1619 we get to the very core of what forces have made black people and thus our history. We find exactly what drives black people in the 'here and nowness' of their unique collective and individual experiences. We will find the cultural core values.
The earth has an iron core which rotates and generates the magnetic power which makes life possible on earth. Analogously, the core of black people's unique collective and individual experiences of 'here and nowness' is fertility in relation to economy. If you control your fertility and have an economy you have a chance to live free.
Fertility and economy is what made life possible for black people in the United States.  Giving birth to babies is what qualifies any population as 'fit'. The more babies, the more fit. The fewer babies the less fit. This is so because life in and of itself is a delicate biological balance between survival and crisis or extinction.
Conception and birth always keep life and thus black people one step ahead of extinction. But birth is inseparably intertwined with economy. And economy is necessary for one fundamental reason. Babies must be fed.
To feed babies, resources must be accessed. For the sake of the babies, resources must be accessed either in cooperation with others or in accommodation to others; either in conflict with others or in competition against others. Whoever those others may be.
The values of food, clothing, shelter, and means of trade like money must be sought out and obtained. Just as a hunter will pursue and capture game, the sole focus of a culture is to swarm the landscape for what it needs to survive.
Resources must be apportioned and distributed to babies who in turn must gradually learn the skills necessary to continue to generate offspring and acquire the necessities of life. All of that is what people do at the level where life is bump and grind. 
When or if black people lose their fertility and fail to learn cutting edge economic skills there will follow a gradual cessation of their unique collective and individual experiences of 'here and nowness'. Eventually, they will fail to generate a living culture which can blossom into what we call black history. Thus at every moment we are at the fork in the road.
Black history can be either tragic or it can be what gives rise to waves of ecstatic inspiration reaching over countless generations. The choice "to be or not to be" cannot be avoided.
Most black people worldwide do not celebrate 'Black History' month nor even entertain the idea of 'Black History'. In Africa, India, South America, the Caribbean Islands, Australia, and the south Pacific Islands, black people do not celebrate Black History and they probably don't define themselves as 'Black People'. They don't celebrate because they have their own cultures, histories, religions, and mythologies with which they identify. What that means is that black people in the United States are irreparably cut off from all other black people in the world.
I do not mean that we should not travel to learn the many cultures past and present in which other black people live or have lived;  but rather what I do mean is that we shall never be capable of networking subconsciously with black people in other cultures throughout the world because they and we see the world through different lenses crafted by different cultural experiences over vast stretches of time. 
So we, here and now, in the United States are cut off forever. We have become cultural freaks among the societies of the world because we have assimilated more of the formless popular American culture than any other subculture in history. For example, from day to day or month to month, it is no telling what values we will be doing.  There is no telling what food we shall eat; no telling what clothing we shall choose to wear or whether we shall wear clothing at all, and where and in what we shall live or whether we shall be homeless and living on the streets.
Ultimately, there is a universal rule which applies to us as it does to all people. We shall either be self-sufficient or we shall be a population of beggars always needing to be habilitated or rehabilitated to the latest mode of what others define for us as right or moral. All of that leads to another fact.
We, black people, are as culturally unstable as American popular culture is unstable and for that reason we are culturally unpredictable; we are like an ever spinning roulette wheel turned by the hands of others.
Those two facts mean that we can predict with a high degree of certainty that we, black people, in the United States shall not achieve the degree of ethnic unity which will make for a higher collective fertility rate and for higher collective economic self-sufficiency. Parallel to that we can predict that non-black people will be in control of Black History and that in the long run we may in fact wind up being only: 'Black History'.
http://www.spreaker.com/user/themalcolmxsociety/dr-king-and-malcolm-x-on-common-ground