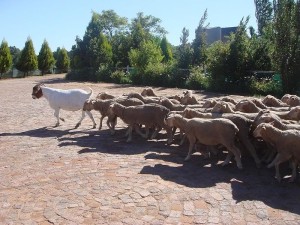 A Judas goat is a goat trained to gain the trust of an unsuspecting herd of sheep and then to lead them in a given direction for slaughter. The Judas Goat's life is spared so it can mislead again and again.  In order for the Judas Goat to accomplish its goal it must sell snake oil.
Snake oil is the phrase used to identify fake cures sold to the public by those who hustle poor, desperate, fearful, and/or ignorant people. Snake oil can be something material or it can be emotional in nature.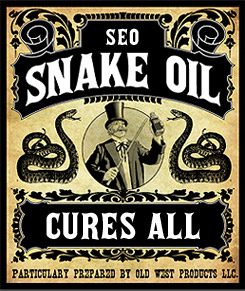 Snake oil is still being sold to you. The interesting fact is that if you watch and listen closely you can see a person telling you in the same media image frame that it works and at the same time telling you that he or she is lying.  You see, it's because it's not listed as an FDA approved drug but rather as some natural concoction like 'water'. As long as you don't say 'it cures' you can skirt around federal law and sell junk to the public as a 'natural' treatment for some disease.  People are duped because they are feeling insecure or fearful due to personal problems.
For example, Al Sharpton advertises a product for men who's testosterone levels have decreased with aging and for which he gets paid MONEY to advertise.  But if you check it out, the product is not FDA approved.  Nor does Al Sharpton ever say that he has taken it. He has never said that his testosterone level has increased because of it. Does this picture of him look to you like his testosterone level is as high as a 20 year old man? Now, he might be on a prescription steroid because he has no muscle mass.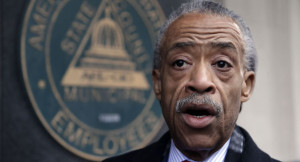 If he ever did say that it measurably caused his testosterone level to increase he would never have a before treatment and after treatment measure of his testosterone levels to prove it to you. That's because he is not doing science; he's selling snake oil.  If he did that he'd be prosecuted by the federal government for misrepresentation and go to jail or be fined.   So, I can't say he is lying, but I can say that he is using the trust that many have in him that he would not mislead them in order to sell to them snake oil for which he gets paid.
THE BROADER PICTURE
The early 20th century reveals to us some very important social, economic, and political patterns in very simple form. The early 20th century is an excellent classroom for that reason.  If we identify and define those patterns they allow us to understand our present day subjugation.  Understand, the conqueror is always steps ahead of you because that is part of what it means to have power over another group of people.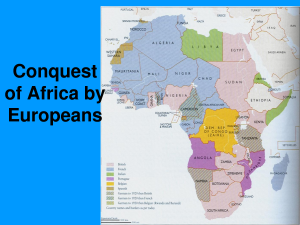 But before we identify some other Judas Goats we should first admit that: we African Americans are a conquered people.  That's a historical fact.  Being conquered is a necessary reason for being enslaved; but slavery is not the only possible outcome of having been conquered.  So, to understand slavery you must first understand the nature of what it means to be a conquered people.
A conquered people are characterized by having no self-determination whatsoever. The conquered are subject to the physical, emotional, and psychological imprint of the conqueror. In short, the conqueror can do to the conquered whatsoever they will because the conquered have not equal or greater power to stop the conqueror.  If the conqueror wants to expend much physical energy to control us then the conqueror can repress us physically.  Over time the relationship between the conqueror and the conquered becomes sadomasochistic.
For example, if the conqueror wants to limit the population of the conquered people they simply put the men in prison, kill them, put toxins in their food and water, or keep them poor so they cannot or so they probably will not reproduce too many offspring. Then, the conqueror offers the women abortion by making the women think the men don't want nor won't financially support their offspring all the while the conqueror prevents the men from getting employment.
Abortion has been framed for the public as an exercise of women's right to choose. In the woman's mind that makes her think that she, first, will avoid what she cannot economically afford and, two, that choosing abortion is what makes her more powerful than her male counterpart who cannot legally intervene to stop her. In fact, both the conquered male and female are never defined by their humanity but rather as inferior humans.
The same holds true for psychological repression and suppression. And that is what takes us to the next level of our inquiry.   I'm going to list some pictures and tell you a few things about the persons. First, however, one historical fact: on May 3, 1917, the United States Army started a spy program which was to operate within the United States.  Now here is a picture of Emmett Scott with Booker T. Washington.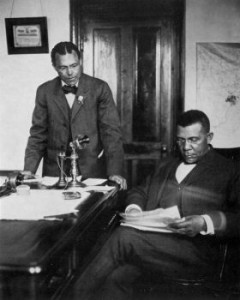 Emmett Scott is important for our identification of a pattern. He subscribed to the political tactic of Booker T. Washington (a Boule' member, too) which was accommodation on the part of African Americans through industrial training, business enterprise, and subordination to Whites.  The training is not the problem; the doctrine of subordination is a problem. But Scott also worked for President Woodrow Wilson in 1917.
Woodrow Wilson was an avowed racist.  So, why did he hire Emmett Scott to his highest 'Black' post as 'Advisor of Black Affairs' to the Secretary of War, Newton Baker, at the very time Wilson was segregating all federal agencies and promoting Jim Crow laws in the States?  It is because Emmett Scott worked for the Army spy program. His job was to gather information on the actions of African Americans via a network of African American informants in churches and organizations.  Oh, one other fact, Emmett Scott was the head of the Boule' fraternity (Sigma, Pi, Phi) also known as The Talented 10th at the same time.   The Boule members are genetic racists. They believe that a large number of African Americans are genetically unfit and should be sterilized.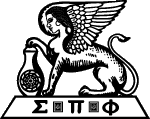 Those patterns of the 20th century are discernible in the 21st century.
Parallel Strategy: the plutocrats choose who you will listen to by paying those persons money and by making them 'media famous'. Religion is a case in point.
Freedom of Religious worship in the United States has become a license to exploit the poor. If you draw a time line and plot the origin and run of many urban religious cults, fraternities, and elite organizations you will see something very interesting.  For example:
A. Each ran parallel to Marcus Garvey's movement which started May 1917.  Remember, Boule member Emmett Scott started spying for Woodrow Wilson in 1917.
Each ran parallel to Paul Robeson's socialist philosophy and activism for the working man and women, beginning in

1933

.
There were hundreds of minor and major African American religious cults that sprang up with literal idiots claiming to be God. Father Divine, Daddy Grace, King Narcisse, and Elijah Muhammad who claimed that Fard Muhammad was God but whose son Warith Deen Muhammad said that his mother said that Fard Muhammad never said that he was God.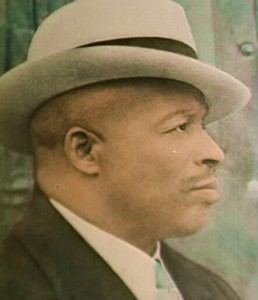 Father Divine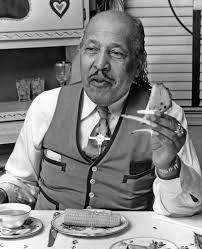 Daddy Grace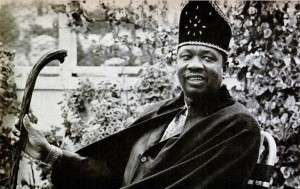 King Narsissy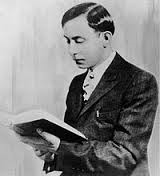 Fard Muhammad
Elijah Muhammad
 Each cult left millions of dollars in tithes to Caucasian women or their offspring. For example: Father Divine, Daddy Grace, King Narsissy, Elijah Muhammad.
Most of them promoted the Roman Emperor Constantine's Christian doctrine and ritual on an illiterate African American population.
Each took pieces of Garvey's and Robeson's ideas to fain social concerns.
Each died comfortably in mansions.
One fraternity recruited educated African Americans via Jewish assistance namely the Boule' and or talented 10th.
All were spied upon by the U.S. Army spy program: started in

5-3-1917

.  W.E.B. Dubois, Robert Church (1st African American millionaire), Emmett Scott all worked for the army spy program.
W.E.B. Dubois did not form nor fund the N.A.A.C.P., Jews and White Anglo Saxon Protestants did.
African Americans did not form nor fund the National Urban League: Jews and White Anglo Saxon Protestants did.
Each maliciously denigrated Marcus Garvey.
All of the Boule endorsed and were paid to work for Eugenicist Margaret Sanger's 'Negro Project' to sterilize African Women.
 Tuskegee University: Booker T. Washington: Accommodation Plan (Booker T. Washington) v. integration (NAACP, et al)
All African American mega churches and secular organizations were and ARE infiltrated by 'African American' paid informants.
Roy Wilkins was a F.B.I. agent who spied on Dr. Martin Luther King for J. Edgar Hoover.
There is so much more you need to think on, but the point is that most of what we have identified are and were used as diversions to draw your attention away from ideas which the plutocrats know can cause major change in the community at large and in the African American community in particular. You were and are being lead by Judas Goats selling Snake Oil.