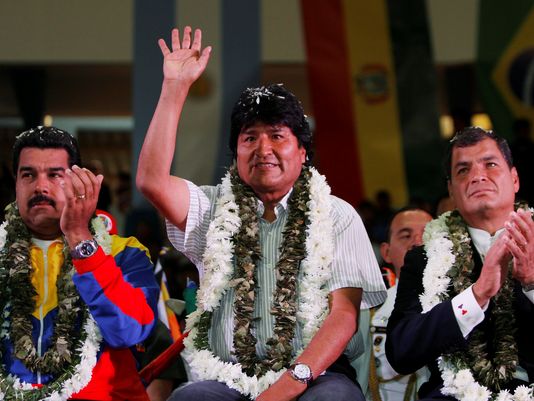 Evo Morales is the President of Bolivia. He is the first indigenous person (Native American) to be elected to the Presidency in that nation.  Bolivia has had a long history of struggle against  U.S. and European colonial exploitation of its land and people.  He was refused flight travel over several European nations on Tuesday July 2, 2013.  He had been in Russia to attend a trade conference.
His Presidential plane was forced to land in Vienna, Austria because it had run short on fuel.  President Morales' life was put in danger because the United States by order of President Barak Obama interfered with his flight over the air space of its European allies: France, Italy, Portugal, and Spain.  These actions were done on the presumption that Edward Snowden was on the Presidential plane.  Such actions were criminal.
Once President Evo Morales' plane had landed it was forcibly searched.  It was an unparalleled violation of international law.  His plane was stopped and it was searched no differently than the 800,000 minority persons on the streets of New York city were stopped and frisked in 2012.  South American grass root leaders have long suffered this form of physical and psychological abuse.     
It is evidence of the prevailing plutocratic attitude toward non-white leaders world-wide.  That plutocratic attitude is capsulated by the denigrating statement made by Secretary of State John Kerry in April 2013 when he likened South America to Washington's "backyard".  That is the slave-owner plantation mentality.  It is the mentality of gang lords. It is the sound of the 'whip-cracker'.  John Kerry is a 'Whip-Cracker' and President Barak Obama is a 'Whip-Cracker', too. Never mind the color of his skin.
OPERATION PAPERCLIP
But there is dramatic irony to this act of aggression toward Bolivia and charges against Edward Snowden.  Its called 'Operation Paperclip'.  After World War II, it was determined that the Nazi government had incinerated over 6,000,000 Jews, Socialists, Journalists, and conscientious whistleblowers. Nevertheless, our United States government allowed over 104 of those very same Nazi leaders entry into the United States where they lived very good lives long after the war ended under fabricated biographies made up by the Office of Strategic Services (forerunner of the CIA).  Harry Truman, a presumed member of the KKK, ordered it.  I hope you're getting the point.
Edward Snowden is not a Nazi nor a murderer. He was under oath to: 'Protect and Defend the Constitution of the United States 'against all enemies foreign and domestic.'  His act of conscientiousness was an act to defend the citizens of the United States against violations of their 4th amendment rights from anyone or group who would destroy that right.  For Snowden not to have acted conscientiously would have been a crime because he would have been in breach of an oath which takes precedence over all lesser laws.