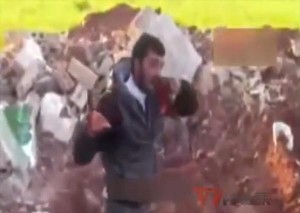 The picture above is a Arab eating the heart of another Arab in Syria. Arab people, both Muslim and non-Muslim, are living ghetto lives.  From Morocco, Tunisia, Libya, Syria, Sudan, Bahrain, Jordan, to Palestine it is the same life condition for Arab people.  That kind of life is exactly what the Plutocrats of the West have wanted for them.  It is not my intention to denigrate the Arab world.  I have been to the Arab world many times and I have always enjoyed Arab people and their unique cultures.  My statements are based upon historical, economic, and social facts.
And it may very well be that time has run out for Arab people to save themselves because the context of human life on our planet is changing. For global climate change is now ushering in before Arab peoples a whole new set of problems for which they are not in the least equipped to deal with and as a consequence will cost Arab nations millions of lives in the 21st century.
There are both internal and external causes for the Arab tragedy.  Some of the internal facts are political in nature and some are cultural in nature.  Since the eradication of direct colonial rule, Arab nation states have not grappled successfully with the complexity of neo-colonial control of their natural resources and governments.  Nor have Arab governments been successful at meeting the cultural challenges posed by the West.  The Arab world looks Arab but it is increasingly not Arab.
In fact, in hindsight, it would have been economically and culturally better for Arabs to have remained a part of the Ottoman Empire until they were absolutely unable to do so.  But such a strategy in 1914 would have required Arab leaders to do a rigorous cost benefit analysis of the long term consequences of siding with Great Britain against the Ottomans particularly as it relates to their natural resources.
Arabs' failure to unite under Islam prior to colonialism and then later in the 20th century under nationalist secular principles evidences the very poor decision making skills of Arab academics and their egomaniacal leaders. Thus Arab leaders, time and again, have not been good at rational decision making at the global level and so now they lay prostrate before the West. All of their wealth can be taken from them at the snap of a plutocrat's finger sitting somewhere in a New York bar.
Besides western colonial control of Arab territories after the first and second world wars, there was also one other external reason for the ghetto life of Arab people today, particularly the Palestinian people.  That was the colonization of Palestine by European Jews beginning in 1920s and later the establishment and recognition of the State of Israel in 1948 by President Harry S. Truman.
Since then the Palestinian people have been systematically excluded from their own land very much as Native Americans were excluded from their land and put on reservations under colonial policies of the United States.  In both instances rationalizations were necessary to justify the claims made by colonial predators that they deserved what they by acts of larceny took from others.
But Arab leaders then could not see nor exercise the foresight necessary to preempt the colonization of their land by a people who simply said that the land belonged to them as stated by their own writings in their Torah which claimed to be the words of God.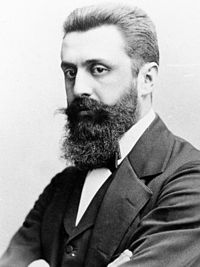 However, the real theory upon which the state of Israel is based stemmed from a secular political theory proposed by the person above, Theodor Herzl, in 1896.  Herzl was born in Austria- Hungary. He spoke German. His book was entitled: 'The Jewish State'.  The ideology defined in the book is 'Zionism'.  Herzl's basic premise was that: "Universal brotherhood is not even a beautiful dream. Antagonism is essential to man's greatest efforts."   He argued that European Jews "…must take possession of the new Jewish country by means of every expedient." He further states that Zionists: "…should form there a portion of a rampart of Europe against Asia, an outpost of civilization as opposed to barbarism." These ideas and others expressed by Herzl define him as a white supremacist.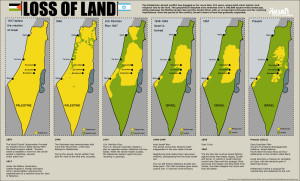 The world has stood by and watched as Palestinians have lost most of their land to Israel.  As Zionists progressed in their expansion into Palestinian land they ignored United Nations resolutions which asserted the rights of Arab refugees to return to their lands and homes by forcibly preventing Palestinians from doing so. Israeli behavior toward Palestinians evidences the kind of racism at the core of Zionist Israel and their support for the apartheid government of South Africa until its fall.
President Harry Truman did not like Israel or Jews. He probably had cold war strategy in mind when he recognized Israel.  He planned to use Israel as a post to secure middle-east interests against the Soviet Union. It is highly unlikely that Truman liked Jews.  After all, Truman applied for and paid $10.00 to become a member of the Ku Klux Klan in 1924.  The Ku Klux Klan denounced Jews as much as the Nazis.  Nevertheless, Truman set in motion U.S. policy toward Israel for the next 60 years.
Israel Has Nuclear Weapons

In 1961, President John F. Kennedy put pressure on Israel to stop its nuclear program.  Israel didn't stop.  It is probably because Kennedy reasoned as did Truman that Israel with nuclear weapons and an ally of the U.S. was a threat to the Soviet Union. So, in 1962 Kennedy ordered an inspection of Israeli nuclear facilities. The inspection was done by two European born Jewish physicists. The facilities were approved by them and the Kennedy administration.  Today, Israel has nuclear weapons and given the irrational nature of their beliefs they would use them.
No nation, not even the United Nations, will question the possession of nuclear weapons by Israel let alone call for multilateral nuclear reactor shutdowns or disarmament.  Instead, Israel claims that Iran's possession of nuclear facilities is a threat to the region. The fact is that Iran has not preemptively bombed nor invaded any other nation in the middle-east whereas Israel has preemptively bombed Iraq, Syria, a U.S. naval vessel, as well as having invaded Lebanon. Israel is the most militarily aggressive nation in the Middle East. In fact, if you count assassinations then Israel is the most militarily aggressive nation per capita in the world.
Israel is a Welfare Queen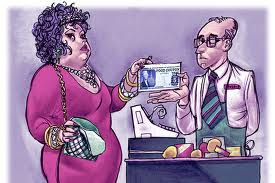 The reality is that Israel has been one of the tools used by the West in the Middle East to ghettoize the Arab world and control all natural resources.  In return Israel gets from the United States under President Bush 2007 to 2018, a $30 billion dollar military aid package. Plus the U.S.'s right to store military munitions in Israel. Without U.S. money, the Israeli economy would collapse. Israel is exactly what Theodor Herzl described it to be in his in his book 'The Jewish State', a whore for the Western powers.
Why?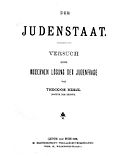 One reason why is that Zionists in the United States have very strong lobbies. One example is the American Israel Public Affairs Committee or AIPAC.  AIPAC is a lobby that was founded in 1951. On paper it is worth about 70 million dollars. It commands politicians from both the Republican and Democratic parties to get approved by it. Large sums of AIPAC money come from persons holding dual U.S. and Israeli citizenship. That foreign involvement represents a breach in the American democratic process and thus a breach of trust in the selection of senators, congress persons, and presidents.  For example, in 2005, a pentagon employee with access to top secret information pled guilty to passing military secrets to AIPAC employees.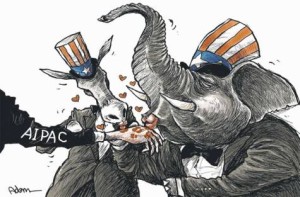 Another reason is that the United States is dependent upon foreign natural resources like oil and minerals in both Africa and the Middle East. Those resources are vital to U.S. high tech industries especially now as the U.S. competes with China for contracts with African nations.  Israel facilitates covert operations for the United States to secure African natural resources by violating international law.
And finally, Zionism is simply racism and racism is inevitably destructive to humanity.  That Zionism was intended to be racist was clearly asserted in the writings of Theodor Herzl at the turn of the 20th century.  That Israel is a Zionist state is irrefutable. Read their new loyalty oath.
Death Camp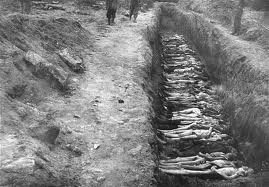 Herzl had no idea in 1896 that by incorporating white supremacists' beliefs into a cheap copy of white supremacy and calling it Zionism it would turn out to be the very ideology used by Nazis to murder Jews for being Jews during world-war II. And how does Israel logically distinguish the picture above from the picture of massacre at Sabra and Shatila in Lebanon (below) in 1982? One was caused by the Nazis and the other was caused by Israel. There has yet to be a Nuremburg trial for them.
Death Camp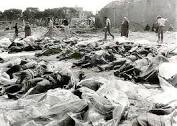 History does repeat itself more or less.  The Jewish scholar, Moses Maimonides, in his book 'Guide for the Perplexed' is proof of that. He also sanctioned the genocide of African, Arab, and Turkish people because they are racially on the 'pale of humanity'.  Herzl didn't get it there nor did he read Martin Luther's book 'The Jews and Their Lies'.  The destructive evidence of racism was all around him.
I think it goes without saying what our United States government has and is doing to people in the Muslim world. President Obama is quoted as having said that he is:"…really good at killing people." So was President Bush.
While Israel is in its destructive mode, it will be the Arab people who continue to suffer and die in their ghettos as the world stands aside and looks on. It just simply may be too late to alter their course of history.