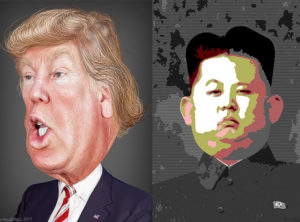 Despite the saber rattling by both the Trump administration and North Korea as of October 30, 2017, neither the Trump administration nor North Korea will start a conventional nor nuclear war. If a nuclear or conventional war does start, it is more likely that it would be triggered either by a human or technical error or caused by someone hacking a military computer to make it appear that one or the other nation has launched a pre-emptive nuclear strike.
I predict that there will not be an intentional hot war with North Korea because neither the United States nor its allies can afford the manpower expenditure. For South Korea, the economic loss would be staggering if they were to engage in a war with North Korea let alone a global war with both China and Russia.
Some experts believe that the Trump administration is on course for war with North Korea. But even though the corporate-owned mainstream media is profiting by fanning war flames to generate public expectation and collective fear that a total war with North Korea is imminent the opposite is, in fact, the case. There will not be a hot war requiring the use of millions of Amerian youth with North Korea nor Russia or China for that matter.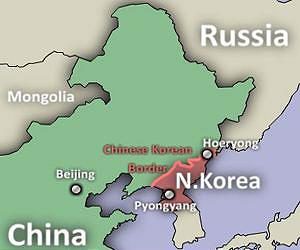 The Trump administration will not go to war with North Korea for several reasons. First, there will be no war with North Korea because it borders China and Russia. Neither Russia nor China will allow the United States to have military bases on their eastern borders. North Korea serves as a buffer for both China and Russia. Both the Russian and Chinese governments know that if the North Korean government is brought down, they would face the same kind U.S. sponsored military buildup on their eastern Asian border that Russia does on its western European border particularly in Ukraine.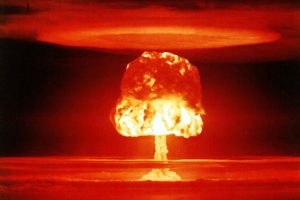 Secondly, there will be no hot war with North Korea because if a hot war were to start, it would inevitably cause China and Russia to support North Korea against the United States and its ally South Korea as they did during the United Nations Korean war in the 1950s. In such a case, South Korea would be the big loser. South Korea's very successful economy and its companies like Samsung, Hyundai, Kia Motors, Daewoo would be destroyed and its population virtually destroyed. Japan, too, would be a loser. It would lose its major technological industries like Sony, Toyota, and hundreds of others. That would end Japan as a global economic power. The only economic winners in such a scenario would be U.S. multinational corporations. But the cascade of negative consequences wouldn't stop there.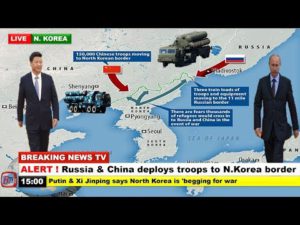 There is yet another inevitable consequence which would ensue if the Trump administration is unwise enough to start a hot war with North Korea. Such a conflict would spread to a very socio-economically unstable Europe because Russia is also part of Europe. Furthermore, it would spread to what is left of West Asia, and eventually to India. Such a global war and the nuclear fallout which would result therefrom would literally bring about the end of human civilization as we have known it. Also, there are social and demographic underpinnings in the United States and both South Korea and Japan which would make a nuclear or global conventional war with North Korea suicidal.
 The United States Does Not Have Sufficient Biotic Potential for Either Global Conventional nor Nuclear War
First, let's look at some demographic facts.  Let me define bio-potential. Bio-potential is a measure of a group's relation to all environmental pressures against it. In short, we should ask the question: Is bio-potential greater than, equal to, or less than all environmental pressures against it? The measure of a group's biotic potential is the first indicator as to whether a nation can afford to go to war. When considering war, there is only one rational choice out of the three possible relations that a group can have with environmental pressures against it. The choice for war would have to be at a time when the biotic potential is greater than the environmental pressures against it.
Along with other resources, wars cost human bodies; nations must pay that cost up front. Prior to monetary costs and industrial infrastructural stability and outputs in the form of war materials, there is the necessity for a nation to have a large healthy youthful population. I have two historical examples to support my claim. All empires that have arisen and fallen over the past 6,000 years were preceded by a population boom. They each had large healthy youthful populations and stable family infrastructures before their expansion. Prior to their rise, they each enjoyed high biotic potential in relation to low environmental resistance to their growth. Let me illustrate another historical example by referencing the Vietnam war.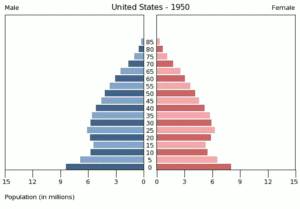 At the height of the Vietnam war, the United States fielded about 500,000 troops in Vietnam. The United States could afford such a human resource expenditure in Vietnam because of the baby boom generation. Between 1946 and 1964 between 65 and 70 million babies were born in the United States.  Within the first 4 years of the baby boom or between 1946 and 1950, 17,637,358 babies were born. Those babies all came of age for the draft by 1968.
My point is that the United States could have put up to and over 4,000,000 troops in Vietnam with no strain on its male human resources at home.  The United States' industrial and economic power at that time was at its peak. The biotic potential for the United State to engage in global conventional warfare was in surplus more so than at any other time in its history. It will never enjoy such a human resource surplus again. 
A surplus of human resources in the United States does not now exist. Two major reasons for the loss of human surplus in the United States have been the use of birth control contraceptives since 1959 and abortion since 1972. Abortion alone has accounted for a loss of approximately 50,000,000 U.S. would be citizens between 1973 and 2017.  Half of those Boomer echo babies would have been male. The Baby Boom echo was silenced by law.
The Baby Boom generation, the largest and most nurtured youthful and healthy generation in U.S. history, has passed its prime years as has the United States. We should contrast the cohort of baby boomers born between 1946-1950 with those babies born between 1997 and 2000. Between 1946-1950 there were 17, 637, 358 babies born. Assuming half were male, there were about 8, 818, 679 males of age for the draft.  In contrast, there were approximately 15, 840, 678 babies born in the United States between 1997 and 2000. If we assume that half of those babies were male then there are about 7, 920, 339 of those babies who are now of age for military service in the event of a global war. That represents a difference of about 898,340 draft available males.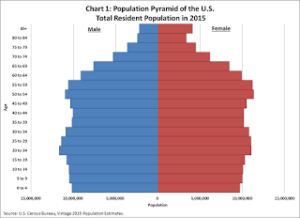 Numerically, birth rate data today are misleading because that data suggests a moderately high biotic potential in relation to environmental resistance. However, environmental resistance to biotic potential in the U.S. is actually greater today. The numbers belie an important fact. Health conditions must be analyzed to demonstrate a qualitative difference between the Baby Boom generation and both the Millennial and Generation X generations. Both the millennial and generation X generations are plagued with both poor mental and physical health.
The Pentagon reported that millions of them are physically and mentally unfit for duty. On June 29, 2014, the U.S. Army Recruiting Command's commanding general at the Pentagon reported that: "7 in 10 Youths Would Fail to Qualify for Military Service … rapidly," That is 70% percent of youth today that are unfit for military service. The United States is a nation which in 2016 experienced approximately 50,000 opioid overdose deaths many of whom are of those babies born between 1997 and 2000. There are millions of youth addicts in the United States ranging from alcohol, marijuana, cocaine, and opioids. They cannot be rehabilitated; "once an addict always an addict". Given the Pentagon report, that would reduce the number of available youthful males from 7, 920, 339 available men to about 2, 376, 101. That number would no doubt be less because history proves that the upper classes will always find ways to prevent their sons from going to war.
The indisputable fact is that the United States does not have the human resource capacity to wage a global nuclear or conventional war with North Korea let alone with both Russia and China. But there are other demographic reasons for that as well.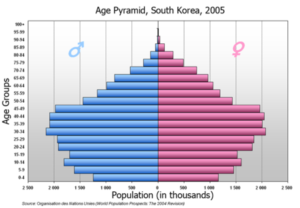 Fertility rates are also an indicator of a nation's biotic potential to wage global war. Neither the United States nor any of its allies have a fertility rate at what the U.S. Census Bureau defines as the population replacement level of 2.1 babies per woman between the age of 15 and 45. The United States' fertility rate as of 2016 was 1.8, South Korea's fertility rate is 1.2, Japan's fertility rate is 1.4 and North Korea's fertility rate is estimated to have been .4% in 2009.  None of those nations have the biotic potential for a conventional or nuclear war with North Korea, China, and Russia. Both South Korea and Japan would be destroyed as  nations were a war to start.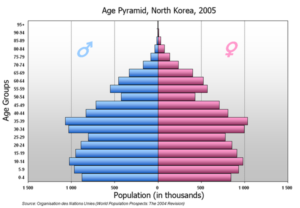 Given their low fertility rates there would be no possibility for those two nations to kick-start their economies again without a mass influx of immigrants who wouldn't speak the Korean and Japanese languages and loans. That would cause mass cultural fragmentation in their respective nations and national debt. The United States would lose at least 2,000,000 men and women; that would be about the total manpower called up to serve in the armed forces in the event of global war. And in such a scenario, California and Hawaii would be lost to nuclear attacks costing the lives of millions of American citizens on the west coast of the United States.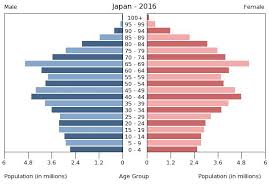 That would be too significant a loss of human resources for the United States and would result in a staggering monetary cost compounded by a national debt already at 20 trillion dollars. It would seal the end of the United States as a global power and a coherent nation. The United States would then have to withdraw its military bases from abroad to curtail civil chaos at home. For that reason, a decision by the Trump administration to move for a hot war with North Korea would be totally irrational. The only rational option for the Trump administration is political negotiation and peace. 
Russian leadership knows that another global war would lead to their destruction as a nation. Russia learned that lesson twice during World War I and II. For that reason, Russia will not start a war with the United States nor any other nation. It lost over 27 million people in World War II and it has yet to recover its greatly diminished biotic potential. Its fertility rate is now about 1.6 along with China which is riding on the downward tail end of a youthful population. Furthermore with a growing elderly population in China and the need to house and feed many more elderly citizens a war would be senseless. Therefore, China will not start a war with any nation either. But both Russia and China can finish a war with their nuclear arsenals despite the fact that it would spell their doom.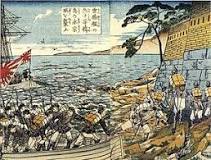 Not one of the nations I have mentioned can afford a war except for North Korea. Would engaging in a war with the United States and its allies be a rational decision for North Korea? Relatively speaking, yes, it would be a rational decision for them. Why? Because North Korea has nothing to lose and they know that a war would reshuffle the global power playing deck.
North Korea has had very little socio-economic pleasure for its people in over 100 years dating back to the Japanese invasion of their homeland in 1910 until 1945. Remember also that North Korea was bombed by the United States literally into the dirt 64 years ago during the Korean War. That is one reason North Korea will not negotiate with the Trump administration because they have nothing to lose. They know that they have the power to end it all. That makes North Korea more powerful than any other side in the present contest because the only long and short-term losers will be the United States and its allies because they have more to lose. And, if Russia and China engage in a global war on the side of North Korea, they would be losers as well because they too have more to lose.
 The Power Elite Want Wealth, Power, and Pleasure
One last indicator that supports my thesis that the Trump administration will not attack North Korea unless there is an accident is that the power elite enjoy pleasure. Currently, the United States and France are re-instituting direct physical colonial rule over west African nations. The U.S. and France or more accurately the global financial institutions which control both the U.S. and France are competing with China in Africa. Their interests in Africa is long term and for that reason gives their hand away regarding the contest with North Korea. War for global financial institutions is an anathema. 
Currently, under the U.S. African Command, the United States has hundreds of military bases throughout Africa. Military strikes are being carried out daily throughout Africa. Their targets are organizations which are challenging national debt slavery and corrupt neo-colonial plantation structures set up by Western European nations. This has occurred in the wake of African independence movements beginning after World War II.
Donald Trump in a recent speech bragged that his friends were getting rich in Africa and thanked West African leaders for making that possible. The major corporate powers do not want war with North Korea for that reason. It would weaken and possibly end their efforts to control resources in Africa, make money, enjoy their power, and perpetuate debt slavery in Africa.
A Tried and Failed Military Strategy
One last point. The military strategy which failed in Vietnam is to hire mercenaries, command the militaries of other governments with U.S. officers and by financially rewarding corrupt African leaders. The point is to allow foreign mercenaries to absorb the biotic, social, and cultural meltdowns. After all, most African nations have tremendous bio-potential for war in the form of the highest fertility rates in the world. However, it is a sign of American weakness not of strength. The flaw in that kind of reasoning is simple and proven historically. Most of the indigenous people hate the United States. Their ranks are filled with spies for the opposition and every move made by U.S. troops will be signaled in advance to opposition forces.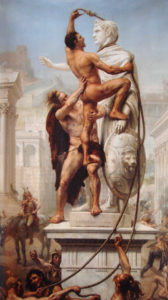 The Roman Empire applied the same tactics when its biotic potential to wage war and man fortifications throughout its empire was depleted. Hadrian built a wall; it didn't work. The Caesars hired mercenaries; it didn't work. Near the end of the Western Rome Empire, one of their trained mercenaries, the Visigoth Alaric, sacked Rome in 410 A.D. With one hit, it was over. After that, the western Roman Empire was plucked like a fat chicken.
The United States, France, England, and Israel are all too willing to supply African governments with the military arms and equipment they need to keep them in chaos. And if African mercenaries or government troops fight to further the purpose of western multinational corporate and financial institutions the western European nations will reward them. But Africa is a big continent capable of swallowing up whole empires.
"Make America Great Again"
The Western Euro-American Empires are past their fighting prime and their currencies are crumbling fast. Like an old prize-fighter wearied and tattered but in a state of mental denial regarding his biotic potential to fight another round and imagining a time when everything worked for him; when he got it right more times than not. He yet enters the ring one more time 'to be great again' thinking in terms like Donald Trump's slogan "Let's Make America Great AGAIN."
Implicit in that slogan, though, is the unadulterated truth. The truth is that he cannot fight another round let alone another fight; the U.S. empire is over. The sad fact is that everybody knows it but most U.S. citizens.