Traceable through the history of western and middle-eastern intellectual work  is a particular line of reasoning about humanity based upon race.  That line of reasoning stems from a set of assumptions about humanity and social hierarchy. They have been and are destructive to the inherent dignity and rights of all human beings.
In this book I will, in the following order, cover its ancient historical roots in Torah mythology, Platonic mythology and philosophy, Aristotelian anthropology and philosophy, and Enlightenment anthropology.
All four of those sources and the hinge assumptions they turn on have turned into powerful modern theories which have become inextricably embedded into our modern social structures, statutes, court decisions, social policies, and individual and collective subconscious.  Indeed, those assumptions are the skeletal system of our society while government is the muscle.

More specifically that particular line of reasoning has been both intentionally and collaterally expressed throughout our social  institutions because that particular line of reasoning was institutionalized as the 'law of the land' from the inception of the United States in its Constitution.[1]  It filters down all institutions and to every individual. Harriet Tubman once shared for us an insight of hers about the psychology of a slave. She said: "I freed a thousand slaves. I could have freed a thousand more if only they knew they were slaves." Therein lies the problem at the heart of the issue.
Through educational and religious establishments the slave mentality has  been correspondingly embedded in the deepest recesses of our subconscious as a set of assumptions that are unquestionably valid. As such those assumptions have also served as a psychological defense mechanism used by Euro-Americans to effectively preempt human social inclusion and justice on a national scale.
That line of reasoning in fact describes a 2,400 year old downward spiral in relation to the quality of human reasoning about social justice. This is so because the few who do benefit from such a line of reasoning cannot benefit from it in the absence of extreme social injustice and its consequent unequal distribution of wealth.  Further, the few who benefit must also establish and maintain conditions of oppression to further  their world order.  It is like nuclear radioactive fall-out. You can't see it, you can't smell it, you can't touch it, but it permeates everything and destroys all living creatures.
The 'fall-out' from their line of reasoning describes a global canopy of  assumptions  above and beyond which few are able, daring enough, or willing to rise up to challenge.  As such, it has caused a narrowing of the mindscape and thus our field of vision. It even causes African-Americans to frame their social justice movements upon the same set of assumptions which are used to maintain social injustice.  So, the vernacular of our civil rights movements has not been truly antithetical to the white supremacist assumptions which cause injustice.

The welding together of such glaring contrarieties as the appeal for justice in the language of injustice has doomed every social justice movement from the turn of the 20th century to the civil rights movement of the 1940s, 50s, and 60s. That is why the socio-economic conditions of African Americans are worse today than they were 60 years ago.  That is echoed in what Malcolm X said:     
"It is incorrect to classify the revolt of the Negro as simply a radical conflict of black against white or as purely [an] American problem. Rather, we are today seeing a global rebellion of the oppressed against the oppressor, the exploited against the exploiter."
White supremacist assumptions about race gird up a definition which is today the dominant force shaping what we know about the origin, history, statuses, roles, social rights and obligations expected by and of every person on earth.  It also serves the manifest function of maintaining the economic status quo.
"As a man thinketh, so shall it be"
Our language frames our  thoughts. Pictures are embedded in the words as metaphors.  Language is also laden with metaphorical assumptions about other people. Most of us never dig deeply into the etiology or nature of the words we use in everyday speech to help us comprehend those assumptions. We are casual in our use of such words, in our reasoning with them, and on the sentences we make up by such words. That means we're ignorant about how words work on our collective sentiment and the collective sentiment of all.
Words and sentences merge with the natural world and have a powerful descriptive effect on our mindscape and social relations. They are forms and sound embedded with assumptions.  They are linked together and  through categorizations are welded together into real actions. They come alive such that we participate a social construction foundationally set to make us closer to or farther from  ethnic groups different from our own. We pass that meaning on from one generation to another usually subconsciously but also consciously. That is the purpose of culture.  It engenders casual habitual behaviors.
We are verbally casual in our interpersonal interactions but we can also be very logically fallacious in our reasoning, too, because we don't scrutinize the nature of what we say. Neither do we scrutinize the classical literature which still makes up our popular  religious and liberal arts education and which shapes our world view.
Further, those same religious and liberal arts world views  dominate our substantive and procedural law as well as scientific bodies of knowledge. If we were to become more conscious and critical of our language, then we would discover those bedrock assumptions which drive both the rationalizations of oppressors as well as oppressed persons as they are actively and or passively concretized into political policy, social classes, castes, roles, rights, obligations, and statuses.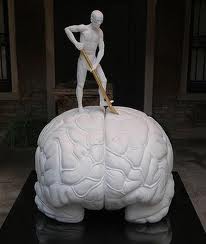 CAN YOU DIG IT?
Whether or not we do 'dig deeply' into our subconscious to question those bedrock assumptions, which trigger our social responses to others who are ethnically different, depends in part upon the amount of advantage one gains in society or our lack of competing on a level playing field.  The assumptions I  explore do give advantage to some groups and do make other groups socially disadvantaged.
The ruling classes or castes never question the 'bed-rock' assumptions as long as those assumptions as applied in society have worked to get them a disproportionate share of social benefits. For them it's the proverbial saying which rings true: 'if it works, don't fix it.' In the Americas, it works for 'White' people, so they don't fix it and as long as it does work for them they don't intend to fix it.  The white supremacist' world view has been and is very effective on maintaining the order they want.
During the twentieth century circa 1930, a sociologist by the name of Emory Bogardus did a study called the 'Social Distance Scale'. His bipolar questionnaire asked persons specific questions about how they would feel working with, living near, or marrying into other ethnic groups. What resulted from his study was a ranking of social distance determined by individual's preferences and between different ethnic groups. In short, most persons ranked English and American 'Whites' as the most acceptable groups to work with, be 'near' socially and marry within while at the bottom were conspicuously non-Caucasian ethnic groups such as Indians (India) and Africans.
I posit in this book that the subconscious assumptions for making social distance real is an 'offense' mechanism as well as defense mechanism for plutocrats.  Whether one is offensive or defensive depends upon the circumstances. For example, the institution of slavery was purely offensive in nature whereas affirmative action law instigated defensive reactions to subconscious assumptions held by racist Caucasians.
Some persons are true believers in the ideology of race and so rationalize 'racism'. In that case those persons evaluate and judge according to their assumptions about others and in so doing convert their beliefs into a 'state of mind'  which is then acted out as discrimination.
That discrimination is the social distance in real space and time between one person or group and another. Persons acting affirmatively on their prejudice and by the distance they cause by their prejudice they stigmatize and criminalize, i.e., discriminate (krima: to condemn-Greek) other persons and ethnic groups. Such is what we mean by social marginalization, segregation isolation, and poverty.
All of these mental mechanisms condition a knee-jerk reflex by individuals and  have both the psychological and social effect of lowering the esteem of some persons in society at large.  By these mental mechanisms, the bedrock subconscious assumptions are consciously rationalized as cult, ideology, or belief and even 'pseudo-science'.
One of my other premises is that no understanding of the 'race' problem can be had without a knowledge of the history of its development in Western culture.  Exactly, what is 'Race'? In order to answer that question I shall critically examine that idea and how it has been rationalized as ideology and 'pseudo-science'.  Furthermore, I shall examine how the idea of race was intended to be used as a social construct to further the aims of economic, cultic, and political repression and exploitation.
Another premise of my book is that no solution to the so-called 'race' problem can be had through conversation using the very categorical concepts and words which carry stigmata and krimata onto other groups and which are the cutting edge of fallacious racial assumptions.  What simply happens during intellectual discussions which employ terms like 'black people' and 'white people' is that everyone is reinforced in their ideology of race.  In such circles, the expectation of a race premised conversation to end the disastrous effects of racism on our society is a logical reduction to absurdity.
---
[1] United States Constitution: Article 1, Section 2, Clause 3