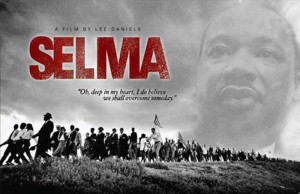 Handwritten in the back cover of my journal entitled "A Stolen Life" I have Dr. Martin Luther King Jr.'s "I Have a Dream" speech. In transcribing it, I did not pity my ancestry, who could not read or write during slavery, nor was I celebrating the triumphs of the Selma to Montgomery Marches of 1965. I was twenty-something and eager to affect change in how we treated abuse victims. I wanted to get a feel for what Dr. King himself must have been struggling with as he wrote his speech.
One thing director Ava DuVernay makes clear in her film Selma is the overwhelming faith Dr. King had in his country, in his community and in God. He had in had a youthful exuberance for securing the constitutional right of African Americans to vote in Selma, Alabama. He wrote his speeches not because he felt sorry for his people or because he wanted to be a superhero, but rather because he wanted to be with them under the sun. He wanted to understand his own and his brethren's civil condition and from there make a social difference.
According to history, one of Dr. Martin Luther King's resolves for change included leading thousands of Americans on a series of three marches across the Edmund Pettus Bridge in 1965. The first march met with violent resistance from state troopers. The troopers yielded during the second march, but Dr. King turned away. He and those thousands prayed that not only they but their president, Congress, and the favor of future generations would also pass by those state troopers. Their prayers were answered in due process and the third march commenced. With the people of the United States as his witnesses, Dr. King led several more thousand people across the same bridge with the protection of the federal government. DuVernay makes this a turning point in the fortunes of the efforts of Dr. King and the SCLC clear in Selma for today's youths. It is a strong point by which a man of faith, friendship and family leads a young nation of racially segregated cultures to a secured right to vote for everyone, and to their common civil rights being enacted into law, again.
History was accurately depicted in Selma through DuVeray's use of real footage. Her efforts made identifiable any differences between actual events and cinematic ones for young adults. But she also affectionately treated the likely emotional reality of the footage cinematically. It is one thing for a student who believes in protest these days to imagine what it must have been like to be in the presence of Dr. Martin Luther King.  It is another to experience an artistic vision of being on Dr. King's team of youthful activists.
For a youngster to be able to sink into the shoes of esteemed persons in any film, some dramatic accommodations must be considered. DuVernay makes such accommodations through her ironic but consistent and formally subtle blend of lighting, performances and video recording in this picture. Her use of hard and soft shadows, organic and inorganic personifications as well as camera angles that work on both sides of the line paint a multi-dimensional picture that includes documented history, indescribable human fear and relentless determination as they collectively tear down contemporary walls that define what is black and what is white in the south in the 1960's.
The screenplay and the editing in Selma are less effective in conveying what must have been the heat of those days than DuVernay's refined vision. One-liners occasionally hurt the quality of the piece as a whole. And, more importantly, the script blatantly exhibits Dr. King's Selma speeches. While catering to the audience who wants to feel what it was like to sit through those speeches and move with them, this artistically exposes the temper lead actor David Oyelowo puts into his oral performance of Dr. King  which in turn results in a less original depiction of, however similar to, Dr. Martin Luther King's famously articulate demeanor. Cutting in a few more voice-overs for the speeches might have improved this condition. What felt like a slow story at times could have been edited to the benefit of the film's pace. That said, however, a number of modern-day slow-motion editing techniques make this film quite a positively edgy assembly of images and no doubt increasing the pace of the speeches would have clashed with that.
Casting and actor performance make Selma a Dr. Martin Luther King movie unlike its predecessors. It connects it to youthful passion for protest and revolution and also to the warm sense of camaraderie among activists. The film's incorporation of modern-day techniques not only in editing but also in formulating makes it a Hollywood fresh.
Historically relevant and artistically compelling, I give Ava DuVernay's Selma an Earth Colony review of six-and-a-half stars out of seven.     
 http://www.spreaker.com/user/themalcolmxsociety/judge-not-by-appearances