There are two fundamental impediments challenging the African American community. They are its unscrupulous members and its fears. The first and worst challenge faced by the Black community are from people within its own population who share the same ethnic characteristics. For that reason they are camouflaged and thus more likely to win the trust of innocent persons. These unscrupulous people are individual malicious men and women, as well as institutions within the community.  Whether they work for plantation masters and overseers or whether they work out of greed and selfish material interests, all of them act to do harm to the innocence of African people. They are in street gangs, religious groups, businesses, education, government services, and law. All of those entities support the plantation status quo and are rewarded for doing so.
All of them add up to a degenerative force in the community. Such was the structure of the southern plantation wherein Negro slave was pitted against Negro slave for a prize of pork guts; such was the structure of the Warsaw ghetto wherein Ashkenazi Jews were manipulated to literally cannibalize each other as they jockeyed for a dead life and for favor in the eyes of their Jewish overseers who in-turn hustled for their Nazi war lords' approval.  And it is never by overwhelming numbers that they are ruled. But rather they are paralyzed by fear.
Fear is the second impediment. For it is never the number of degenerates that are greater because they are always far outnumbered by their victims.  No; the harm to the innocence of African people can only happen if enough African people have a deficit of conscience.  A greater deficit of conscience establishes amorality as the new norm in the inner cities of the United States. 
There is a deficit of conscientiousness in the African American community otherwise that new norm would not exist. A prime example is the hip-hop 'nuisance'. The fact that the hip-hop counterculture can openly defame African icons such a Harriett Tubman and is produced and controlled by a Jewish media cliché in Hollywood supports the claim there aren't enough conscientious African people who will stand up to stop it. Consequently, many young African American men and women have literally lost their minds and it is we the educated and understanding folks who have allowed that to happen.
When men and women of learning and thoughtfulness ignore the long shadow of social evil that is cast over them, those they love and their communities by unscrupulous persons among them, then their community is more dead than alive.  Thus, whatever their class or presumed status they too are more dead than alive. They are more dead than alive because they have a deficit of conscience.  The facts support that thesis. The 1 million entombed men and women locked away in prisons, the 7,000 who will die of 'Black on Black' homicide this year, and the 22 million fetuses aborted since 1972 are incontrovertible proofs that both those victimized, even the unborn who are dead, and the community are more dead than alive. But is this a passing fog or a permanent shadow which envelopes us all?
It is a shadow that is now cast over all African Americans -descendents of slaves.  It is a shadow which does not smother all the life out of innocence, for then the unscrupulous ones would die, too.  Rather it lingers over innocence as a shadowy pall; it is an immoveable pall because it feeds upon their spirit of innocence day and night. We are their 'live-stock'.  Their strength over us comes from our fears, our ignorance, and our ill health.  For the victims must be kept morally and physically weak so that they can be dominated. You see, the relationship has become sadomasochistic.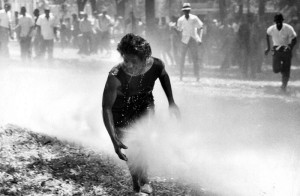 This is a time different from the past. It is a time when men and women of learning and thoughtfulness tremble at the thought of their own death. There is no difference in the passage of time but  there is a difference in the texture of common character. Even more, they have become so psychologically impaired by their fears that they cannot throw themselves with full force at their nemesis. Nor can they at least speak out against the social evils which sap the spirit from their own children in their own homes and in their own communities.
Those same people however learned and however thoughtful are cowards. Their fear of death and want of sugary comfort and entitlements outweigh their conscientiousness.  The end result is always cowardice. That is historically true. Cowards never act. Cowards tremble in sleep and when awake. Cowards do what they are told to do. Then they die.