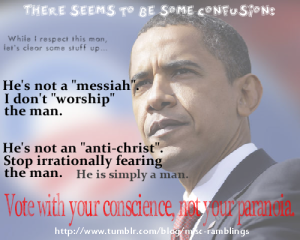 Is Barrack Hussein Obama the Anti-Christ? Can White racism, American Zionism and Politicized Judeao-Christian denominations find yet another moral low to sink to?
I am no Obama supporter. Rather, I strongly lean toward Constitutional Libertarianism and ideologically I am an inclusive separatist or secessionist. 
I also personally lean towards the negation of nonsensical manmade law(s) that do more harm than good. Instead, I am for the re-establishment of God's laws as the social standard for all secular laws.
However, purely for the purpose of venting, this must be stated because it is undeniably true. Barrack Hussein Obama has drawn disproportionately racially motivated types of negativity and criticism purely because he is "THE" visible Black face in the Whitehouse.
Can anyone reading this recall any other U.S. President being equated with the Anti-Christ and taken out of the presidential context more often than Barrack Hussein Obama?  I'll wait.  I am willing to bet that if he was behaving like his Democratic predecessor "Sweet Dick Billy" who seemingly has been given a pass for his continued behaviors along with that crooked wife (Hillary Clinton), the world would never hear the end of it and everybody knows it.
I do not recall criticism on "Biblical" proportions of any other President in my lifetime. In fact, did anyone equate President Harry Truman in 1944 to that of the "Anti-Christ" for his approval and first use of two atomic bombs on the mainland populace of Hiroshima and Nagasaki, Japan? No, I don't recall reading anything nearly that sinister or nefarious about President Truman.
For the greater white Zionist establishment, I guess seeing a black face in "THE" leadership position of "their" country could be equated with the end of the world as they know it or would imagined it to be. 
Other presidents have faced their share of scrutiny and that is unquestionable, but nothing like the scrutiny President Obama has been subject to. Other Presidents have authorized acts of violence worldwide with a deafening roar of approval or often times in complete silence while they themselves were oblivious to the sentiments of the populace at large.
In fact, in 1999 one of the largest bombing campaigns in US military history occurred during the Clinton Administration without U.N. Security Council approval and nobody seems to remember or give a damn about that! It was ironically called operation "Merciful Angel". This name was later blamed on a "misunderstanding" or a "poor translation" at the hands of the Yugoslavian officials and I have yet to hear even ONE conspiracy aficionado say Boo!
Nearly 85,000 soldiers including 40,000 in and around Kosovo were killed.  In Albania, over 500 civilian deaths including the deaths of Chinese journalists in the Chinese embassy by the U.S. led NATO bombing campaigns during the Clinton Administration. I never once heard a name or an equating of "William Jefferson, Clinton" with that of the Anti-Christ when death was delivered wholesale on his watch under the title operation "Merciful Angel".
Do you think I'm kidding?  Perhaps you should have lunch with some of my Bosnian and Serbian friends and let them tell you all about it. In fact according to eye witnesses, the "reported" civilian death tolls were much higher than what was actually reported. 
American double and triple standards along with its selective reprimanding of other leaders and governments is sickening both domestically and abroad.  And some proponents have the audacity, "the nerve" even to speak, to wrap themselves in Zionist flags and to speak in nationalist or religious overtones in the name of the Most High God who holds all might and majesty. At the end of the day, it is but a veiled attempt by them to shield their racial prejudices and bigotry. It is a slap in the face to everything Jesus preached and stood for and to all of the prophets that predated him.