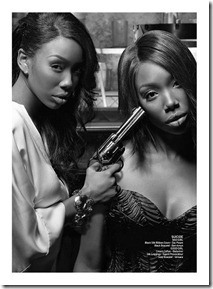 Black women are under attack; they are the target of a global mass media effort to dehumanize them. One powerful instrument of mass media is the hip hop cult of black female haters and those who follow them.  
Hip Hop is a cult. It is a cult because it turns on a unique set of values unlike any values among civilized people. Their values are life denying values.
Hip Hop's followers, like all true believers, are committed to acting out their life denying values whether it is with drugs and alcohol, promoting atheism, or promoting the belief that human life has no spiritual purpose. Their culture is a culture of debasement and that makes it a culture of suicide.
They are a whole generation of young African Americans. Those born within impoverished inner cities during the crack epidemic of the 1980s and 1990s and who have been raised on the denigrating lyrics of countless hip hop performers and a culture of inner city violence.
They are a generation of hip hop cultists. They have internalized hip hop symbolism and stereotypes into their subconscious minds and act with a minimum of reason and forethought.
They have elected as their leaders performers who spew out the hip hop message of white supremacy as they are paid to do by major white financial institutions.  Why do they attack black women? They attack black women because they have adapted the white supremacist myth of black women.
There is a lie being circulated on some Youtube programs propagated by some black men about some black women. The men circulating the lie are young black men between 17 and 40. These men have learned or are being paid to circulate a wholly negative view of black women. Their expressions are full of emotive terms.
Most of the discussions fail to make logically cogent arguments and argue without support of statistical facts.  Black women are falsely blamed for getting pregnant as if black girls and women inseminate themselves! Further, they blame black girls and women for being on welfare.  
Those who make such allegations get thousands of hits and likes on You-Tube from other black men. These followers feed on the lies because it helps them to rationalize their subconscious white supremacist mental orientation.
The show hosts falsely present themselves as economic innovators as well as being intellectual or knowledgeable and who aim to enlighten listeners when in reality they are the non musical compliment of the hip-hop cult of black woman haters.
The lie suggests that a large percentage of black girls and women between the ages of 15 and 30 years of age decide or with willful intent conspire to manipulate black men into relationships to become pregnant so that they can collect food stamps and qualify for welfare cash benefits. The black men who circulate that lie are misogynists.
You can recognize them by their language or speech. They refer to black women as 'hoes', 'bed-winches', hood-rats, Thot, bastard baby-makers, and many other negative words. The men who use such terminology hate black girls and women. They even have deep rooted hatred for their mothers.  
They hate their black mothers who raised them despite her sacrifice and her struggle to raise them without a committed man. They hate her because they hate being black and they don't know how to be a man. They then transfer all their conflicted emotions onto all black women and girls. Why such hate and venomous words?
They need to do that so that they can rationalize their rejection of black girls and women. They do it in order to make themselves feel justified for marrying a woman of a different race or so they can be comfortable with being closet homosexuals. They are like the white slave masters' black overseer who beat the black slave women willingly for the slave master and is then rewarded.
Such black men are genetic racists. They are genetic racists because they psychologically subscribe to classical white supremacy. They are no different than the hip-hop cult of black woman haters who get paid by white men to spew out the most hateful satanic lyrics about black women in U.S. history. 
They are no different than the Ku Klux Klan because they react with fear and sexual repulsion to the same subconscious network of images, stereotypes, and failed personal experiences as white supremacists murderers whether they are police officers or district attorneys or state and federal judges who hate all black people. 
The fact is that neither women nor men have children with the willful intent of qualifying for welfare. The fact is that men and women are bio-chemically motivated to be attracted to each other sexually.  Black women have a sex drive. The sex drive in both men and women is constant no matter what their life situation.
 The emotional and physical pleasure experienced in the sex act is centered in the brain of both men and women and reinforces the desire for more sexual contact.  But there is also another dimension to the act of sexual intercourse.
The sexual act occurs within either a responsible or irresponsible socio-economic condition. Metaphorically, a couple will have sex on a bed or on the floor; either on clean sheets or on dirty sheets. They will clean themselves with dirty towels or with clean towels. Welfare dependence results when the context of sexual activity by men and women is socio-economically inadequate.  A man and women who are sexually involved are members of all other couples who like them are sexually involved on any given day.  This fact is substantiated by the fact that thousands of babies are born on the same day.
The sex drive in men and women is a constant instinctual impulse. And, because at least one third of black women live at or below the poverty line, it is highly likely that a large percentage of black women are going to act out sexually under poor social conditions. 
What I mean by poor social conditions is that many black women will engage in sexual activity with whom they can when they can. That is more likely because the marriage rate for black people has been on the decline for over 40 years. Marriage is rare among black Americans today. Serial sexual relations are the new norm. The side effect of serial relations is that 72% of all black babies are now born to single parent families.
Poverty, low education, and incompetent black men qualify black women for welfare. Do this mental experiment, imagine if family courts awarded physical custody of children 3 years and older to fathers as a rule, would black women in those same social conditions still have serial sexual relations? The answer is yes. 
The answer is yes because the sex drive in all people is constant; the sex drive is always on.  The problem is that the sex drive of black people was economically profitable under slavery, but beyond the slave era black sexual energy has increasingly become an economic deficit. Since the profits have dried up, that same sexual energy is being manipulated by white institutions in such a way so as to cause as much conflict and competition between black men and women as possible.  
The slave master engineered the cultural framework of both black women and men. The slave system was made in such a way that the value of marriage was negated.
By preventing marriage, the slave master administered a patriarchal structure with white slave masters as the patriarchs. Beneath him were his wife then his children and other relatives in that order. Those next were the white overseers. After them came the slaves. At the bottom were black women, their children, and black men. Because marriage was not allowed, black women formed a matriarchal structure in the slave quarters and at the same time they were economically dependent on the white patriarch master.
The black man's relation with the black female matriarch was competitive. Their relationship was competitive because they were pitted against each other in the field and as house servants.  Since all the profits went to the patriarch there was no economic support from black men for black women, thus black men were made inconsequential in the minds of black women except for sexual intercourse and breeding. On the basis of their slave roles they formed negative stereotypes of each other.
Black women had babies and may or may not have been with the men who fathered the children or it was the slave master's child or children, and that truth had to be suppressed.
Under those conditions, dependence was learned by all black people. The master giveth and the master taketh away. But babies born of black women were added value to the slave master's business. The slave master profited economically because the cost to feed pork guts to another slave baby was less than the money he earned by those babies as they grew.
The end of slavery brought about a new form of patriarchy. Government stepped into the boots of the slave master. But it was not a perfect fit because many black people sought to be families with economic self-sufficiency. However, many other black people did not form family structures nor did they find economically viable vocations. From them formed a culture of poverty.
After the failure of reconstruction and 1890, the southern Dixi-crats or Democratic Party reinstituted black economic dependence under the Roosevelt administration's Aid to Families with Dependent Children.  They did it to get the black vote and to kick start the economy. The economy was fueled by funneling money from the U.S. Treasury to banks through poor black and white women.  
Now, Government patriarchy could operate in full force. It also reinstituted black matriarchy in poor black neighborhoods because black women had some monetary power. For that reason, black women shared in both the benefits of patriarchy and in the exercise of power in their matriarchal neighborhoods. One of the side effects has been the ongoing competition and negative feelings between black men and women.
Perhaps there is a conspiracy. But by no stretch of the imagination has there been a thought out conspiracy by poor black women to have children to get welfare money. Welfare dependence on the part of black women was and is because black men were and are economically marginalized. Black men were made economically incompetent during the depression in the 1930s as black men are generally economically incompetent today.
Thomas Malthus, a Scottish philosopher, explained that government can control the sexual energy of poor or marginalized people. He stated that to reduce the population of an unwanted people the state must engineer social conditions which negate marriage and blur sexual boundaries. That is the case today and its negative impact is evident.
Black babies born today are generally profitable for prisons, the welfare system, and for SSI dependencies. But each of those industries is beginning to cost more to upkeep than the profits once made. With the cost benefit shift, prisons are being closed; while over the last 40 years 22 million black fetuses have been aborted.
The fact is that demographically black women's fertility rate and birth rate across all age ranges between 15 to 45 years of age has been falling since 1960. Today, black women on average have a lower fertility rate than white women. In fact, it is now about 1.8 babies born per black women between 15 and 45 in a given year.  The black birth rate is below replacement level. At that rate of fertility decline there will be very, very few black people after the year 2047. Thomas Malthus was right.
The facts make clear that white people control the sexuality of black people. At the ground level one cannot see the hand of white men manipulating their sex drive. A close look reveals the fact that white men manipulate our sexual energy through the medical system, the cult of hip-hop black women haters, and misogynistic pseudo thinkers.
Metaphorically, white men have their hands on black men's penises and black women's vaginas by controlling the conditions in which African Americans act out their natural instinctual energies.
Lastly, the misogynistic cult of pseudo thinkers and hip hop coons should get this; black men generally are the ones penetrating black women's vaginas and leaving them with a fatherless child.
The problem of unwanted black babies is not due to black women. The problem is due to black men who don't train their daughters to be moral and disciplined. The problem is black men who verbally and sexually abuse black girls; the problem is black fathers and step-fathers who commit incest.
So, black men, instead of denigrating black women you should take a look in the mirror at yourself because if some black women are dependent on welfare and food stamps it is because they don't have a man who can support the family he made.
http://www.spreaker.com/user/themalcolmxsociety/hip-hop-cult-of-black-female-haters