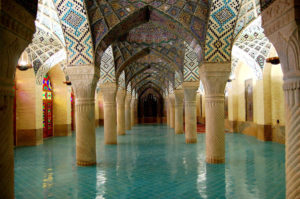 السفر الاول
A Commentary on the First Premise: The First Journey 
by Dr. Steven Nur Ahmed
"وهو الذي الخلق الي الحق في النظر الي طبيعة الوجود وعوارضه الذاتية وفه مسالك."
"And He is of those of creation [then] to The Reality wherein gazing upon the Seal of Existence and His Presence is immediate and in it [he] is one coursing [the path.]"
 Here, Mullah Sadr makes the point about the First Intellectual Journey. He does so with a simple premise: "He is of those of creation." That we are 'of those', i.e., all life forms created, is self-evident. We are symbiotically related to all life forms on earth and maybe other life forms on other living or dead planets.
 PROOFS
An aspect of our existence is a mixture of atoms, molecules, and bacteria. That mix of biochemistry culminates in the development of our central Nervous system. It is structured to develop outwardly and to experience by mediation outwardly three-dimensionally, i.e., spatially and temporally; it is not developed to know immediately- inwardly extra-dimensionally.
Secondarily, that we are of this creation is self-evident because we are literally dependent upon minerals including certain gases for nutrition as well as upon sense impressions by means of which we orient our bodies by time and in space.  Intellectually, we are dependent upon sense impressions to form concepts of things we symbolically identify in our environments. Language is the greatest example of our symbolic life of the mind.
 The Limitations of Sense Impressions
We each have different orientations in the world. That is so because our sense impressions are different and limited by varying degrees of personal sensitivity. We are thus hampered not only by blurred vision and inaudible sounds but also by correspondingly vague conceptual clarity. More often than not, that results in defective reasoning and judgments. We find it very difficult to agree on almost every other persons' description of nature. We are always in need of some extra technological assistance to artificially light the path before each step we take. We are never certain about our circumstances. We literally do not know 'where' we are let alone 'when' we are. So, we improvise measures of time and space and pretend by consensus to be oriented rightly. But generally, we are not oriented rightly.
Our Origin in The World
Neither do we know the nature of our origin in the world. Did we originate chemically here on earth? Did we originate chemically on some other planet? Did we originate chemically in some remote region of the solar system or galaxy? Is our soul an epiphenomenon of our biological birth into the world? Or did our soul get infused into the world extra-dimensionally in an immeasurably short moment when the forty-six chromosomes from our parent's paired and united?
The Quran answers paradoxically both yes and no. We are from water[1] and we were thrown down "…Radadnahu Asfala Safaleen رددنه أسفل سفلين""[2]. We are both light and darkness. That being so, was our conception by chance or was our conception predetermined? We don't know the answers to those questions and it may be logically impossible even by use of our most advanced scientific methods to discover the answers to those questions because we cannot follow the chain of causality back in time and space to that moment the material universe came into being. But this we do know. This sphere of creation has a degree of luminosity that is very low and which is dependent on power sources we call stars and atoms or technology. It is a place that is analogous to a ghetto street lighted by a dim lamppost because within this four-dimensional place we are not in the Light of Reality. As we move farther from the source of light we are increasingly surrounded by darkness until darkness becomes impenetrable. It is impenetrable darkness because we are away; we are not in the Perfect Unchanging Present Tense Existence.[3] Mullah Sadr alludes to that by the phrase: "… [therein] His Presence is Immediate…".[4]  Yet, though we are repulsed to a lowly state, we are simultaneously attracted to Allah. Thus, we are driven by our attraction to Allah to journey to the Reality out from this fractionalized place but not physically, rather extra-dimensionally by and through our minds. Therein lies the purpose of salat. Salat is the mind's means to Allah.
We are surrounded by dark matter shrouding dimly lighted stars. Over spans of time in billions and maybe trillions of years, trillions of stars are born, flicker for a moment in comparison to the age of the multiverse, then they burn out. Our vision is turned toward the edge of nothingness. We make our way in what light illumines the path before us aware that we are always stalked by dark shadows. We are terribly isolated, alone, unconsciously insecure, and in fact, with most of the time spent in our lives, we are quantitatively more autonomic[5] than conscious.[6]
Why are We Here?
A better question for us to ask would be: 'Now that I am here, what should I do?' There is an explicit moral implication in that question.    First, it is self-evident, we are in this earthly sphere because we are an ongoing effect of it in it. We are an effect of an ongoing complex chain of non-linear causes. We each carry the impress of those causes in our bodily chemistry. For example, we are more bacterial than we are cellular.[7] In relation to our environments, we continually receive its impressions as does a soft substance being continually cut by a harder substance.
Outwardly, we mirror many of its characteristics. We are often fooled into thinking that our mirror image is our identity. But our physical body is not our authentic identity. The body is literally 'unconscious', but paradoxically it is also a pathway or tunnel that leads out of the body because but for our birth into this world we would have no chance to, as Mullah Sadr states, "…gaze upon the Seal of Existence…" If men and women remain physical, then they remain as unconscious as all other things around them for a time. Then they die. Death means absolute impossibility and thus non-probability.
Mind or Soul, separate from the body, is our authentic identity. But we have no guarantee that we will become a free mind or soul. The body was born into the natural world simultaneously living and dying; simultaneously being and not-being. But mind or soul can live forever in the unmixed Light of Allah. Eternal life is the act of thinking in extra-dimensional consciousness if the soul can as Mullah Sadr said: 'course the pathway' out of this world.
 CONCLUSIONS ON THE THESIS OF THE FIRST JOURNEY
This outer sphere of creation is resistant to Divine Light because it inheres a necessary privation due to its grade in the creation. Thus, here, we generally experience a low emanation of Divine Light through our minds. Here, the '…Seal of Existence…" can only be known partially or in a narrowly framed consciousness which is heavily shrouded in sensation, perception, and reasoning. All three faculties preempt certain knowledge (ilm-ul-Yaqin) of Allah but such faculties are at the same time necessary for our orientation in and through our experience here.
We were born along in a biotic stream into this sphere of existence by chance and set afloat. We assume the form and characteristics of this four-dimensional creation as a stream must assume the shape and contours of the banks it courses through. We are both in the biotic stream and of the biotic stream. Our burden is to struggle against its unconscious power which is both in us and around us.
We were born with the potentiality to autonomically develop the anatomical skills necessary to live out our natural life to its term.
We were born with the potential to react automatically- biologically, emotionally, and imaginatively to things and life forms around us.
We were born with the potential to rationally categorize sense impressions, to form concepts, and to make logically derived judgments about the relationship between things in space and through time as well as to form mental concepts which permanently signify things in our minds.
We were born with the inherent potential to construct and participate in a virtual reality of mind shared by and with potentially unlimited numbers of other human beings. For some souls, it is the first step along an Intellectual Journey that will consciously lead them to the Beatific Vision of Allah.
[1] Quran, Sura 23, Mu'minun, Ayat: 13: "We then placed him as a sperm-drop in a place of settlement, firmly fixed…"
[2] Quran, "Thereupon, We repulsed him, low of the those lowly. Sura: At-Tin, Ayat 5
[3] The Perfect Present Tense is the Eternal Now.  Sura: Al-Ikhlas, Ayat 2"Allahu-Samad.."
[4] Italic mine
[5] The Autonomic Nervous System; both sympathetic and parasympathetic.
[6] Add the time you sleep to the time that you are reacting instinctually (unconsciously) then compare that sum to the time you are conscious. See the ratio of sleep to wakefulness. We are sleepwalking most of the time.
[7] The bacterial to cellular ratio is 9:1. This underscores the Quranic phrase: "radadnahu safala safaleen…"